The Library is open to current New College, Oxford students and staff. We provide some remote services for external readers, as well as access to our rare books and manuscripts.

We aim continually to adapt and improve our service offering to support current and changing learning, teaching, and research needs of the College and its members, and to facilitate the work of all scholars requiring access to our remarkable special collections.
---
For news, and to see beautiful images from our world-famous special collections, follow New College Library and Archives, Oxford on Twitter, Instagram, and Facebook.
Read about the history of New College—and especially the rich collections in our Library and Archives—from our scholarly open-access e-journal New College Notes.
Watch our 'Curators' Choice' video series, and learn about our institutional life and work over the course of 2022.
On application to the Librarian, we provide external readers, as well as New College members, access to our outstanding collections of rare books and manuscripts.  Provision is limited, so please contact him as far in advance as possible.

 

"Through the New College Library Fund, we are inviting all friends, supporters, and alumni of New College, Oxford to help the Library enhance and add to our modern collections, our outstanding special collections, and our vital digitisation and conservation work."
---
Overview
The Library at New College was founded in the late fourteenth century.
The Library seeks to be at the centre of New College's academic life: all New College students and staff are warmly encouraged to use the Library and make the most of the collections and services we provide.  Entry is by swipe card during opening hours.
The present-day New College Library, designed by Sir Hubert Worthington (1886-1963), was completed in 1939.  Its marble entrance hall  commemorates with its fine inscription that the Library building was erected as a memorial to those who fell in the First World War.  The balcony outside the entrance to the Library bears a flagstone bronze plaque, "The Seven Virtues" of 2007 by Rod Kelly (b. 1956), celebrating twenty-five years of women students at New College.
The Library is constructed over two floors.  It is situated adjacent to the College's late fourteenth-century Bell Tower (built in 1400), which was innovatively refurbished in 1996 to contain a state-of-the-art, humidity- and temperature-controlled, three-storey strongroom bookstack to house part of the Library's collections.
Today, the Library's total physical stock of modern collections and rare books and manuscripts numbers approximately 100,000 volumes, and the Library houses almost all its modern material on open access shelves.  Books and pamphlets relating to the life and history of New College and its partner foundation, Winchester College are held in the Colleges of St Mary Winton Collection.  Texts and other materials are constantly acquired to support all the undergraduate courses taught in the university, and they provide support for taught postgraduate courses too, which makes the College Library the obvious first port-of-call for New College students.  Rules and procedures relating to the Library for the College's Junior Members (JCR and MCR) are listed in The Handbook of New College, Oxford (also known as the Dean's Handbook).
Listings of recent acquisitions to the Library's collections from 2019 onwards are made available via our website.  We welcome and invite book purchase requests from current New College students and academics.  Co-operation between the Library, tutors, and students is actively pursued.  The Library is a point of display for larger items from the JCR art collection; it also administers a DVD Film Collection, which is extensive and contains many foreign-language and English-language films to support taught courses as well as cater for leisure and pleasure use.
The Library provides a Student Welfare and Study Skills Collection to help with well-being and working effectively and rewardingly, and a Literature Collection (designed primarily for leisure reading), both of which are held in the corner shelves outside the entrance to the West Reading Room on the Lower Floor.  A collection of more than 600 Very Short Introductions, useful for quick reference, and a Biography Collection are also held in the Group Study Room.
External visitors should make an appointment with the Librarian:
Dr Christopher Skelton-Foord
Librarian
New College
University of Oxford
Holywell Street
Oxford  OX1 3BN
UK
Email: christopher.skelton-foord@new.ox.ac.uk 
Opening Hours
8.00 am to 2.00 am (seven days per week), all year round
The Library is closed during the College Christmas closed period.
 
Borrowing
Almost all items from the Library's modern collections may be borrowed; a small number are for reference-only use.  The loan period for books is two weeks for New College undergraduates and the whole term for New College postgraduates.  DVDs and CDs may be borrowed for three days.
Generous borrowing privileges enable students to have thirty-five items out on loan at any one time, and a book can be renewed as many times as required so long as it has not been reserved by another reader.  Fines of five pence per item per day are charged for overdue books, and replacement costs plus administrative fees will be charged for any items that are lost or defaced.
The issue system is computerised through SOLO, our online catalogue, where you can search records for our entire bookstock.  Students can reserve and renew books online and they will be informed of reserved books ready for collection and overdue books by email.  Students with queries about loans, renewals, or fines are invited to contact the Deputy Librarian.
Library Facilities
The design of the Library offers different styles of working area and the outlook has the benefit of the medieval city wall, lawns, and gardens.
On the upper floor, there are a number of tables for four people across a large area, bookshelves holding most subjects, as well as two small rooms with desks for four people that house the History collection.  A range of assistive and other equipment is available, by request from the staff service point in the entrance hall of the Library, to be used by students and staff. 
On the lower floor, we have:
a separate Reading Room which holds Classics materials, and another with Fine Art & Architecture, Cinema, Law, and Gender & Sexuality materials, with reader seats and desks available for students of any discipline to use;
a Group Study Room, which may be booked for use by New College students;
the Special Collections Reading Room (access by appointment only) for readers to consult our rare books and manuscripts;
the Archives & Records Reading Room (access by appointment only) for researchers to consult our archives;
closed rolling bookstacks, housing a variety of modern and named collections (please ask in the Library Office if you need access to any books held here);
open bookstacks housing lesser-used texts, with individual seats in between these stacks, which act as study areas.
Our Library Guide provides a plan of our upper and lower floors and a brief guide to the classification system we use to arrange books on the shelves by subject.
The Library provides wireless connection and desks with power sockets for readers' laptops, as well as photocopying, scanning, and printing facilities.  Staff in the Library Office also provide a fast turnaround document binding service; charges are made to battels.
 
E-Resources
The University of Oxford's extensive collection of electronic resources complements its libraries' physical collections, and these e-resources are available to all New College students and staff.
SOLO searches can be constructed to locate and access physical and electronic books, e-journals, and databases; there is detailed guidance available on how to discover e-resources.  SOLO can also search ORA (Oxford University Research Archive), which has its own dedicated portal too.  You may access electronic Legal Deposit materials only via library computers in any of the Bodleian Libraries (list available). 
Around 1,750 databases are available, listed alphabetically by title, and these can also be searched by subject (from African Studies to Zoology) and by database type (e.g. full-text; images; maps).
 
Help and Assistance
Library staff are very pleased to facilitate the learning, teaching, and research of the College and we aim to provide a range of reader services in a professional and friendly way.  The Library Office is staffed from 9.00 am till 5.00 pm, Mondays to Fridays.  We are happy to help with any research needs you may have.
We are here to help you locate items from our physical collections and will fetch items for you from our closed stacks.  We can assist you in accessing and navigating suitable e-resources you may require and we can also advise you of other library collections within the University of Oxford that may be of use to you.  Subject guides to the wider library resources across the whole of the University are available, as well as guides to specialist materials within the Bodleian Libraries, including maps, music, official papers (parliamentary, departmental and intergovernmental), and printed ephemera.
Please ask us for assistance at any time.  Alternatively, you may email us with any queries you may have.  We also welcome suggestions about how we may improve the services we offer you.
 
Help for Freshers
The Bodleian Libraries provide 'Getting Started' Guides, which include one especially tailored to Oxford undergraduate and taught postgraduate Freshers.  More experienced library users may also find the guides of help.
Bell Ringing
The Library is situated in close proximity to New College's medieval bell tower.  The tower contains one of the oldest rings of ten bells; these bells are rung occasionally.
Connect With Us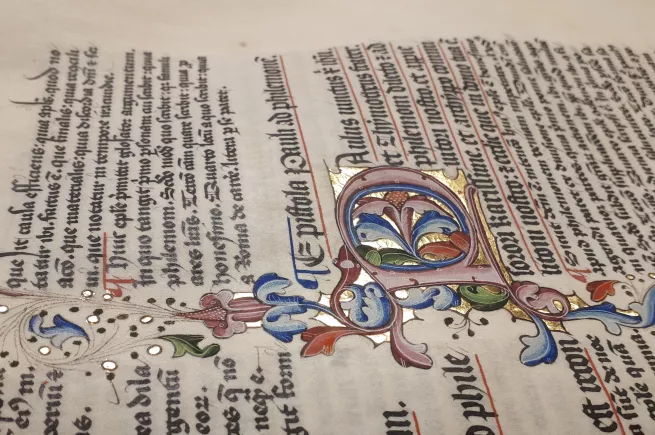 New College Reads To You
Listen to our podcast of Fellows and Old Members reading short passages of writing that are significant to them.
Our readings have been assembled into a collection that will remain here for you to enjoy.
Explore further
Discover more about New College