Wifi Network
If you require Wireless networking you should connect to Eduroam with your Remote Access Credentials.  There is a helpful configuration tool you can download on to your device which will help you to connect.  Eduroam is available throughout the University colleges and departments and will allow academic staff and students to experience a seamless WIFI connection when moving around the campus
For conference delegates please connect to NC-Conference - a password can be obtained from the lodge when collecting your keys or from your Conference organiser.
Ethernet
Ethernet or wired connection in accommodation is recommended for devices that have the functionality.  It is faster and more reliable than wifi.
Ethernet Leads can be purchased from the IT Office for £5.
For registration you will need your SSO credentials
Step 1
Connect your computer with the Ethernet Lead and ensure it is plugged into the ethernet socket in the wall.  Open a web browser and try to browse the web. You may find it helpful to disable your wifi connections at this point.
Step 2
Select the option which applies to your credentials - University SSO users 
SSO credentials will take you to a separate WebAuth site to enter your username and password follow the on-line instructions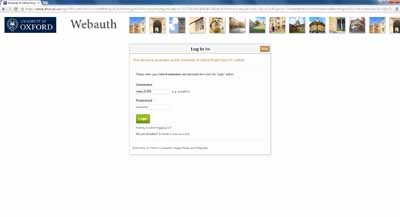 Step 3
Click continue
Step 4
The Bradford agent will now download and check your machine passes all our security checks.  Please note if the agent does not automatically start you may need to manually start it - look in your download's folder.  
A pop up may appear in the taskbar will appear informing you and you should see a progress bar when it is running.
Step 5
The agent may inform you if you do not meet the requirements set by IT Services.  It will inform you of why it has failed and will allow you to update your Operating system over the network.  Commonly, failure to update your operating system or your antivirus software will mean your device does not meet the minimum requirements.  You can view the full list of requirements in pdf format - this is subject the change.
If your computer does pass the requirements you will be notified - an example is given below.
Step 6
Wait for the on screen countdown to finish before restarting your browser.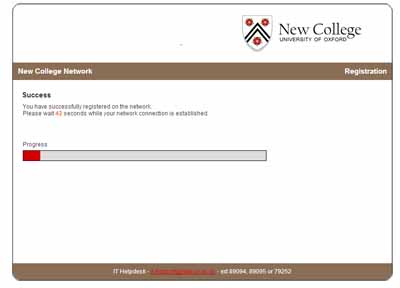 Troubleshooting
If you are experiencing problems please try the following steps before contact IT Services:
Try turning off your wifi connection or disabling your wifi network card while registering for the Ethernet.
Have you restarted your web browser?
Have you restarted your computer?
Try unplugging and reconnecting the Ethernet cable from your computer or the socket on the wall.
Please wait at least 20 minutes before reporting an issue during busy periods for example the start of academic year you may find the registration system is slow.
If you have tried these steps and still can't connect please email it-support@new.ox.ac.uk.
Explore further
Discover more about New College