Applications to study at the University of Oxford open in early September each year and close on 16 October. In order to be eligible for consideration, you must ensure you submit your application through UCAS by this date. The Oxford University Admissions website gives full details on how to apply to study here. 
When completing your UCAS application, use the institution code O33 to select Oxford University, and the course code for your chosen degree course. The campus code for New College is G. 
Timeline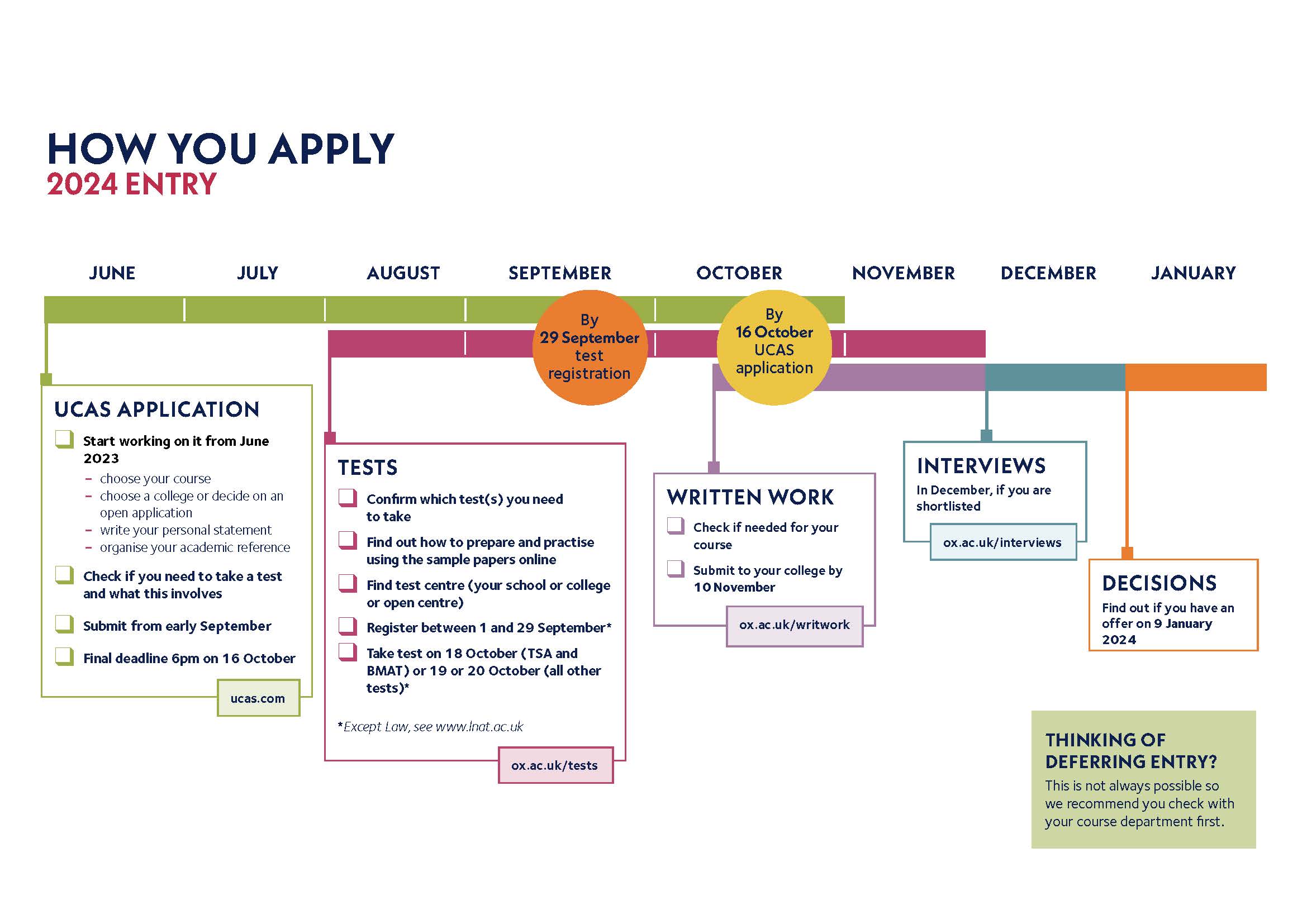 These dates may be subject to change; for the most up to date information please refer to the Oxford website Guide for Applicants.
Admissions tests
Many of our courses require you to take an admissions test as part of the admissions process. You will need to ensure that you register for your test by 6pm (UK time) on 29 September, or earlier if you are taking the LNAT; if this is the case, please refer to the links above. You are not automatically registered when you submit your application through UCAS, it is your responsibility to register directly with the relevant testing organisation. It is also your responsibility to ensure you are registered on time, not your school or college, though depending on the test you may need to book through your school or test centre.  Details on whether your course requires an admissions test and how to register can be found on the University website. 
Written Work
Many subjects require candidates to submit written work as a part of their application process. Please make sure you check the application procedure for the course for which you are applying (e.g. History & Economics, rather than just History). If you have any questions, or you are unsure about what is required for your course, please contact the Admissions Office for further guidance on admissions@new.ox.ac.uk. We are happy to answer any concerns you may have about this process.
The University provide an extensive list of what written work is required for each subject, this can be found on the individual web-page for your course. The deadline for submitting written work is 10 November every year.
All written work and signed coversheets should be sent as PDF scans, by email, to admissions@new.ox.ac.uk. Please refer to the more detailed instructions that will be provided in the acknowledgement email sent in late October before submitting written work. If you cannot submit written work by email, it should be posted to the Admissions Office at New College. 
The work you send must be your original school or college work, marked by a teacher and not re-written or corrected in any way. It can be typed or handwritten, as long as it is legible. You will need to ask your teacher to complete the written work cover sheet, so please ensure you let them know in advance of the 10 November deadline. 
More information regarding written work can be found on the University website.
Interviews
If you are shortlisted, you'll be invited to be interviewed, by New College or by another college.
All interviews will be held in December. If you are applying to Oxford in 2023/24, please see the University's undergraduate applicant FAQs.
Interviews are conducted by tutors, and there is a good chance that you will meet tutors who could be teaching you if you are successful. 
Be aware that interviews are entirely academic. Tutors are interested in what kind of person you are, in particular your approach to learning and work, and in your motivations for applying to Oxford, but they will approach these through the medium of setting you difficult problems from your field of study. You should expect that interview problems will be new to you, and take you beyond your work for school qualifications. 
The important thing is to listen carefully to the question you are asked and do your best to grapple with the problem, without getting worried about the fact that you don't know the answer. Quite often, there isn't an 'answer', or if there is, it will be an unexpected one. Remember that a University education at Oxford is given to you by people who are engaged in advanced research, where the 'answers' are always surprising! 
For more information, please see Interviews at Oxford on the University website, where you can also download the Interviews Guide. 
What are Tutors looking for?
Oxford degree courses are based on intensive work during the relatively short terms. Students will be attending a number of lectures, classes, workshops and tutorials each week, and there is an emphases on independent research and study. 
Candidates need to achieve the highest results in their school education, and beyond this you need a demonstrable ability to work accurately and quickly under pressure, to think critically and independently, using both imagination and logic, to focus on tasks set, and, above all, to have a real passion for your field of study. 
We are looking for students with these capabilities, regardless of their background. 
Feedback
All feedback requests should be made, via email and by the candidate, before 15 February, in line with university guidelines. Feedback will be provided after all final decisions have been released and within 20 working days of receipt of the request. Requests for feedback received before 31 December will be treated as having been received on the day the College reopens after the New Year. Feedback is provided for unsuccessful New College candidates only. 
We are not able to provide feedback to parents, guardians, or teachers, without the express permission of the candidate, which should be submitted by email to New College by the 15 February deadline.