NCI 5221: 'Ann Jefferson' by Eileen Hogan, oil on canvas, 2020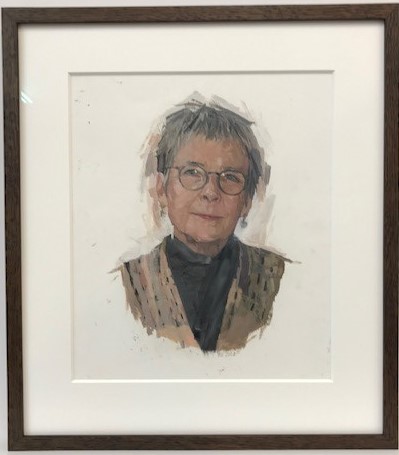 This commission follows a long-held tradition of painting or drawing Fellows who retire in post, having given 20 or more years of service to the College. Ann was Fellow and Tutor in French between 1987 and 2015. 
Eileen Hogan studied at the Royal College of Art. She is Professor in Fine Art at CCW's (Camberwell, Chelsea and Wimbledon art schools) Graduate School, University of the Arts London, a trustee of the Royal Drawing School and an ambassador of Mindroom, a charity for children with learning disabilities. Her work – listed here - has been featured in a number of prestigious group and solo exhibitions over the years.
This portrait was developed over a number of sittings. Rather than asking for specific poses, the artist prefers to observe her sitters engaged in conversation with Cathy Courtney, an oral historian from National Life Stories based at the British Library - https://www.bl.uk/projects/national-life-stories, thus integrating a biographical element of 'oral history' into the process of portrait-making.