Restoration of the St Thomas Becket Statue
The statue of St Thomas Becket in the Cloisters was restored this summer, bringing to an end a restoration project carried out by Antonia Hockton, spanning 11 years.
Antonia writes 'The final statue in a series of ten housed within the cloister at New College, has been restored this summer. Making reference to the Victorian photographs as a guide, lime mortar has been used to recreate lost areas allowing the sculpture to be read as a whole. The extensive areas of both Victorian brown cement and 20th century grey cement were carefully picked out and the jointing lines of past restorations disguised. None of the statues have their original faces and two figures were totally re-carved in 1853. The torsos of five figures look to date back to the 14th century but their position on the tower of St. Mary the Virgin subjected them to the rigors of the weather. Over the centuries the set of twelve figures were given a number of programmes of restoration, where new pieces of stone were cut and pieced into the original to replace hands, faces and drapery. The figures now stand sentinel in the corners and aisles of the cloister, protected and once again back to their natural, honey coloured limestone blending with the ashlar wall behind'.
The statue in its original condition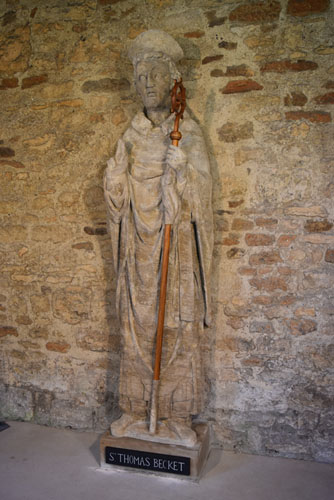 ...and post restoration
Explore further
Discover more about New College