The Hall
New College is renowned for its music, and yet the College has no dedicated performance space. To address this, the East Wing of the new building will house a versatile and fully accessible Recital Hall. 
The 100-seat auditorium will also be an inspiring venue for theatrical performances, talks, debates and exhibitions. 
Fund a Seat
You can help to build this exceptional space. 
A gift of £5,000 will fund a seat in the Hall, which can be given as a single gift or as 5 annual gifts of £1,000 per year.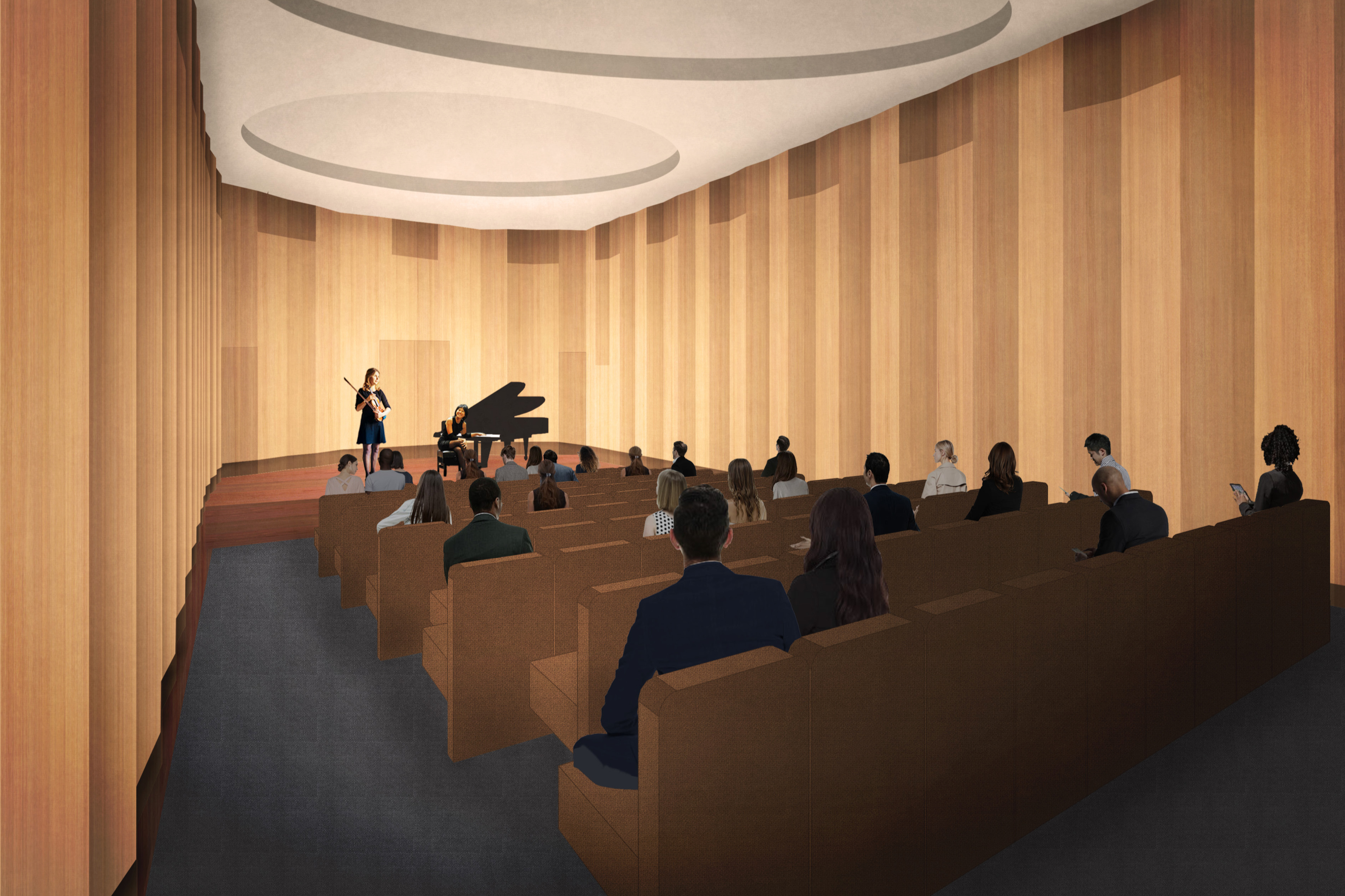 The view towards the stage from the back of the Hall. 
Floorplan of the concert hall. Download the floorplan here.
How to Give
Below are some examples of how UK tax payers can make a tax-efficient donation. In all cases, the College claims Gift Aid and the donor reclaims against their tax liability. 
NB. The figures given assume the Higher Rate of income tax (40%) is being paid. Donors paying the Additional Rate (45%) will be able to reclaim a further 5%. 
Seat in Hall £5,000
| | | | | | |
| --- | --- | --- | --- | --- | --- |
|   | You Donate | Gift Aid Claimed | Value of Gift to New College | Higher-Rate Tax Reclaim | Net Cost to Donor |
| Single Donation | 4,000 | 1,000 | 5,000 | 1,000 | 3,000 |
| Over 5 years | 800 | 200 | 1,000 | 200 | 600 |
"The Hall will be a wonderful addition to the College. When combined with the Clore Music Studios, which opened this year on the edge of the Gradel site, the College's musicians in all subjects will have access to some of the finest facilities in Oxford. This architecturally and acoustically stunning space is fitting to our musical heritage, and a tremendous legacy to future generations of students."
- Professor Michael Burden, Fellow & Tutor in Music at New College
For further information, please contact:
Mark Curtis, Fellow & Director of Development
mark.curtis@new.ox.ac.uk
Tel: +44 (0)1865 279261
New College, Oxford OX1 3BN
Explore further
Discover more about New College