The Flats
The new Tower House will provide 16 bedrooms in 4 flats, each with its own common room. 
A gift of £100,000 will fund one of these 4 bedroom flats, which can be done as a single gift or as 5 annual donations of £20,000.
Your gift can be reduced further through tax-efficient giving. Please see below for more information. 
The East Quad looking towards the Tower House, which will contain the flats.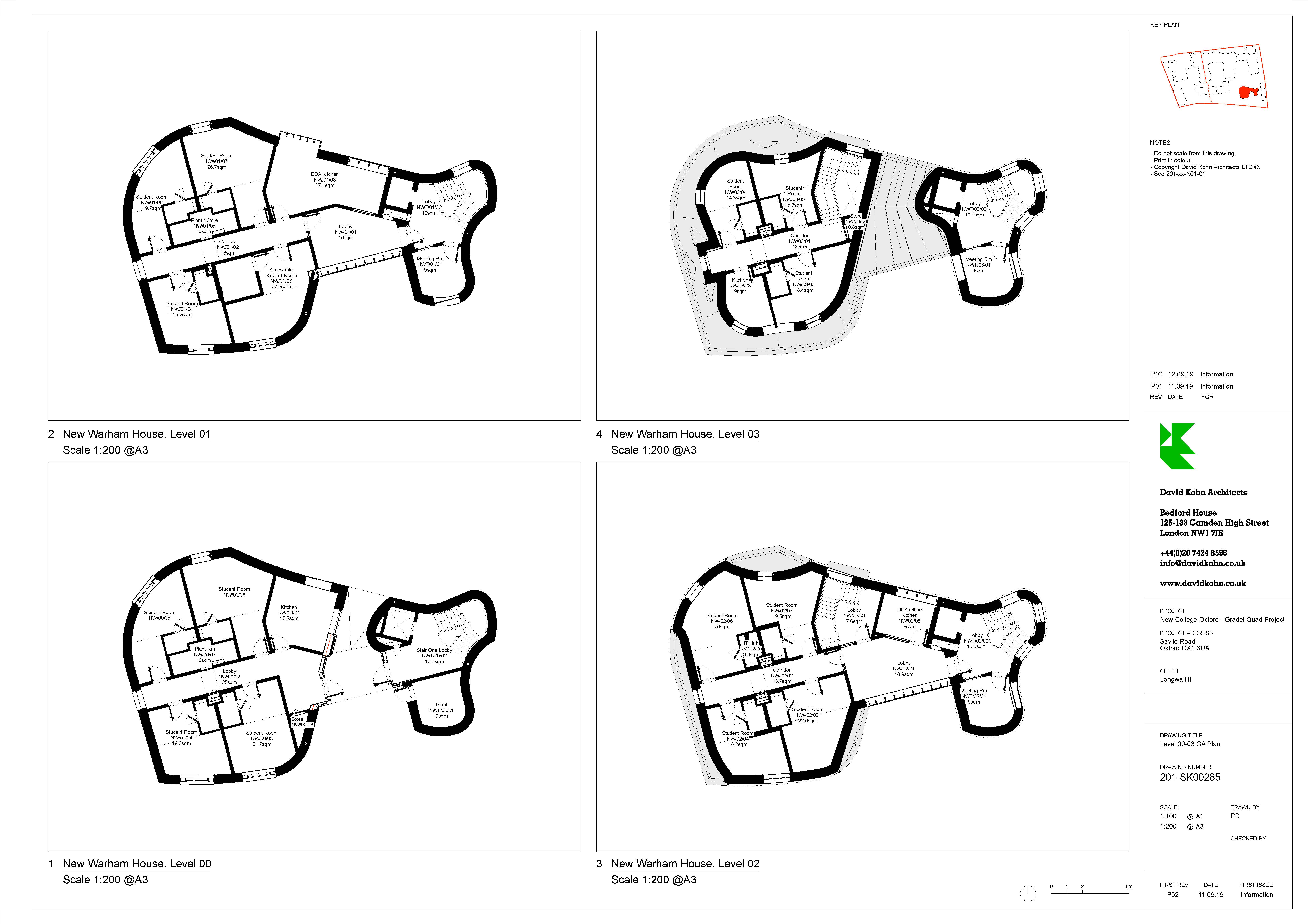 Floorplan of the Tower House flats. Download the floorplans.
Recognition
If you would like your gift to be acknowledged publicly, your name will be included on the donor wall in the new Porters' Lodge at the entrance to the Gradel Quadrangles as a permanent record of your support of this project.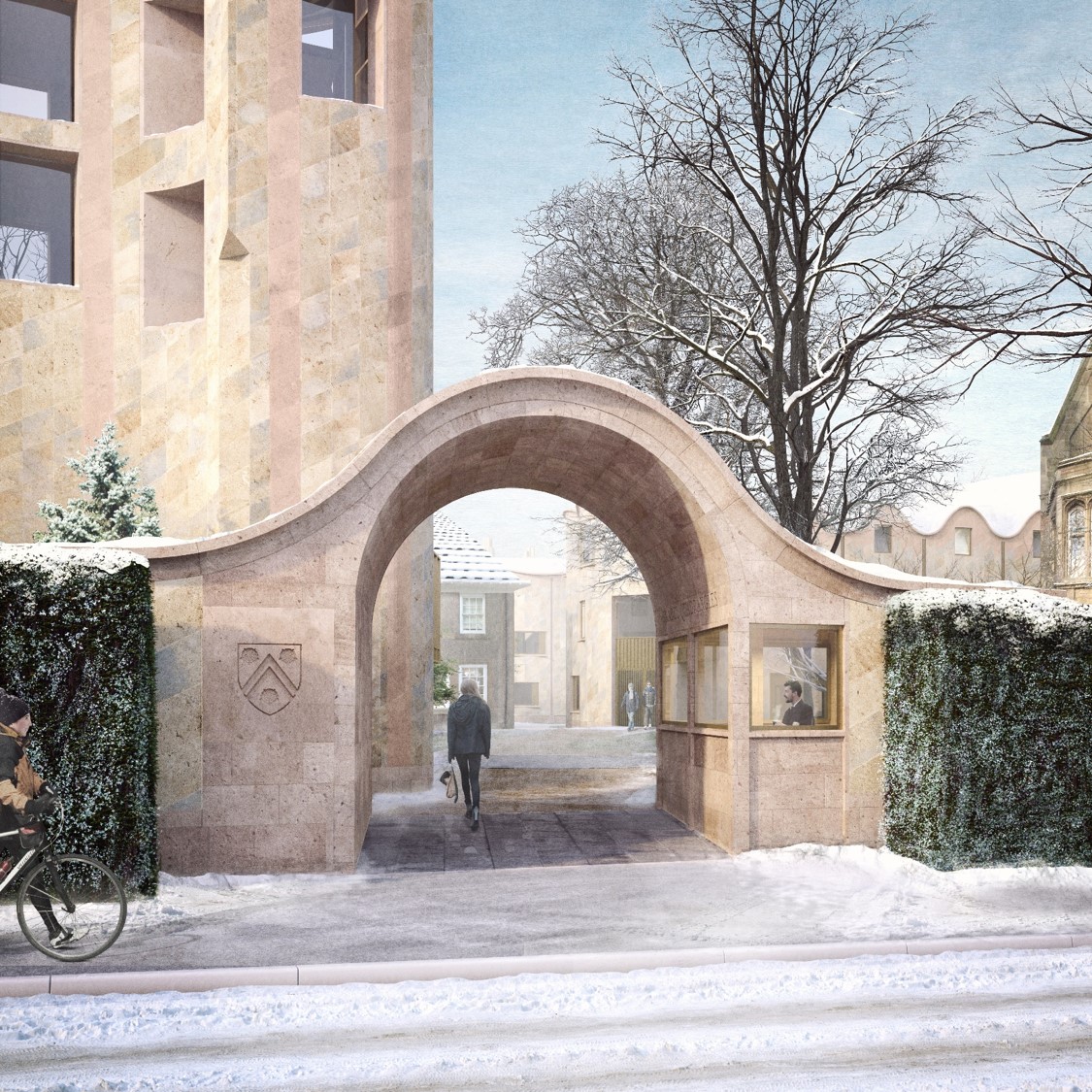 The new Porters' Lodge, where the names of those who give £10,000 or more to the project will be displayed. 
How to Give
Below are some examples of how UK tax payers can make a tax-efficient donation. In all cases, the College claims Gift Aid and the donor reclaims against their tax liability. 
NB. The figures given assume the Higher Rate of income tax (40%) is being paid. Donors paying the Additional Rate (45%) will be able to reclaim a further 5%. 
Flat £100,000
| | | | | | |
| --- | --- | --- | --- | --- | --- |
|   | You Donate | Gift Aid Claimed | Value of Gift to New College | Higher-Rate Tax Reclaim | Net Cost to Donor |
| Single Donation | 80,000 | 20,000 | 100,000 | 20,000 | 60,000 |
| Over 5 years | 16,000 | 4,000 | 20,000 | 4,000 | 12,000 |
Gradel Quad Accommodation - The Background
Central to our plans is the provision of accommodation for all of our undergraduates. New College is currently unable to house all of its students, leaving them to find their own private accommodation in one of the most expensive cities in the country. This can be a daunting prospect and a significant financial strain on students, so the availability of affordable rooms is crucial, particularly for those who only wish to reside in Oxford during term time. The Savile Road site offer a unique opportunity for us to address this. The location is close enough to the main College site to ensure that all residents feel part of the New College community, and have easy access to all of the facilities they need to make the most of their time here. 
"Searching for accommodation outside of College can be incredibly stressful and expensive. A guaranteed room in College would reduce these worries and ensure that all members get to enjoy being a part of the tight-knit College community. Being close to the library always helps too!"
- Kendya Goodman, JCR President
"Student rooms are needed desperately. Why? We have sunk dramatically in terms of competitiveness through our inability to house a whole year of undergraduates in College accommodation, when our peers do. Worse is the impact this has on our drive to widen access to students of all backgrounds: the fear of a year at the mercy of the Oxford housing market looms large for them."
For further information, please contact:
Mark Curtis, Fellow & Director of Development
mark.curtis@new.ox.ac.uk
Tel: +44 (0)1865 279261
New College, Oxford OX1 3BN
Explore further
Discover more about New College