We continue to celebrate the 40th anniversary of women students at New College! 
On Saturday 7th March, the day before International Women's Day, the College hosted a Networking Day and Grand Party for students, staff, and Old Members. And we're happy to report that the event was a huge success! 
Keynote Address - Otegha Uwagba
"At every stage of my career, I've found women to be a source of unparalleled support and wisdom"
A former PPE student here at New College, Otegha returned to give an inspiring keynote address in the Chapel.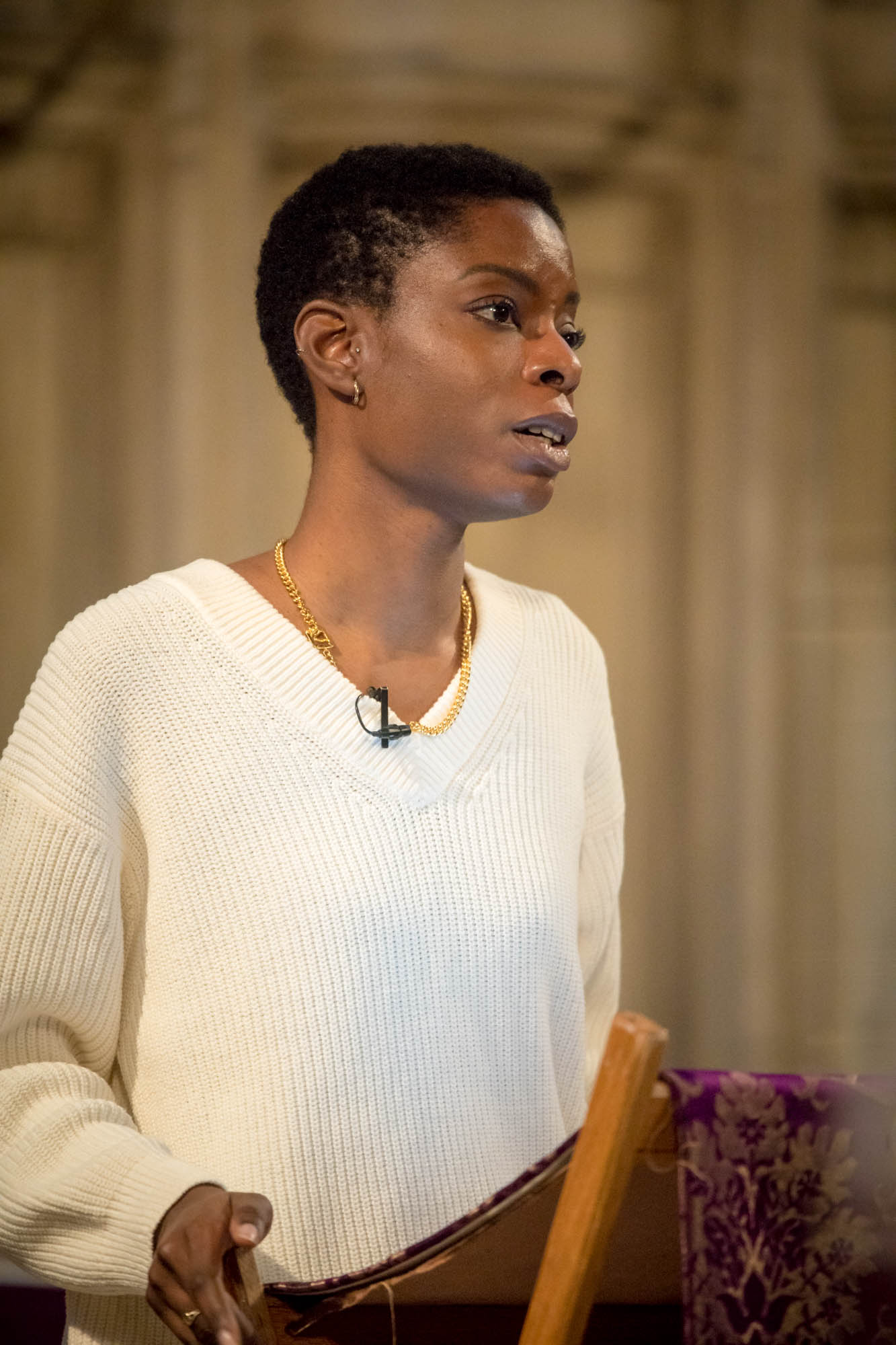 She confessed her surprise at first hearing that women were only admitted as students here in 1979 - 600 years after the College was founded, and used this to highlight how much progress has been made regarding gender equality in what is a relatively short period - and how far there is still to go. 
"Women are now even more likely than men to go onto higher education, and have moved into the workforce in greater numbers, starting businesses, running companies, being elected into parliament, and narrowing the gap between men and women that has persisted for centuries, if not millennia.

But there is still a lot more progress to be made – there is still a gender pay gap of 16% in the UK, and careers within the STEM sectors (that is science, tech, engineering and maths) are still dominated by men, in part because these industries, like many industries, have given little thought to how to accommodate working mothers, who continue to persevere in a world that is built to accommodate men. Women still do more domestic housework than their male partners, and do more office admin than their male colleagues.

Despite all the progress we have made, there's still a long way to go, and I hope that in another 40 years' time, things look as different to me as looking 40 years into the past does now."
Otegha closed with a plea to the current New College students to use the great advantages that are at their disposal to strive for a more equal society. 
"You are incredibly lucky to be here. And I don't mean here listening to me, but here in Oxford, and part of this community. Everyone has some degree of privilege, but if you're sitting in this hall, listening to me speak, then chances are you probably have a considerable amount of it. The question is – what are you going to do with that privilege? Earlier I said that in speaking here today, I wanted to be of service to you, and now I ask that you also think about how you can be of service to other people, people who don't have a voice, or a platform, or the agency to advocate for themselves.

If you consider yourself to be a feminist, which I hope you do, then you need to consider the struggles not just of women who look like you, but also those of different races, nationalities, class backgrounds and economic means."
Our heartfelt thanks to Otegha for her superb speech and to all the attendees. 
Otegha Uwagba read Philosophy, Politics, and Economics at New College from 2008 to 2011. She then worked in advertising, before going solo. Now, as the founder of Women Who, she directs a platform committed to energising the creativity in women. Her Little Black Book is a toolkit for working women, and has been a source of both buzz and influence. 
The Grand Party
Following Otegha's address and some professional skills coaching and networking sessions for attendees, everyone was invited to relax for the evening at our Grand Party in a marquee in the New College gardens. 
A lovely evening with drinks, nibbles, music, and - most importantly - a chance for all of our current and former students to mix and get to know each other! 
A selection of photos from the evening is below. See the full gallery from the event. 
Images from Zeuxis Photography
Explore further
Discover more about New College
40th Anniversary of Women Students