ARVO PÄRT...and a Littlemore festival
New College is proud to be supporting Music at Oxford's ARVO PÄRT...and a Littlemore festival, which runs from Friday 18th-Friday 25th November 2022. 
Originally conceived to celebrate the composer's 85th birthday in 2020, this will be the largest UK festival of his music to date, right here in Oxford, in collaboration with the Estonian Embassy in London, Arvo Pärt Centre and TORCH. The festival will celebrate Arvo Pärt's significant contribution and legacy through music, film and talks, embracing a variety of artists to explore his work and influence, including the Estonian Philharmonic Chamber Choir, O/Modernt and the Raschèr Saxophone Quartet among many others.
Find out more about the ARVO PÄRT...and a Littlemore festival.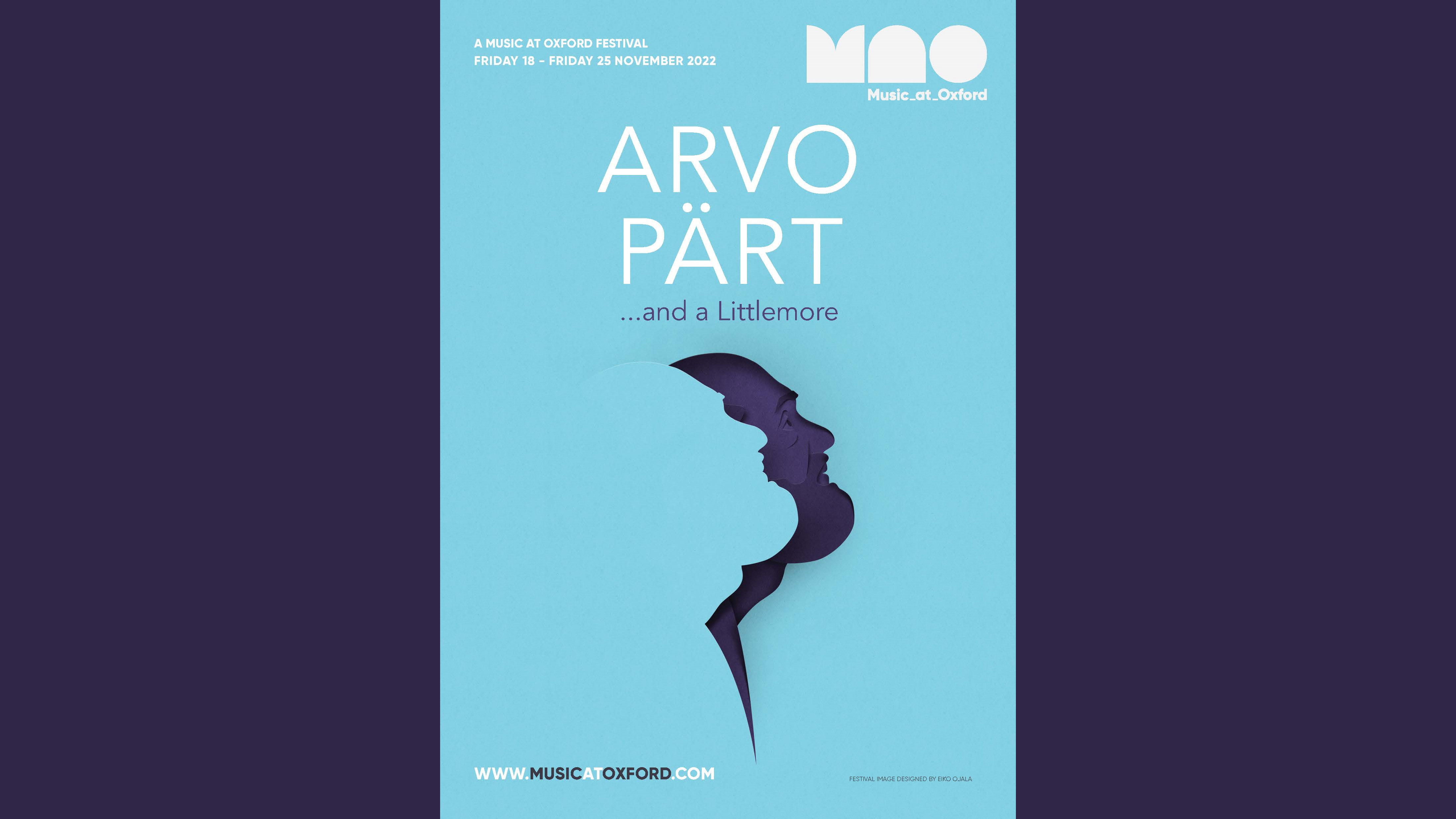 New College involvement
As well as supporting the festival, New College will be involved more directly in a number of its elements. 
Launch Reception
New College, Friday 18th November
New College is hosting the reception to launch the whole festival on 18th November. 
Attendees include: 
H.E. Mr Viljar Lubi, Ambassador of Estonia
Ms Kersti Kirs, Cultural Counsellor at the Embassy of Estonia in London
Mr Taaniel Raudsepp, Undersecretary for Arts at the Estonian Ministry of Culture
Mr Dimitri Mironov, Cultural Counsellor at the Estonian Ministry of Foreign Affairs
Mr Ivo Lille, Adviser for Music at the Estonian Ministry of Culture
Mrs Anu Kivilo, Director of the Arvo Pärt Centre
Ms Kristina Kõrver, Musicologist at the Arvo Pärt Centre
Ms Aile Tooming, Editor & Curator of Education at the Arvo Pärt Centre
Ms Rebecca Dawson, Music at Oxford
Attendees will then go from the reception at New College to the opening concert of the festival - Da Pacem Domine by the Grammy award-winning Estonian Philharmonic Choir at Christ Church Cathedral. 
---
Film Screenings
Ultimate Picture Palace, Sunday 20th November from 2:20pm
New College's Music Lecturer Luke Lewis will be moderating Q&A sessions with the directors of two Arvo Pärt films following their screenings at the Ultimate Picture Palace on Sunday 20th November. 
The films are Anu Kivilo's Even If I Lose Everything (2015) and Paul Hegeman's That Pärt Feeling (2019). 
---
Fratres: An In-Depth Exploration
Lecture Room 6, New College, Tuesday 22nd November 11am
Luke Lewis will also be moderating another talk, hosted in New College's Lecture Room 6. 
Kristina Kõrver, Musicologist at the Arvo Pärt Centre and Aile Tooming, Editor & Curator of Education at the Arvo Pärt Centre will discuss Fratres - one of Pärt's best-known works and one of the earliest examples of his musical language 'tintinnabuli'. 
---
Choir of New College Performance
New College Chapel, Tuesday 22nd November 6:15pm
The Choir of New College will perform a Festival Evensong placing the sacred music of Arvo Pärt in its liturgical context. Partly inspired by Gregorian chant, Pärt has composed a large number of works for choir over the years, many of which are based on his 'tintinnabuli' method. 
Pärt's Beatitudes is one of the first works by the composer to use the English language, and is based on the text from Jesus's Sermon on the Mount. It was premiered in 1990 in Berlin's Nathanielkirche. The radiant organ voluntary is by Pärt's close friend Tõnu Kõrvits and was premiered in 2014 at the Tallinn International Organ Festival. 
Introit: Arvo Pärt Da Pacem Domine
Francis Grier Responses
Psalms 108, 109
Weelkes Canticles (short service)
Organ Voluntary Tõnu Kõrvits
Hymn to the Blue Sky
Arvo Pärt
Arvo Pärt is an Estonian composer of contemporary classical music. 
Many of his pieces employ a 'tintinnabuli' - a minimalist compositional technique that he invented. His best-known works include Fratres (1977), Speigel im Spiegel (1978), and Für Alina (1976). He is one of the most-performed living composers anywhere in the world and has inspired composers and musicians for decades. 
Oxford connections
He was awarded an honorary doctorate by the University of Oxford in 2016 and composed Littlemore Tractus for the Church of St Mary & St Nicholas in Littlemore in 2000, celebrating the 200th anniversary of the birth of Saint John Henry Newman. 
Why New College?
We aim to make New College your home away from home.