New Display to Honour our Morris Garages
We unveiled a new display in the iconic 'Morris window' in the Morris Garages in Longwall Street. When the old display was removed during the refurbishment and rebuilding of the student accommodation behind the Longwall façade, there was a widespread sense of loss. 
"The intention was always to replace the display but we have now the opportunity to improve it significantly. The Garage is an iconic part of Oxford's heritage, and it is important that members of the public have a chance to see the role it played in our industrial history."

- The Warden
In 2018, the Garage was selected by Historic England as one of the top ten places in Industry, Trade and Commerce as part of their 'Irreplaceable: A History of England in 100 Places' campaign. 
The new display includes not only information and photographs detailing the history of the Garage, but also artefacts from William Morris's time – a car radiator and his two-branch table lamp. It was crafted by museum designer Byung King and was unveiled at the Morris Garage on 6th November. 
Recreating an Iconic Image
At the unveiling, Andy Smith, Chairman of the Bullnose Morris Club, kindly brought his 1921 Morris Oxford to New College Lane, to recreate the famous poster image. Our recreation is pictured below. Our thanks to Andy for facilitating it!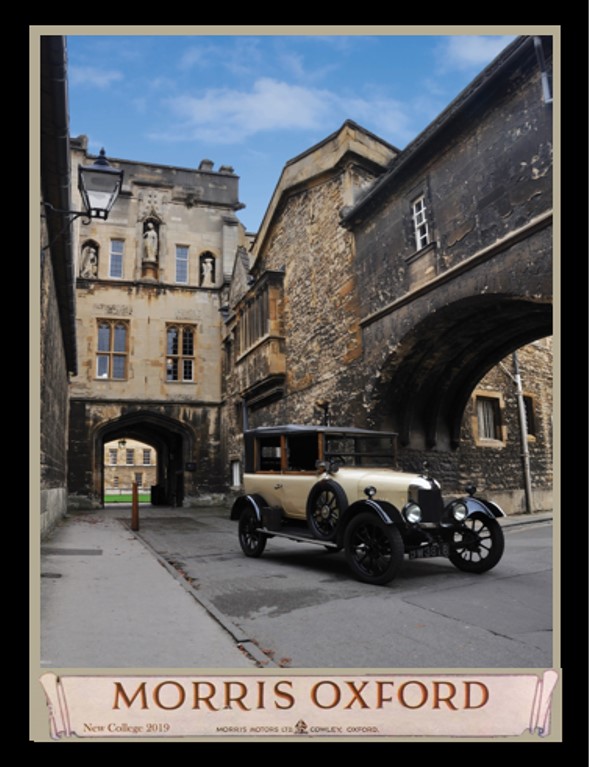 William Morris (from Historic England)
William Richard Morris (1877-1963) rose from humble origins to become the leading British motor manufacturer of his day. Brought up in Oxford, he left school at fifteen and shortly afterwards established his first business, a cycle repair shop run from his parents' house in James Street. 
In 1901 he set up as a cycle-maker with premises on the High Street, and the following year he moved into motorcycle manufacture, renting from Merton College a set of stables at 100a Holywell Street (immediately behind the present building) for use as his workshop. 
In 1909 he sold the cycle business and established the Morris Garage. At first he merely sold, hired and repaired cars, but in 1912 he began production of his own Morris Oxford, adopting the more efficient US practice of sourcing parts from external suppliers rather than manufacturing them on site. 
After the factory moved to Temple Cowley in 1914, the Garage become a showroom for Morris Cars. Then, under Morris's dynamic assistant, Cecil Kimber, the place where the MG car (MG  = Morris Garage) was invented and first made. 
The new window commemorates both William Morris and Cecil Kimber.