New College Society - Women in History: In conversation with Kate Mosse (1981), OBE, FRSL Thursday 27 April 2023
The New College Society warmly invites New College Old Members, and a guest, to join them for an exclusive evening with New College Old Member and international bestselling author Kate Mosse, OBE FRSL (1981 BA English). Join Kate as she talks about her latest book and one-woman show Warrior Queens & Quiet Revolutionaries: How Women (Also) Built the World.
Kate's work is part memoir, part love letter to history, part celebration of nearly a thousand women whose names are missing from the official record. She shines a spotlight on mothers of invention and pirate commanders, unsung pioneers of medicine and law, women of courage and women of faith, those who fought for what they believed or dazzled on the screen or in the sports stadium, those who reached for the stars and the female scientists whose work was overlooked, explorers and campaigners, artists and fighters, women from all periods of history and all corners of the world. At the heart of the evening is a question - what is history? Who gets to decide what matters and what does not? Who decides what should be preserved and what is allowed to fade into obscurity? And why is that that women's contributions are so routinely misattributed or overlooked or neglected?
You can learn more about Kate, her books and her first ever one-woman show at www.katemosse.co.uk
We are also delighted to welcome fellow Old Member Katie Brewer (1987 BA Mathematics), founder and host of the Bandwidth Conversations podcasts, who will conduct the fireside interview with Kate before inviting questions from the audience. Katie is kindly developing Old Member Conversations for the College, a series of podcast interviews with Old Members, which includes one with Kate Mosse.
The event will be held in The Old Theatre at  The London School of Economics, Houghton Street, London WC2A 2AE (see map) on Thursday 27 April 2023. The talk will begin at 6.30pm and will be followed by a drinks reception until 9.00pm, where Kate will join us and be on hand to sign copies of her book which will be available to purchase on the night.
The cost of the evening is £30.00 per person.
If you would like to attend, please complete the online booking form (see link). RSVP by Wednesday 19 April 2023. 
Should you have any enquiries, please contact the New College Development Office on: oldmembers@new.ox.ac.uk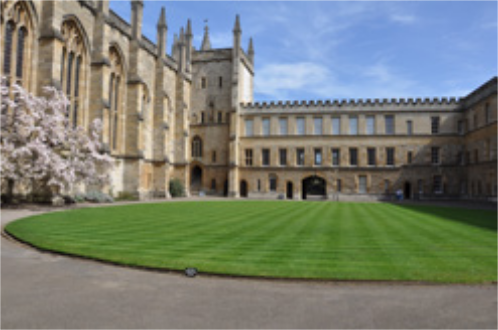 27
April 2023
18:30 - 21:00
Location
The Old Theatre, London School of Economics
Eligible audience
New College Old Members