Continuing a Tradition
New College is famous for its Gargoyles and Grotesques, sculpted mostly by Michael Groser in the mid-20th Century, which draw on a long tradition of stone and woodcarvings at the College. As part of the wider art strategy for the site, we are therefore delighted to continue this tradition with a new commission of 17 Gargoyles and 11 Grotesques to feature prominently along the rooflines of the main quadrangle building and new Warham House.  
A gift of £15,000 will fund either a Gargoyle or Grotesque, which can be done as a single gift or in 5 annual donations of £3,000.
Please don't hesitate to get in touch with Mark Curtis, Director of Development, if you would like to find out more.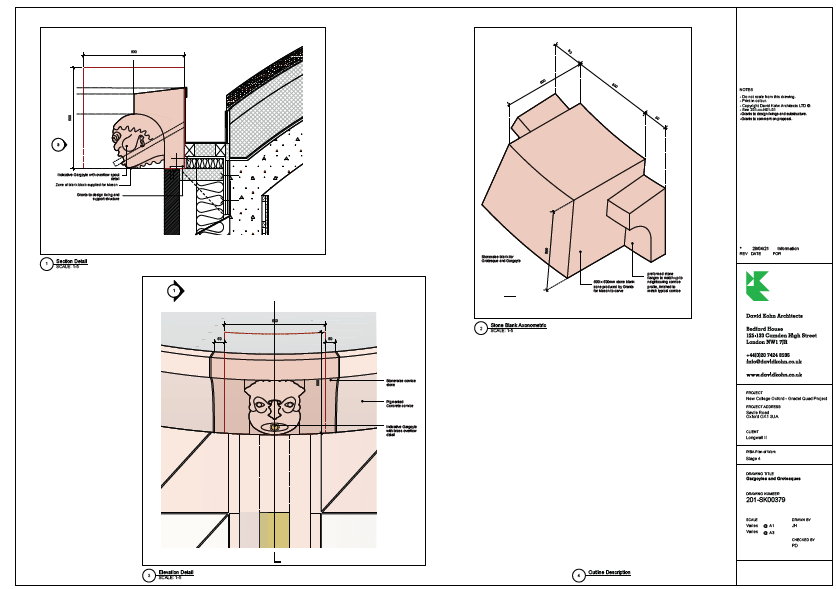 Recognition
If you would like your gift to be acknowledged publicly, your name will be included on the donor wall in the new Porters' Lodge at the entrance to the Gradel Quadrangles as a permanent record of your support of this project. 
How to Give
Below are some examples of how UK tax payers can make a tax-efficient donation. In all cases, the College claims Gift Aid and the donor reclaims against their tax liability. 
NB. The figures given assume the Higher Rate of income tax (40%) is being paid. Donors paying the Additional Rate (45%) will be able to reclaim a further 5%. 
Gargoyle or Grotesque £15,000
| | | | | | |
| --- | --- | --- | --- | --- | --- |
|   | You Donate | Gift Aid Claimed | Value of Gift to New College | Higher-Rate Tax Reclaim | Net Cost to Donor |
| Single Donation | 12,000 | 3,000 | 15,000 | 3,000 | 9,000 |
| Over 5 years | 2,400 | 600 | 3,000 | 600 | 1,800 |
For further information, please contact:
Mark Curtis, Fellow & Director of Development
mark.curtis@new.ox.ac.uk
Tel: +44 (0)1865 279261
New College, Oxford OX1 3BN
Explore further
Discover more about New College