Achieving an enviable reputation for pairing culinary excellence in 14th century surroundings is something we are all very proud of here at New College. A dedicated team of chefs and front of house stars are constantly seeking out new flavours and creative dishes to meet the most demanding of clients. Whether it's a simple buffet lunch, champagne and freshly made canapes or a four star banquet dinner from 20 to 200 we have the unique venues and experience to ensure your visit is a memorable one.
Savour a sumptuous dinner in one of the UK's oldest dining halls, share Chablis and canapes in our Cloisters or famed gardens, enjoy an intimate fine dining experience in one of several smaller rooms seating 20 to 60, or relax with a cocktail in our recently refurbished bar.  
Brian Cole, Catering Manager
Brian oversees all catering events within New College.
He is an extremely efficient, prominent and well thought of catering manager within the University circuit. 
He is always happy to help and guide people regarding bookings, from allergenic requirements to menu options.  He heads up the FoodQuad Catering group and is a member of the TUCO group.  Brian ensures that New College stays on the cutting edge of cuisine and events providing outstanding catering throughout the year.
Sam Cruickshank, Head Chef
Sam's style of cooking has Anglo French influences and a mixture of the traditional to the contemporary, inspired by chefs such as Raymond Blanc, Michel Roux and other pioneers of modernist gastronomy. 
International cuisines are embraced at New College reflecting the knowledge and influences of our multinational kitchen team.
Sam is passionate about using fresh produce and where possible he encourages sourcing supplies from local businesses. 
Developing dishes with a focus on balance of flavours, textures and presentation is reflected in the high standard of food provided for Conferences. Sam is happy to discuss individual menu ideas and to help plan your next event here at New College.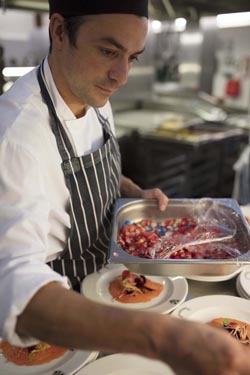 Monika Pietruszewska, Food Services Manager
Monika manages our busy Buttery and Hall where during term time students dine throughout the day.  She has an efficient and dedicated team which help to ensure service is kept to a high standard, no matter what type of event you book with New College.
Sheena Hinton, PA to the Bursar & Home Bursary and Catering Administrator
All catering events and students meals are organised through Sheena. She is at the centre of the Catering family and ensures the smooth running of events and food services in College. You can find her on the first floor of 4OB where she additionally manages the Bursars office. She is extremely dedicated and experienced and has a wealth of knowledge about food and Catering in general which helps the team co-ordinate small and large events.
Moving onto the catering… it was again exceptional this year. The canapés at the drinks reception were amazing, and I know you all went the extra mile. The Friday night dinner (lamb) and Saturday night dinner (Venison), I think the Savoy in London would find it hard to compete with and for 200 guests – amazing – many congratulations to the chefs and their teams - superb.
Lucinda Howe
Senior Events Manager, Quadrilect Ltd
---
Food was exceptional this year also so please thank your staff on our behalf.
Marilyn Blake
Conference Administrator, Oxford Ethnography and Education
---
Explore further
Discover more about New College
Practicalities
Find out about New College student accommodation, meals, finances and more.