Life in Lockdown
Trinity Term 2020 was spent away from College for most of our students and staff.
To see how everyone was getting on away from Oxford, we began a new series on social media called Life in Lockdown, where different members of College told us, in their own words, how they were handling our new way of life.
Mila Ottevanger, First Year English Student 
"For me, working from home has largely involved digging out an old box of a variety of teas which my mum (English Breakfast until she dies) has stuffed at the back of a cabinet, and testing them to see if herbal teas really have the calming properties they're supposed to. My research has proved my hypothesis that coffee remains the better drink, and that people who drink herbal teas mostly just want their hot water lightly flavoured (I do like green tea, though). In all seriousness, I'm finding hard to stay motivated - the reliance on tech means people are available all hours, or at least I can text them at all hours, when in the library I might shame myself out of scrolling through Instagram instead of doing Old English. Something I've found really helpful is committing myself to finetuning my workspace so that sitting at my desk is as efficient and relaxing an experience as it can be (although it is a child's desk, so my neck hurts a bit). I've picked a lightbulb with a calming, warm yellow light reminiscent of - though not perhaps as intense as - the New College library, I light a lavender candle, above my desk I've arranged pictures of my friends to keep me company, and I spend my off hours making study playlists that remind me of specific places around college or dreams for after quarantine. Not to forget, of course, the end-product of my extensive foray into caffeinated drinks - a cosy, warm coffee."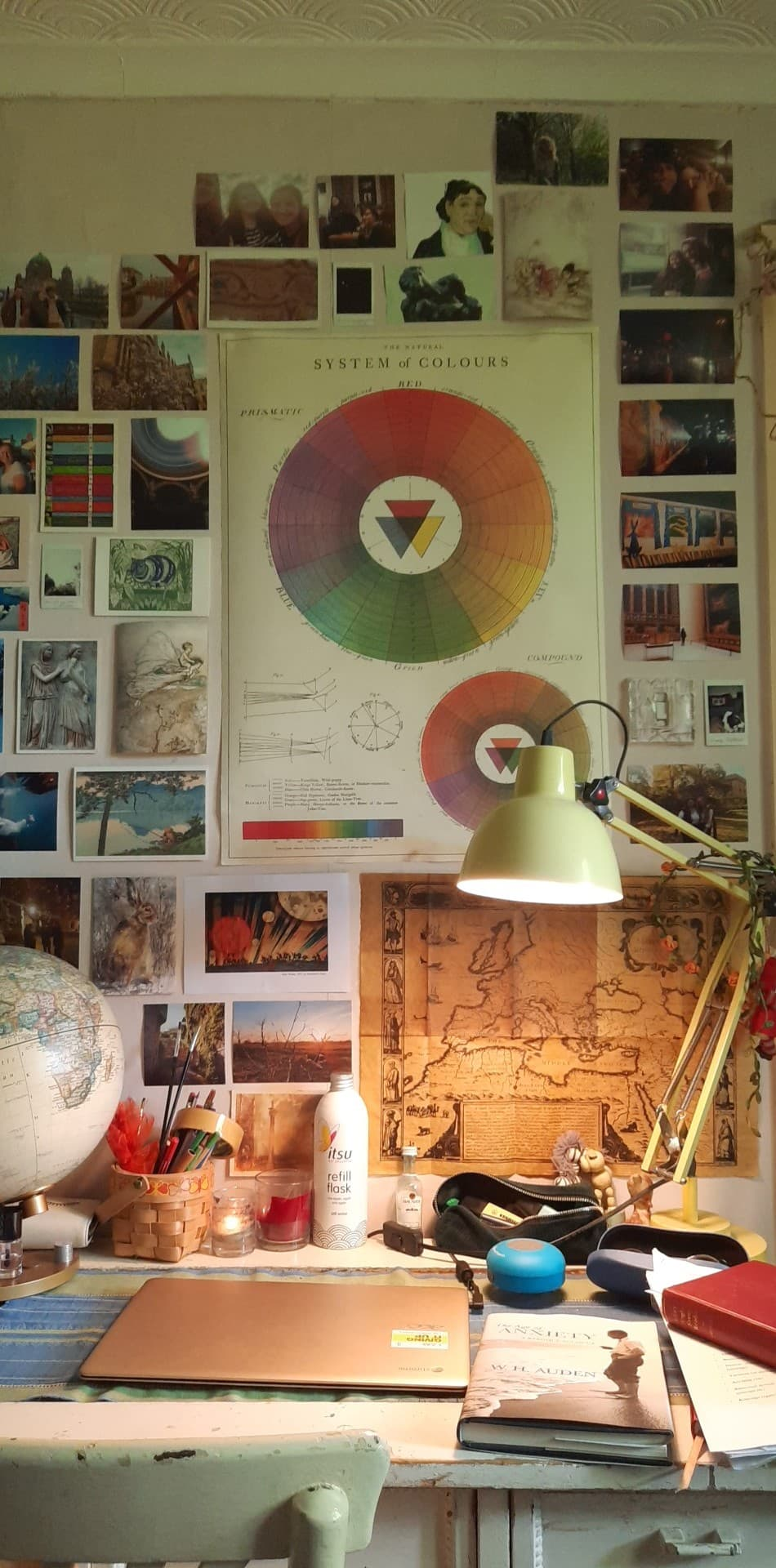 A view from the Lodge
 "Everything is eerily quiet, although there are still some members around who either planned to not go home (mostly finalists), but there are also a few more who had to isolate and then find that they couldn't get home even if they wanted to! And, as we have been keeping the big gates closed as much as possible, not having to ask people to dismount their bikes as they enter is a sort of welcome relief. 
With hardly any staff to look after, it's difficult to fill the working day (12 hours in our case!), but we are able to get out from time to time to make sure all is well, and that the wildlife hasn't taken over too much of the old place! On that point, being able to hear birdsong in the middle of the day, right here in the centre of Oxford, was not something I would previously have thought possible. 
 Although it looks like things are easing, there's little chance of seeing many students for the rest of this term, which is very strange, but we will do our best to make sure it's all here for everyone when they are able to return."
Madi Oliver, Fourth Year Medical Student
"In the lead up to lockdown and the cancellation of our medical studies, I was on my acute general medicine rotation. With the increasing worry about COVID-19 globally, there was a very serious and almost obsessive focus in the hospital on the implications the virus would have in the coming weeks. Watching the changes the hospital was having to undertake as I entered the hospital each day, it was difficult to get away from the reality of the impact this virus was going to make.
Now, many months in to lockdown, it seems strange to remember a time when I was simply in the hospital as a student. I now work two jobs in the hospital, and have adjusted from the 10am-2pm working hours ofa student to the 12 hour shifts of a hospital employee. I work on the staff testing clinic, swabbing and taking bloods from staff members to test for coronavirus. I also work on ICU as a "doffer", which involves helping ICU staff to remove their PPE safely and in an infection controlled manner.
As medical students, we are very used to being rather a hindrance in the hospital. One of the wonderful things to come from this difficult experience is that we now all feel so much more a part of the hospital community. We have got to know the nurses and doctors so much better, and really feel like we are part of their team."

Erica Longfellow, Dean of Divinity, Chaplain and Fellow
"At the beginning of the covid-19 shutdown, I couldn't stop thinking of Psalm 126. It begins: 
When the Lord restored the fortunes of Zion, 
   then were we like those who dream. 
It comes from the time when the Jewish people had finally returned to Israel after a long captivity in Babylon. When they reach their homeland they are overwhelmed with relief: 
Then was our mouth filled with laughter 
   and our tongue with songs of joy. 
Like so many others I was sustaining myself by thinking about how good it would be when things changed, and we could enjoy the things we'd taken for granted before: a touch, a meal with friends, simply being carefree in one another's company. 
But I was also thinking of Psalm 126 because being in college over those weeks felt like a dream. For the few of us who remained—a few fellows, one porter and one scout at a time, a handful of undergraduates on the main site, and a few dozen post-graduates at the Weston buildings—the college was like a haven. In the warm days of April and May we could wander the gardens as they grew increasingly lush, and if we were lonely and needed to see someone there was always the option of popping in to collect your post or drop off rubbish and a distanced chat with the porter on duty or whoever happened to be about. We were all, I think, sustained by the college, by the sense of being in this together, of being able to take refuge, and I'm grateful for the patience and good cheer of staff, students and colleagues who made it a calmer, collegial experience. There was a lot of New College love. 
In my working life, I had to transition from managing the daily services in the chapel to producing our weekly Chapelcast virtual evensongs, using music recorded at services in Trinity Term 2019, and organising new recordings of readings, sermons and prayers. I became, in effect, a radio producer, coaching clergy colleagues and students in how to make recordings at home (with many thanks to Chris Lintott, who early on sent me a fun photo of his new state-of-the-art BBC recording studio, in the form of two sofa cushions propping up a duvet). It was a much more daunting task than I had envisioned, and I am extremely grateful for the help of Elizabeth Fitzpatrick, Nancy-Jane Rucker, Chris Thompson, and the audio editor, Dan Jeffries. We produced something I'm very proud of, and it turned out that we were one of only a handful of cathedrals and colleges that were able to put out a full virtual evensong once a week, and often twice a week. I enjoyed my new role so much that I also instigated the New College Reads to You project, with the help of Christopher Skelton-Foord, Chris Thompson, Sam Brown, and the Development Office. We've drawn together a wide range of fellows and old members to read from their own writings and works that have moved or inspired them. We've had so much positive feedback from the project that we're keeping it going over the summer, and perhaps on in to the autumn. 
Planning for next term is challenging. As I write, it is still not clear whether we will be able to have a choir and the congregation in the chapel at the same time. But if last term taught me anything, it is that disruption brings opportunities as well as challenges. It will be unpredictable, but we will find new ways of keeping the chapel at the heart of the New College community."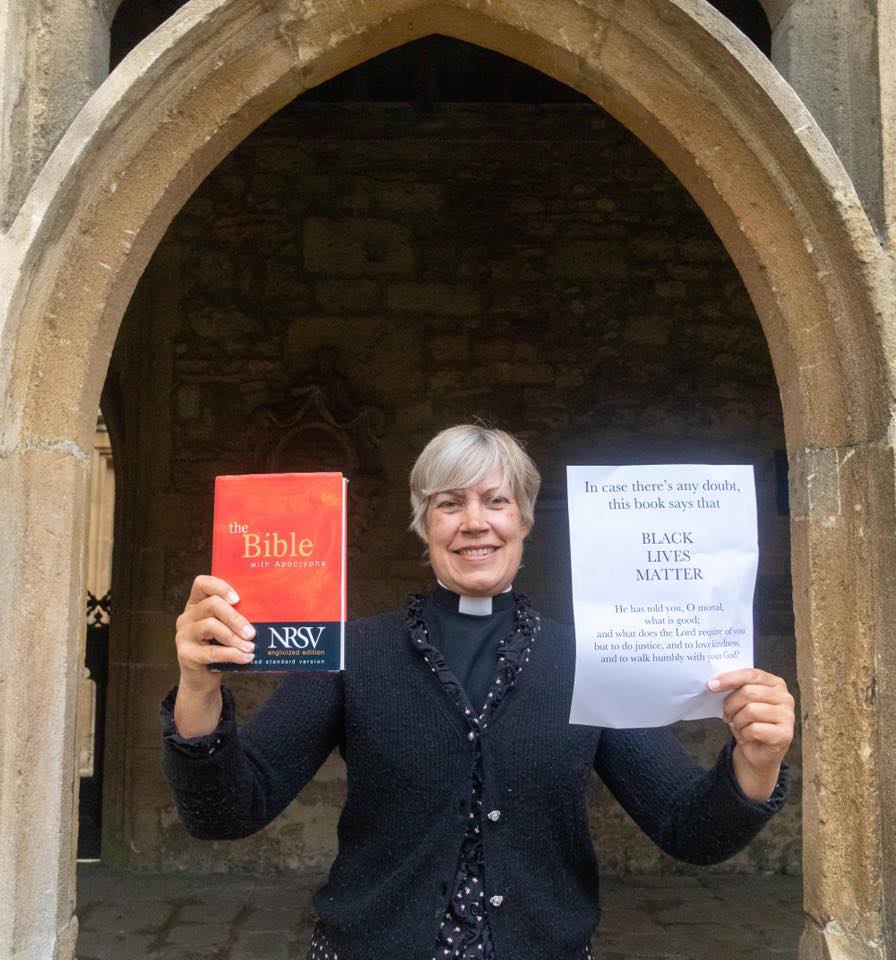 New College Reads To You
Listen to our podcast of Fellows and Old Members reading short passages of writing that are significant to them.
More readings will be added over coming weeks, building into a collection that will remain here for you to enjoy.
Explore further
Discover more about New College