Making a Mark
New College is delighted to be hosting a major retrospective exhibition of sculpture by Nicolas Moreton.
The exhibition - Making a Mark - is Nicolas's first major retrospective. It will cover the key ideas and concepts from across his 35 year career, exploring some of the wonders of human existence through stone, right back to a work from Nicolas's degree show in 1985! 
Making a Mark seeks to promote the medium of stone carving and demonstrate that it is still a powerful and creative material in the contemporary context of art. 
The exhibition will run from Sunday 17th October 2021 - Friday 8th July 2022 and will be hosted in the New College Cloisters and Antechapel. 
There will be no additional charge for the exhibition - all visitors will be able to view it as part of the ordinary tourist fee. Please consult our Visiting the College page for details of fees and opening hours. 
"This exhibition is an opportunity for me as an artist to reflect upon and come to terms with what I have been doing for the last 35 years. I am looking forward to showing in such a beautiful space and seeing how people will react to my work. I hope I make sculpture that the viewer will want to engage with, to begin a relationship with, in order to understand what lies beneath the visual.

Every day is a learning day to find form where none really exists. The heritage of stone links all cultures and is in a sense the foundation of our society."

- Nicolas Moreton
Download a Guide to the exhibition
Featured Pieces
Nicolas Moreton
Nicolas Moreton is one of our leading contemporary stone sculptors living and work in Britain today. 
"A modern master of the medium of stone carving"

- Tim Marlow, Art Critic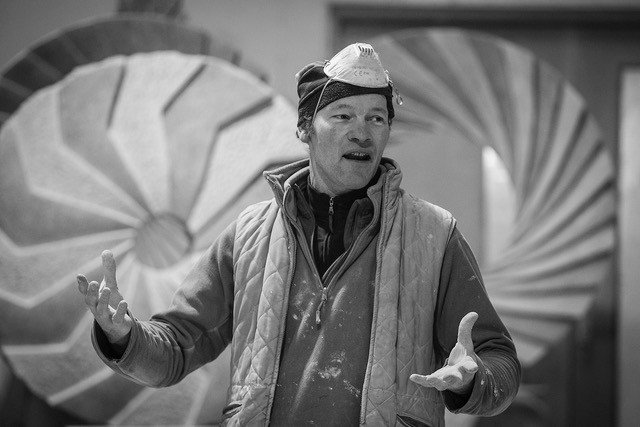 Nicolas is an elected member of the Royal Society of Sculptors. He has exhibited at both the Royal Academy and the Chelsea Flower Show and his work is collected worldwide, with major public art works in London, Dublin, Yorkshire, and Milton Keynes. 
"Moreton's work is distinguished by sensitive carving of exceptional skill"

- Peter Webb, Art Historian
New College Cloisters
The Cloisters are a special haven of peace, and abut the western wall of the Chapel. They were part of the original College design and have remained an important part of College ever since, still retaining their reflective purpose. 
They regularly host events and are particularly famous for a holm oak which featured in Harry Potter and the Goblet of Fire, where Draco Malfoy is turned into a white ferret. 
Photograph of the Cloisters by New College Dean of Divinity, Erica Longfellow