New College alums, Gabriella and Julian Bailey, launch new art show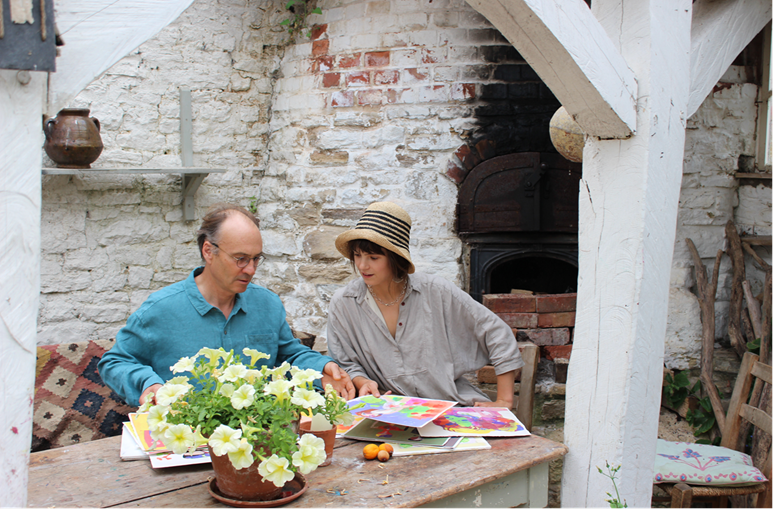 Painter and printmaker, Gabriella Bailey, graduated with a degree in English Literature from New College in 2021. She is now holding her debut exhibition at the Pembroke College JCR Art Fund Gallery with her father, Julian Bailey, who is also an alum of New College, having studied at the Ruskin School of Art in the 1980s. Their show 'A World Away' opens on 4 November and runs on Saturdays and Sundays for three consecutive weekends until 19 November. Gabriella told us more about the show, her time at New College, and what it was like to work with her father.
Tell us about your new exhibition at Pembroke College JCR Art Fund Gallery!
'A World Away' is my upcoming debut show, which I am sharing with my father, Julian Bailey. It is taking place over three weekends at Pembroke College JCR Art Fund Gallery and showcases recent oil paintings and works on paper. I have been working towards this show since the spring of this year and have created a new body of work, which I am excited to share. It is curated by Myroslava Hartmond. The title 'A World Away' touches on the literary themes of the show: I think both Julian and I share a preoccupation with figures in scenes, those almost-lyrical moments, which come as though from another world and, by being given direct expression, become tangible and relatable.
You are an alumna of New College, graduating with a BA in English Literature in 2021. Tell us about how you became a painter and printmaker after you left us?
In 2019 I came to Oxford from Dorset to read English Literature at New College, and in my second and third years I specialised in medieval literature (Course II). My time at New College was an incredibly enriching one and an experience which undoubtedly played an integral role in my desire to pursue a path as an artist. I think I initially chose to study at New College because of it's palpable medieval spirit, with its incredible stained glass, cloisters, quads, city wall, which all felt very enchanting to me. Having grown up in Dorset, next to the church where Hardy's heart lies, I must have been a bit like Jude the Obscure arriving in this awe-inducing place and feeling its aura in every stone and carving. However, unlike Jude, I was accepted into these walls and given the freedom by my tutors to pursue my academic interests, which led me to focus on Old and Middle English poetry, alchemical writing, and stained glass. Jude is a recurring character in my work and two paintings in the show portray him. After I finished my degree, I felt strongly that, rather than pursuing academia further, I needed to respond creatively to what I had encountered and to find a visual language with which to express my thoughts and feelings. Since a child I have painted, drawn, and written stories — art is, you might say, "in my blood", so it was about developing these skills further and really dedicating myself to the craft. I am a member of the Oxford Printmakers' Co-operative, where in a sense I continuing my studies, though now of a different, more practical nature: rather than using a pen and paper to express myself, I use a diamond tip pen and a sheet of copper. But it feels like a very natural transition.
What were your favourite memories of New College? Did your experience here inspire your career in art?
My love of literature was nurtured and refined at New College, and the art and poetry that I encountered during my time there continue to exert a profound influence on my visual work in more and less obvious ways. For instance, we studied a lot of Chaucer and one of the pictures in the show is a Drypoint entitled 'Three Good Women' which is a triptych drawing on three stories from Chaucer's Legend of Good Women, with a few lines from the poem penned below. My encounter with illuminations and stained glass also had an impact on my own artistic development.
Your new exhibition is a joint show with your father, Julian, who is also an alum of New College. What was it like working with your father?
Julian was a student at the Ruskin in the 80s, the only art student at New College at the time. It is a special thing to be showing alongside my father because he taught me to paint and draw as a child and has continued to be an important artistic mentor to me since I finished university. It is from him that I think I have inherited a boldness of line and love of glowing colour. Both of our work in the upcoming show has a connection to Oxford and Dorset, places that are steeped in literature: for example Julian will be showing some pictures from his Tess collection, which is a direct and personal response to Thomas Hardy's Tess of the D'Urbervilles, imagined vividly in the here and now. His major piece in the show is a painting of 'Tess' which I in turn have responded to with a painting called 'Jude', and I think when they're on the wall next to each other it'll be an interesting dynamic and perhaps show the convergences and divergences between us as artists.
What's next for you following this show?
Following this show, I am looking forwards to having more time to get back in the studio and printing workshop and start a new body of work.
'A World Away' by Gabriella and Julian Bailey
'A World Away' runs from 4 November every Saturday and Sunday until 19 November