New College Society Government & Public Service Network Event
The New College Society warmly invite you to a meeting of its Government and Public Service Network on Thursday 9 February 2023 between 6.30pm and 9.00pm. Liam Laurence Smyth (PPE, 1974) will kindly host us in Portcullis House, SW1A 2LW.
An aim of the Network continues to be supporting current New College students who are interested in developing careers in the broad field of government and public service. We plan that a dozen or so New College students will come down to Westminster and have the opportunity to meet New College Old Members with links to this field. Previous events have benefitted from the support of Old Members with experience in a wide range of fields including the Parliamentary Services, diplomatic service, local government, health administration and the civil service. Feedback from the students following past events has been very positive; they value the opportunity for discussion with Old Members.
The session will open with brief introductions from the students and Old Members, before opening into a group discussion. This will be steered by the students' interests and career aspirations. Please be prepared to talk about your career path, and to offer reflections on topics raised by the students. Issues raised at previous events include the impact of current events; the breadth of careers available in the sector; entry routes into the work; organisational culture; and working relationships between public servants, politicians and special advisers.
At 8.00pm participants will be invited to relocate to the St Stephen's Tavern, just around the corner, to continue conversations over a drink before the students return to College.
I hope you will be able to support this event. It will be good to gather as a network and to support current students in their career considerations; particularly as the last couple of in-person events have been cancelled due to uncertainty around Brexit and the impact of Covid-19.
If you are available to participate, please email jonathan.rubery@new.ox.ac.uk in the New College Development Office by Friday 3rd February 2023. Knowing likely numbers will help us to plan the event, and to confirm final arrangements.
I am happy to answer any queries in the meantime. Please just email Jonathan at the address above.
Best wishes
Stephanie
Stephanie Gledhill (PPE, 2003)
Coordinator, New College Society Government and Public Service Network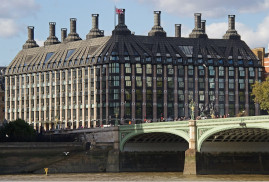 09
February 2023
18:30 - 21:00
Location
Portcullis House, SW1A 2LW
Eligible audience
New College Old Members