New College is delighted to be celebrating its 40th anniversary of women students at the College. The first women matriculated at New College in 1979 and a huge number of exceptional female students have come through the College since then. 
The College has organised a variety of celebratory events to mark this important anniversary. One of these is a Library Exhibition, drawn from our collection by the Librarian, to record the contribution of women writers from New College in the last 40 years. 
Read about each of our superb women writers and their works! 
"The contribution of women writers from New College in the last four decades is both voluminous and various."

- Christopher Skelton-Foord, New College Librarian
Anne Barton
1933-2013. First female New College Fellow.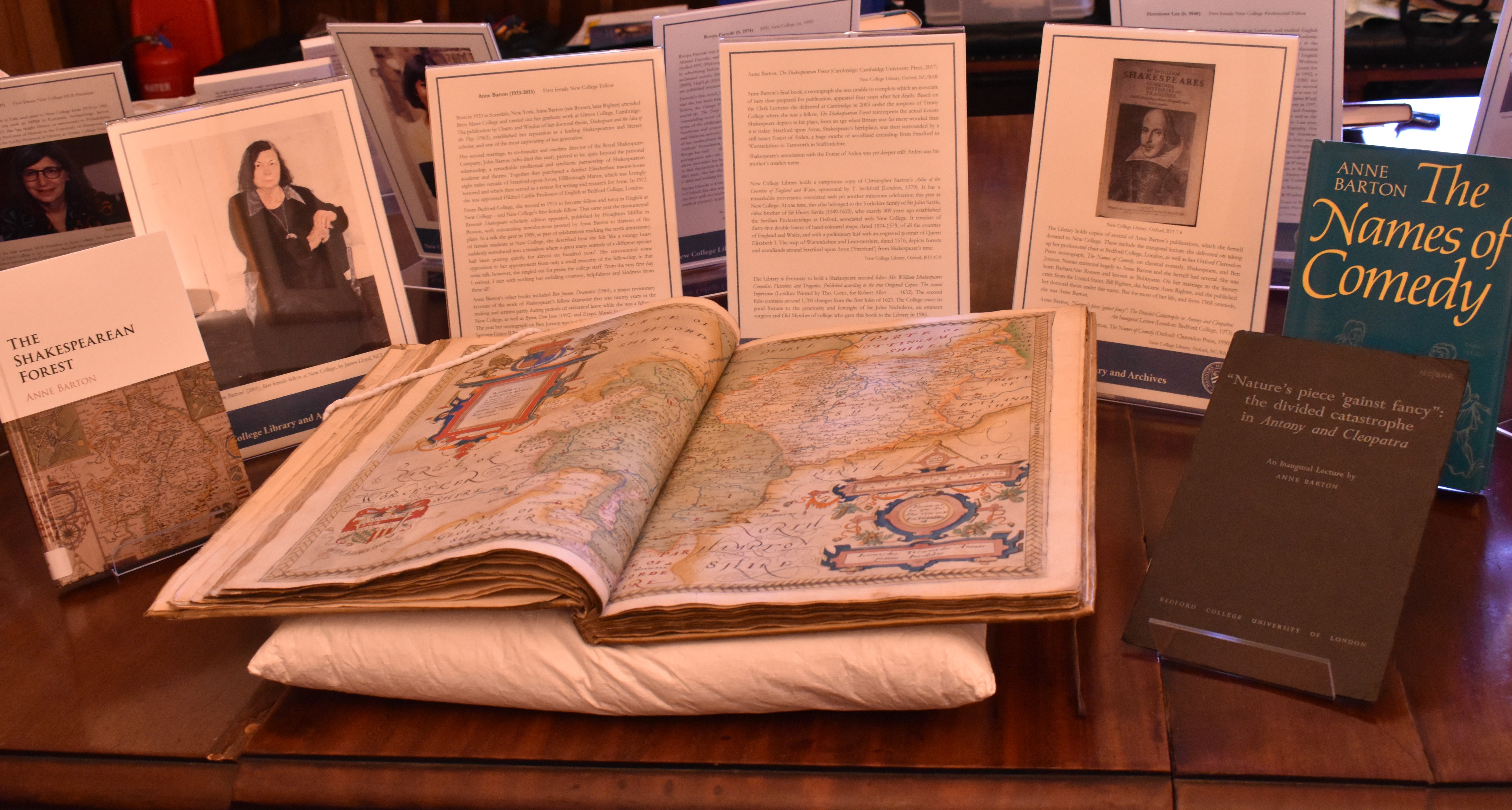 Born in 1933 in Scarsdale, New York, Anne Barton (née Roesen, later Righter) attended Bryn Mawr College and carried out her graduate work at Girton College, Cambridge. The publication by Chatto and Windus of her doctoral thesis, Shakespeare and the Idea of the Play (1962), established her reputation as a leading Shakespearean and literary scholar, and one of the most captivating of her generation. 
Her second marriage, to co-founder and onetime director of the Royal Shakespeare Company, John Barton (who died this year), proved to be, quite beyond the personal relationship, a remarkable intellectual and symbiotic partnership of Shakespearean academe and theatre. Together they purchased a derelict Elizabethan manor-house eight miles outside of Stratford-upon-Avon, Hillborough Manor, which was lovingly restored and which then served as a retreat for writing and research for Anne. In 1972 she was appointed Hildred Carlile Professor of English at Bedford College, London. 
From Bedford College, she moved in 1974 to become fellow and tutor in English at New College – and New College's first female fellow. That same year the monumental Riverside Shakespeare scholarly edition appeared, published by Houghton Mifflin in Boston, with outstanding introductions penned by Anne Barton to thirteen of the plays. In a talk she gave in 1989, as part of celebrations marking the tenth anniversary of female students at New College, she described how she felt 'like a strange beast suddenly introduced into a meadow where a great many animals of a different species had been grazing quietly for almost six hundred years'. She encountered some opposition to her appointment from only a small minority of the fellowship; in that same talk, however, she singled out for praise the college staff: 'from the very first day I arrived, I met with nothing but unfailing courtesy, helpfulness and kindness from them all'. 
Anne Barton's other books included Ben Jonson, Dramatist (1984), a major revisionary account of the work of Shakespeare's fellow dramatist that was twenty years in the making and written partly during periods of sabbatical leave while she was a fellow at New College, as well as Byron, Don Juan (1992) and Essays, Mainly Shakespearean (1994). The year her monograph on Ben Jonson was published, she returned to Cambridge to become Grace II Professor of English, her final academic post. In 1994 was was elected a Fellow of the British Academy. She retired from her Cambridge chair in 2000. 
Rachel Cusk
Born 1967. Read English at New College (1985). 
Novelist and writer, Rachel Cusk, was born in Toronto to English Catholic parents, and she spent much of her early childhood in Los Angeles before her family returned to England. She was educated at a convent school in Cambridge and thereafter read English at New College. She has published ten novels. Saving Agnes, published in 1993 by Macmillan when she was only twenty-five years old, won the Whitbread First Novel Award (now the Costa Award); her subsequent novels have received considerable critical and popular acclaim; her early fiction has been compared with Evelyn Waugh. The Country Life (1997) won a Somerset Maugham Award, The Lucky Ones (2003) was shortlisted for the Whitbread Novel Award, In the Fold (2005) was longlisted for the Man Booker Prize, and Arlington Park (2006) was shortlisted for the Orange Prize for Fiction (now the Women's Prize for Fiction). Rachel Cusk has also published three brilliant books of memoirs. Her honest account of her experiences of motherhood proved controversial: A Life's Work: On Becoming a Mother (2001) aroused considerable hostility from other women, and Cusk was, she has written, 'accused of child-hating, of postnatal depression, of shameless greed, of irresponsibility, of pretentiousness, of selfishness, of doom-mongering, and, most often, of being too intellectual'. Her unflinching account of the breakdown of her ten-year marriage, Aftermath: On Marriage and Separation (2012), again proved controversial, attracting both excellent and (unwarrantedly) scathing reviews; a review in The Sunday Times was given the 2013 'Hatchet Job of the Year' award. Her latest novels are the trilogy, Outline (2014), one of The New York Times's top five novels of 2015, Transit (2017), and Kudos (2018). In 2019, Faber & Faber published her first collection of essays, Coventry. Earlier in the year, the Harry Ransom Center at the University of Texas at Austin, one of the world's leading repositories for literary manuscripts and archives, acquired Cusk's notebooks and papers. 
Roopa Farooki
Born 1974. Read PPE at New College (1992). 
Roopa Farooki was born in Lahore, Pakistan to a Pakistani father, the novelist, Nasir Ahmad Farooki, and a Bangladeshi mother. She was brought up in London, and studied PPE (Philosophy, Politics and Economics) at New College. She initially worked in advertising before she began writing fiction, and she has published six critically acclaimed novels, Bitter Sweets (2007), Corner Shop (2008), The Way Things Look To Me (2009), Half Life (2010), The Flying Man (2012), and The Good Children (2014). Her novels are published internationally and they have been translated into a dozen languages. 
Farooki's first novel, Bitter Sweets, was short-listed for the Orange New Writers Award, and she has been longlisted twice for the UK's most prestigious award for women's fiction, the Orange Prize (now the Women's Prize for Fiction). In its 2014 literary round-up, The Daily Mail named her most recent novel, The Good Children, the 'outstanding novel of the year'. Her third book, The Way Things Look To Me, depicts some of the challenges encountered caring for and living with a sibling with Asperger Syndrome and synaesthesia. Her fourth novel, Half Life, is set in London, Singapore, and Malaysia, and was nominated for the 2011 Muslim Writers' Awards. In recognition of her multicultural fiction, she received in 2013 the John C Laurence Prize from the Authors' Foundation, for writing which increases understanding between cultures. Roopa has said: '. . . the issue of representation is why I've always written novels with protagonists who are Asian, like me, or half-Asian, like my children. . . . So writing about minorities has become something of a duty for me. I want my children to be able to find themselves in fiction, to see themselves, sometimes, as the heroes of the stories they read.' She has also written: 'When I see my books in a library, I remember being a child and looking for a name like mine on the shelves, and I remember why I write'. 
Roopa Farooki is a tutor for the Master's degree in Creative Writing at the University of Oxford. She also works as a doctor for the NHS in the south east of England, where she lives with her husband and family. The Cure for a Crime, her first children's novel (a medical mystery), is published next year by Oxford University Press. 
Ruth Harris
Born 1958. Fellow and Tutor in Modern History 1990-2016.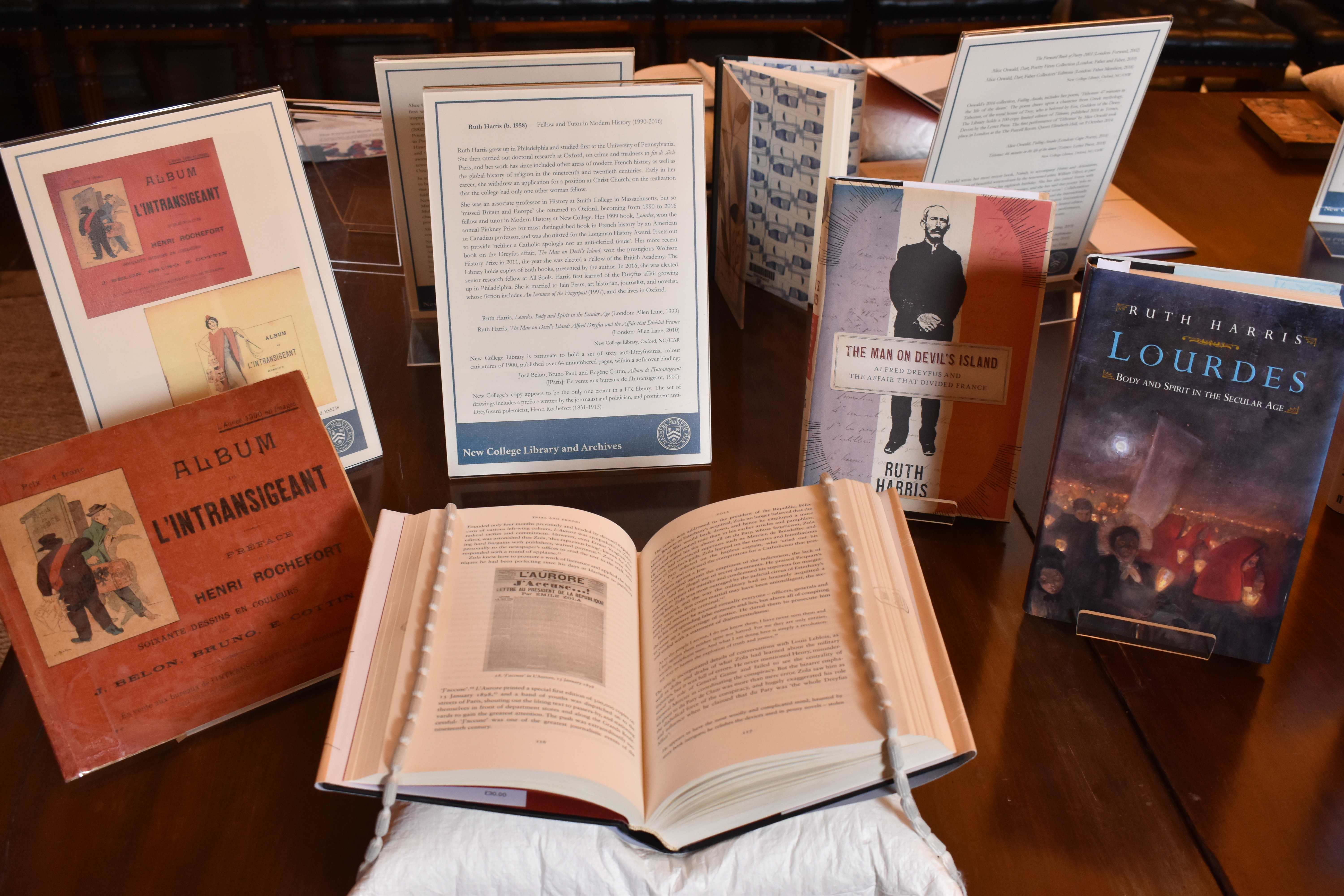 Ruth Harris grew up in Philadelphia and studied first at the University of Pennsylvania. She then carried out doctoral research at Oxford, on crime and madness in fin de siècle Paris, and her work has since included other areas of modern French history as well as the global history of religion in the nineteenth and twentieth centuries. Early in her career, she withdrew an application for a position at Christ Church, on the realization that the college had only one other woman fellow. 
She was an associate professor in History at Smith College in Massachusetts, but so 'missed Britain and Europe' she returned to Oxford, becoming from 1990 to 2016 fellow and tutor in Modern History at New College. Her 1999 book, Lourdes, won the annual Pinkney Prize for most distinguished book in French history by an American or Canadian professor, and was shortlisted for the Longman History Award. It sets out to provide 'neither a Catholic apologia nor an anti-clerical tirade'. Her more recent book on the Dreyfus affair, The Man on Devil's Island, won the prestigious Wolfson History Prize in 2011, the year she was elected a Fellow of the British Academy. The Library holds copies of both books, presented by the author. In 2016, she was elected senior research fellow at All Souls. Harris first learned of the Dreyfus affair growing up in Philadelphia. She is married to Iain Pears, art historian, journalist, and novelist, whose fiction includes An Instance of the Fingerpost (1997), and she lives in Oxford. 
Ruth Mazo Karras
Born 1957. First female New College MCR President.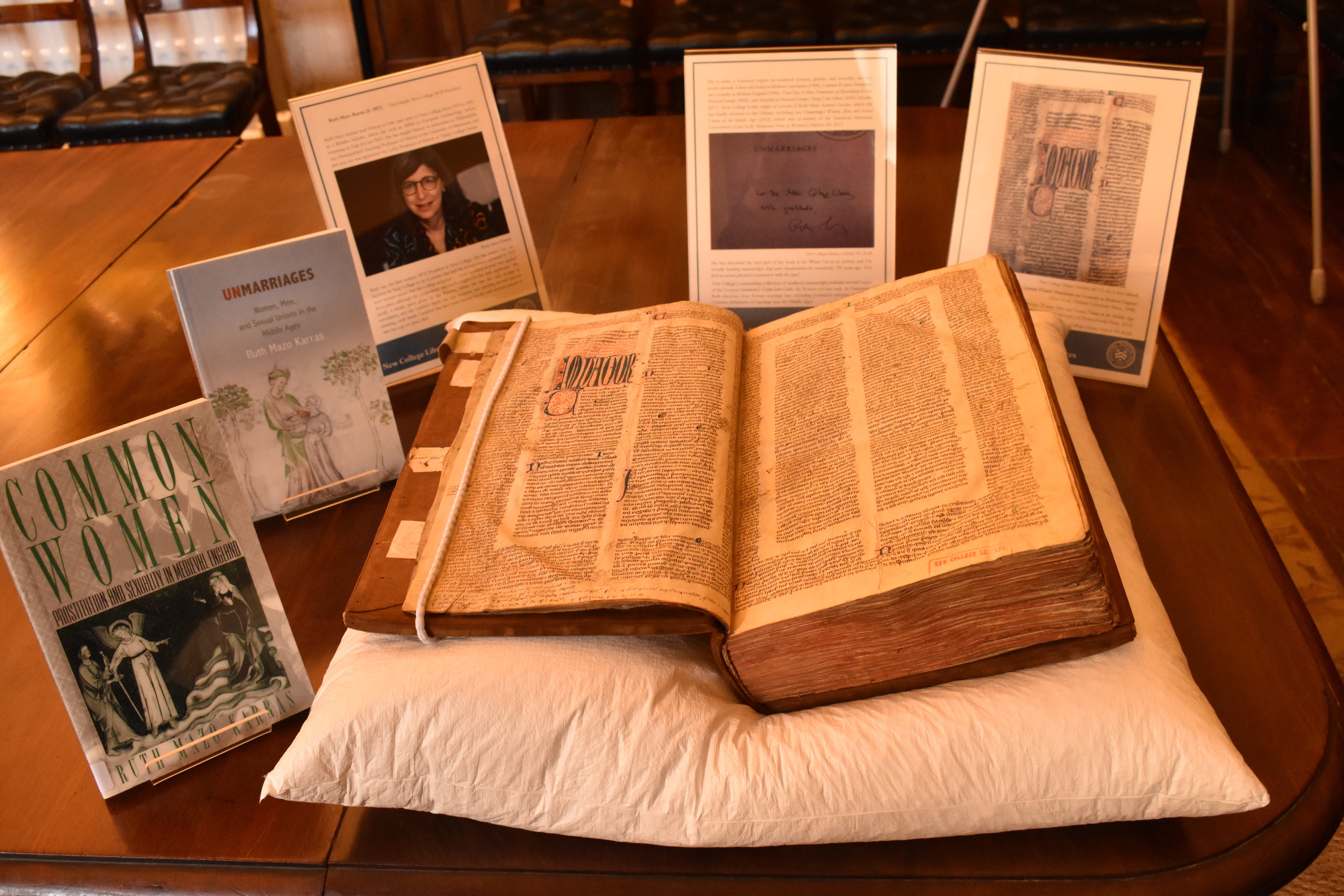 Ruth Mazo Karras read History at Yale, and came to New College from 1979 to 1981 as a Rhodes Scholar, where she took an MPhil in European Archaeology, before returning to Yale for her PhD. She has taught History at universities in Philadelphia, was Distinguished Teaching Professor of History at the University of Minnesota, and last year she was appointed the Lecky Professor of History at Trinity College Dublin. 
Ruth was the first woman MCR President at New College. She has written that the decision by New College to try to ensure that half the postgraduates admitted in 1979 were women meant that the College accepted '. . . every qualified woman who applied for a place, although the competition was much tougher for the male applicants'. She recalls a drinks party given by the Warden, where she was the only woman in attendance, and she 'couldn't figure out why everyone was standing around and not drinking, until finally I realized that they were waiting for the only woman present to take her cup (or glass) first'. 
She is today a foremost expert on medieval women, gender, and sexuality, and her books include Slavery and Society in Medieval Scandinavia (1988), Common Women: Prostitution and Sexuality in Medieval England (1996), From Boys to Men: Formations of Masculinity in Late Medieval Europe (2003), and Sexuality in Medieval Europe: Doing Unto Others (2005; 3rd edn, 2017). New College holds copies of several of Ruth Mazo Karras's books, which she has kindly donated to the Library, including her Unmarriages: Women, Men, and Sexual Unions in the Middle Ages (2012), which was co-winner of the American Historical Association's Joan Kelly Memorial Prize in Women's History for 2012. 
She has described the best part of her work to be 'When I'm in an archive and I'm actually reading manuscripts that were handwritten by somebody 700 years ago. You feel an actual physical connection with the past'. 
New College's outstanding collection of medieval manuscripts includes several copies of the Emperor Justinian's Corpus Iuris Civilis, the Roman civil law code. In Unmarriages, Ruth discusses how Roman marriage law, including Justinian's reforms, influenced Christian definitions of marriage into the Middle Ages. 
Hermione Lee
Born 1948. First female New College Professorial Fellow.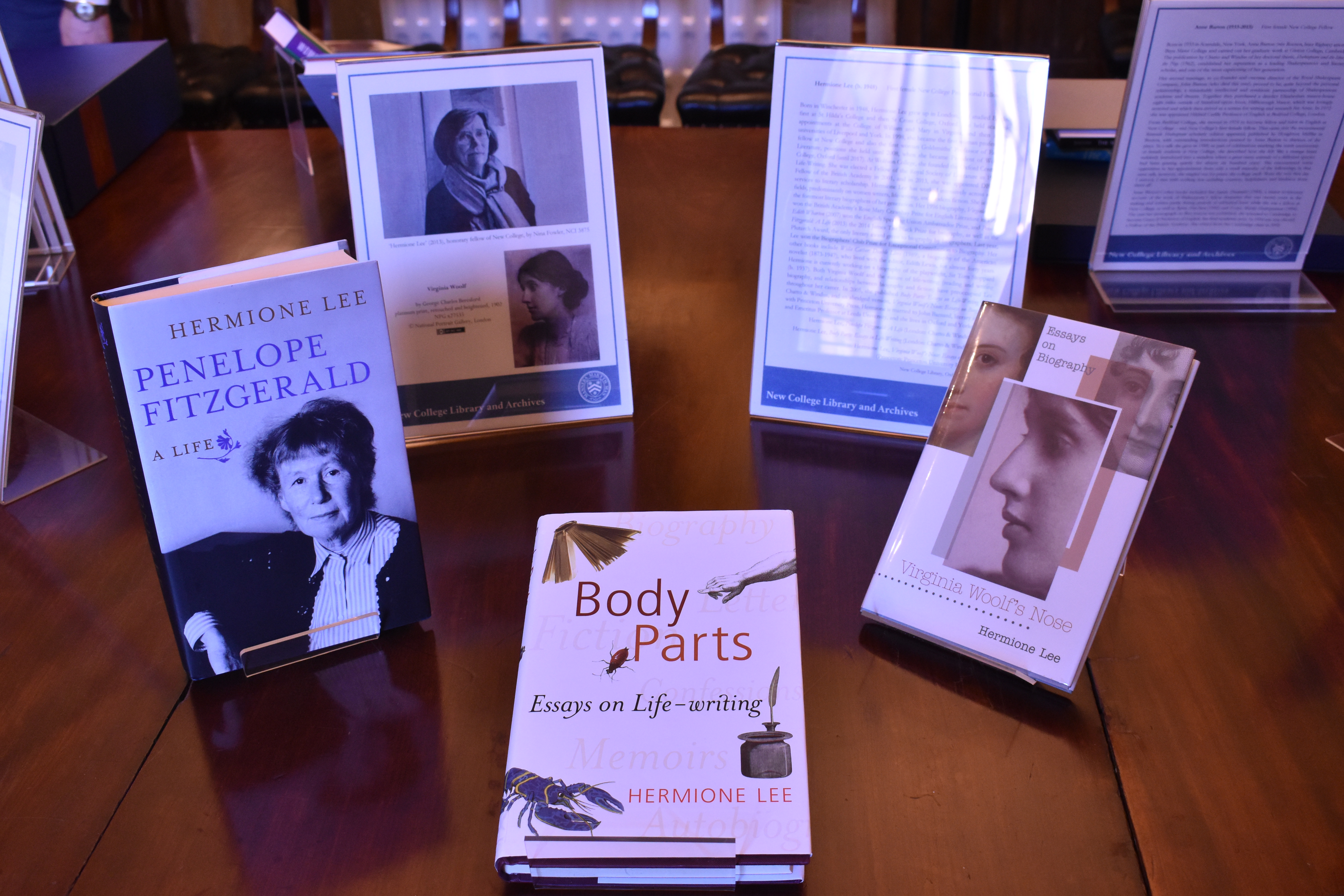 Born in Winchester in 1948, Hermione Lee grew up in London, and studied English first at St Hilda's College and then St Cross College, Oxford. She held academic appointments at the College of William and Mary in Virginia, and then at the universities of Liverpool and York. In 1998, she became the first woman professorial fellow at New College and also the first woman Goldsmiths' Professor of English Literature, positions she held until 2008, when she became President of Wolfson College, Oxford (until 2017). At Wolfson College, she founded the Oxford Centre for Life-Writing. She was elected a Fellow of the Royal Society of Literature in 1992, a Fellow of the British Academy in 2001, and in 2013, she was appointed DBE for services to literary scholarship. Hermione Lee has worked intensively across several fields, predominantly on women writers, life-writing, and modern fiction. She is one of the foremost literary biographers of her generation. Her 1996 biography, Virginia Woolf, won the British Academy's Rose Mary Crawshay Prize for English Literature in 1997, Edith Wharton (2007) won the English Speaking Union Ambassador Prize, and Penelope Fitzgerald: A Life (2013) the 2014 James Tait Black Prize for biography, as well as the Plutarch Award, the only literary award given to biography by biographers. Last year, Lee won the Biographers' Club Prize for Exceptional Contribution to Biography. Her other books include Willa Cather: Double Lives (1989), a biography of the American novelist (1873-1947), who lived with the editor, Edith Lewis, for almost forty years. Hermione is currently working on a biography of the playwright, Sir Tom Stoppard (b. 1937). Both Virginia Woolf and the nature of life-writing (reading and writing biography, and relationships between biography and fiction) have preoccupied Lee throughout her career. In 2005, she published Body Parts: Essays on Life-Writing with Chatto & Windus, and an abridged version, Virginia Woolf's Nose: Essays on Biography, with Princeton University Press. Hermione is married to John Barnard, literary scholar and Emeritus Professor at Leeds University, and she lives in Oxford and Yorkshire. 
Kate Mosse
Born 1961. Read English at New College (1981). 
Kate Mosse was born and raised in West Sussex, and educated at Chichester High School for Girls before coming to New College to read English. She worked first in publishing before embarking on her enormously successful career as a writer. Today, her multimillion-selling fiction has been published in over forty countries and translated into almost as many languages. Most famously, her books include her Languedoc trilogy of novels, Labyrinth (2005), Sepulchre (2007), and most recently, Citadel (2012). The Guardian ranked Labyrinth the top-selling book in the UK in 2006, and the novel was later made into an acclaimed television miniseries. The trilogy is set in Carcassonne in the southwest of France, where Kate Mosse divides her time with Chichester still. 
Kate's other historical fiction includes The Burning Chambers (2018), also set in Carcassonne, which is the first book in her new series of historical fiction; the second one, The City of Tears, is due to appear next year. Her other novels and short stories include her Gothic novel, the best-selling The Taxidermist's Daughter (2014), which is set in 1912 within the village of Fishbourne, near Chichester, where Kate herself was raised as a child. The Library holds a first edition copy of this book, signed on its title-page by the author. A collection of short stories, The Mistletoe Bride & other Haunting Tales, was published in 2014. Other work includes her first book, Becoming a Mother (1993), along with additional non-fiction, essays, and also plays. 
Kate Mosse was a founder director in 1996 of the Women's Prize for Fiction. Two years later, she became the first woman executive director of the Chichester Festival Theatre. In 2000, she won the European Woman of Achievement Award for her contribution to the arts. More recently, she was appointed OBE for services to literature, in 2013. Earlier this year, Kate Mosse became Visiting Professor in Creative Writing and Contemporary Fiction at the University of Chichester. Kate is married to writer, teacher, and translator, Greg Mosse, who took Kate's surname on marriage. 
Alice Oswald
Born 1966. Read Classics at New College (1985).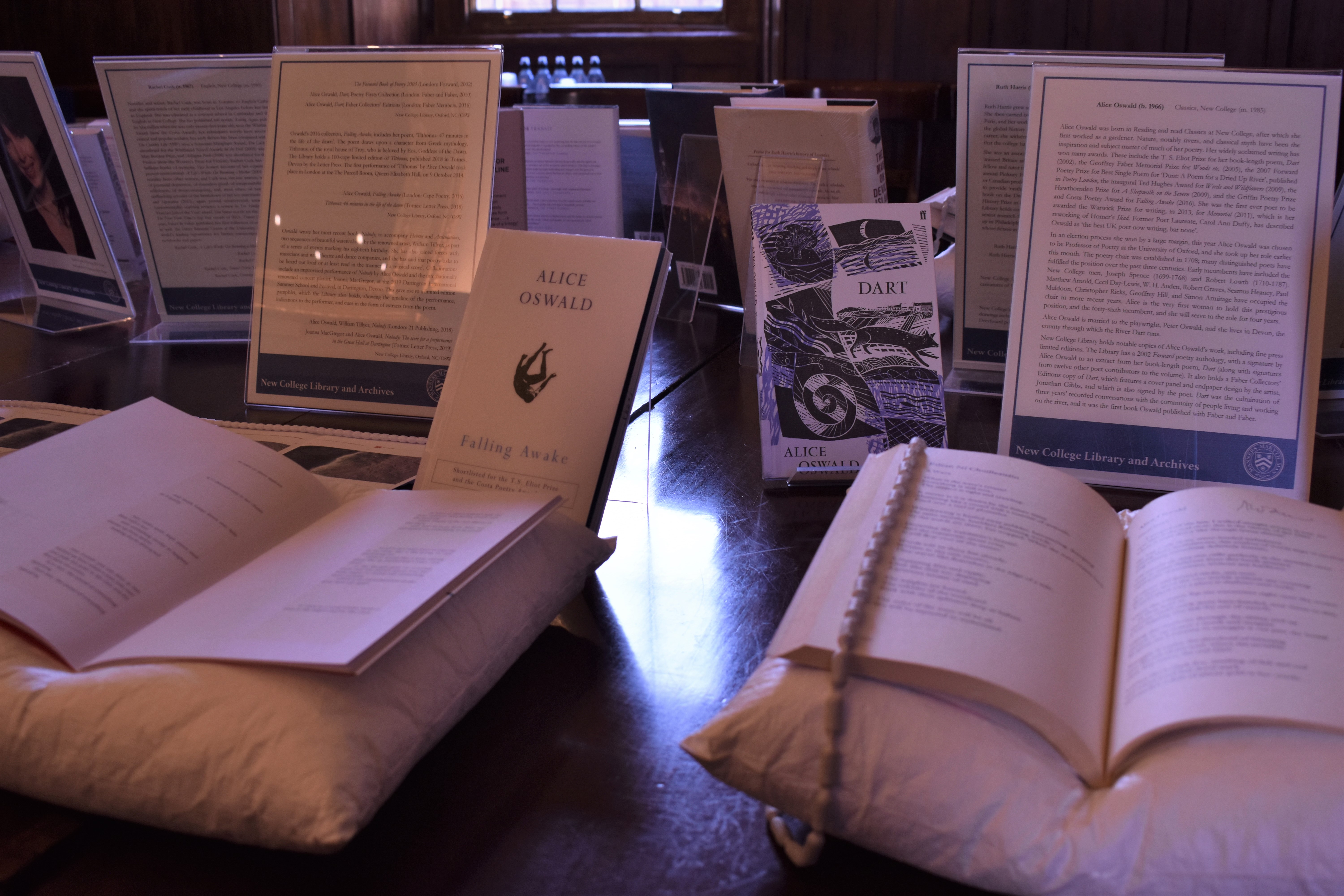 Alice Oswald was born in Reading and read Classics at New College, after which she first worked as a gardener. Nature, notably rivers, and classical myth have been the inspiration and subject matter of much of her poetry. Her widely acclaimed writing has won many awards. These include the T.S. Eliot Prize for her book-length poem, Dart (2002), the Geoffrey Faber Memorial Prize for Woods etc. (2005), the 2007 Forward Poetry Prize for Best Single Poem for 'Dunt: A Poem for a Dried Up River', published in Poetry London, the inaugural Ted Hughes Award for Weeds and Wildflowers (2009), the Hawthornden Prize for A Sleepwalk on the Severn (2009), and the Griffin Poetry Prize and Costa Poetry Award for Falling Awake (2016). She was the first ever poet to be awarded the Warwick Prize for writing, in 2013, for Memorial (2011), which is her reworking of Homer's Iliad. Former Poet Laureate, Carol Ann Duffy, has described Oswald as 'the best UK poet now writing, bar none'. 
In an election process she won by a large margin, this year Alice Oswald was chosen to be Professor of Poetry at the University of Oxford, and she took up her role earlier this month. The poetry chair was established in 1708; many distinguished poets have fulfilled the position over the past three centuries. Early incumbents have included the New College men, Joseph Spence (1699-1768) and Robert Lowth (1710-1787). Matthew Arnold, Cecil Day-Lewis, W.H. Auden, Robert Graves, Seamus Heaney, Paul Muldoon, Christopher Ricks, Geoffrey Hill, and Simon Armitage have occupied the chair in more recent years. Alice is the very first woman to hold this prestigious position, and the forty-sixth incumbent, and she will serve in the role for four years. 
Alice Oswald is married to the playwright Peter Oswald, and she lives in Devon, the county through which the River Dart runs. 
New College Library holds notable copies of Alice Oswald's work, including fine press limited editions. The Library has a 2002 Forward poetry anthology, with a signature by Alice Oswald to an extract from her book-length poem, Dart (along with signatures from twelve other poet contributors to the volume). IT also holds a Faber Collectors' Editions copy of Dart, which features a cover panel and endpaper design by the artist, Jonathan Gibbs, and which is also signed by the poet. Dart was the culmination of three years' recorded conversations with the community of people living and working on the river, and it was the first book Oswald published with Faber and Faber. 
Oswald's 2016 collection, Falling Awake, includes her poem, 'Tithonus: 47 minutes in the life of the dawn'. The poem draws upon a character from Greek mythology, Tithonus, of the royal house of Troy, who is beloved by Eos, Goddess of the Dawn. The Library holds a 100-copy limited edition of Tithonus, published 2018 in Totnes, Devon by the Letter Press. The first performance of 'Tithonus' by Alice Oswald took place in London at the The Purcell Room, Queen Elizabeth Hall, on 9 October 2014. 
Oswald wrote her most recent book, Nobody, to accompany Hebrus and Articulations, two sequences of beautiful watercolours by the renowned artist, William Tillyer, as part of a series of events marking his eightieth birthday. She has also joined forces with musicians and with theatre and dance companies, and she has said that poetry 'asks to be heard out loud or at least read in the manner of a musical score'. Collaborations include an improvised performance of Nobody by Alice Oswald and the internationally renowned concert pianist, Joanna MacGregor, at the 2019 Dartington International Summer School and Festival, in Dartington, Devon. This gave rise to a limited edition pamphlet, which the Library also holds, showing the timeline of the performance, indications to the performer, and cues in the form of extracts from the poem. 
Rachel Reeves
Born 1979. Read PPE at New College (1997).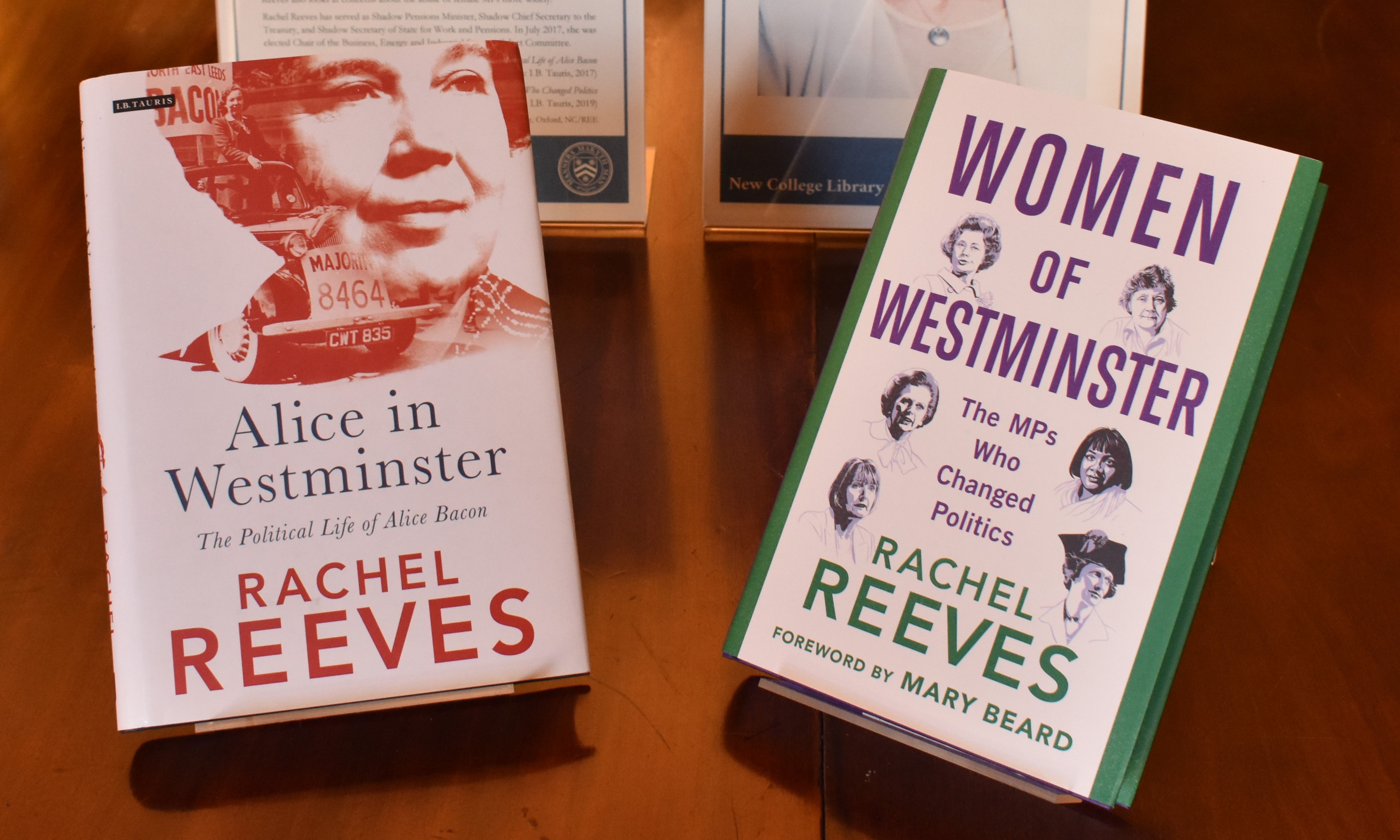 Rachel Reeves was born in Lewisham, the year the UK had its first female Prime Minister. She excelled at chess at school, and was a British Women's Chess Association girls' champion. A Labour Party member from the age of sixteen, at New College, Reeves read PPE (Philosophy, Politics and Economics), the university degree of choice, since it was established at Oxford in 1920, for aspiring Westminster politicians, and one which today still pervades British political life. She then took a Master's in Economics from the London School of Economics, before working as an economist at the Bank of England, HBOS, and the British Embassy in Washington, DC. Selected to contest the Leeds West seat for Labour from an all-women shortlist of prospective parliamentary candidates, she was elected its MP in May 2010, and became the second woman to represent a Leeds constituency. The first was Alice Bacon (1909-1993), later Baroness Bacon, who is the subject of a biography Rachel Reeves published two years ago. In writing the biography of Alice Bacon, Reeves contributed to a hitherto overwhelmingly male tradition of politicians writing the lives of their political forebears: Winston Churchill (on John Churchill, 1st Duke of Marlborough), Benjamin Disraeli (on George Bentinck), Michael Foot (on Aneurin Bevan), Douglas Hurd (on Robert Peel), and Roy Jenkins (on Herbert Asquith, Churchill, and William Gladstone). 
This year marks one hundred years since the first woman MP, Nancy Astor, took her seat in the House of Commons in November 1919, and Reeves's latest book discusses the lives of some of the 491 women MPs elected to Parliament since women have been eligible to stand. A poignant part of her book considers Reeves's friend, the late  Jo Cox, MP, murdered in June 2016, who had worked cross-party on women's issues; Reeves also looks at concerns about the abuse of female MPs more widely. 
Rachel Reeves has served as Shadow Pensions Minister, Shadow Chief Secretary to the Treasury, and Shadow Secretary of State for Work and Pensions. In July 2017, she was elected Chair of the Business, Energy and Industrial Strategy Select Committee. 
Naomi Wolf
Born 1962. Rhodes Scholar, New College (1985). 
Feminist author and bestselling writer, Naomi Wolf, was born in San Francisco. She studied English at Yale University after which she came to Oxford and to New College as a Rhodes Scholar. In 1990, she published her first book, The Beauty Myth, a polemic which brought her considerable international attention, and which Germaine Greer hailed as 'the most important feminist publication since The Female Eunuch' (in 1970). Throughout her career, Naomi Wolf's work has attracted both huge popularity as well as controversy. Later books include Fire With Fire: The New Female Power and How It Will Change the 21st Century (1993), Promiscuities: A Secret History of Female Desire (1998), and Misconceptions: Truth, Lies, and the Unexpected on the Journey to Motherhood (2001). She currently has a social media following on Twitter of over 64,000 followers. 
Naomi Wolf lives with her family in New York City. The two most recent books she has published have proved, most probably, her most provocative and contested to date. 
The Library's copy of Wolf's Vagina: A New Biography is a first printing of the first edition bearing a signature of the author on its title-page. Naomi Wolf wrote the book in response to her own disturbing experience of sexual dysfunction in her mid-forties. 
Our celebrated collections include a manuscript copy of Chaucer's greatest work, probably the preeminent work of Middle English literature, The Canterbury Tales. This manuscript dates from c. 1450-1475 and is important, notably because its scribe has inserted his own additional obscene words and verses into the text to emphasise female sexuality. The longest addition, a supplementary eight lines of verse to the scene of Damyan and May's copulation in a pear-tree in 'The Merchant's Tale', commences: 
A grete tente, a thrifty, and a long.
She saide it was the meriest fit
That ever in her lif she was at yet. 
An unknown reader of our famous manuscript (MS 314) has also added a crude sketch into the margin of 'The Reeve's Tale', likewise focusing on female sexuality. 
This year, Naomi Wolf published Outrages, which is based on a 2015 DPhil thesis from Trinity College, Oxford; it is her first venture into LGBTQ+ history, and a departure thereby from her feminist writings. 
Naomi Wolf's consideration of 19th-century laws persecuting homosexuality and of Old Bailey records has proved highly contentious. It led to her proposition that Victorian men were being executed in considerably escalating numbers for sodomy; it also led to her elucidation that the trials and executions of these men were thereby impacting very severely on the state of mind of other men, notably the English poet, John Addington Symonds (1840-1893). John Addington Symonds's A Problem in Greek Ethics (1883), on 'sexual inversion' or male-male love, is a key work in LGBTQ+ publishing history. 
The controversy and furore aside, Outrages: Sex, Censorship & the Criminalisation of Love has generated immense publicity and debate, and both positive and negative critique, and Wolf's book has shone a light on the historical and contemporary persecution of gay men and women. 
The Library holds a copy of Outrages; it also holds rare printings of Oxford University's Newdigate Prize-winning poems, by John Addington Symonds (The Escorial, 1860) and by Oscar Wilde (Ravenna, 1878). Professionally repaired and conserved earlier this year, New College's copy of Ravenna is particularly important, by virtue of its bearing an autograph dedication in Wilde's own hand. 
Lucy Worsley
Born 1973. Read History at New College (1992).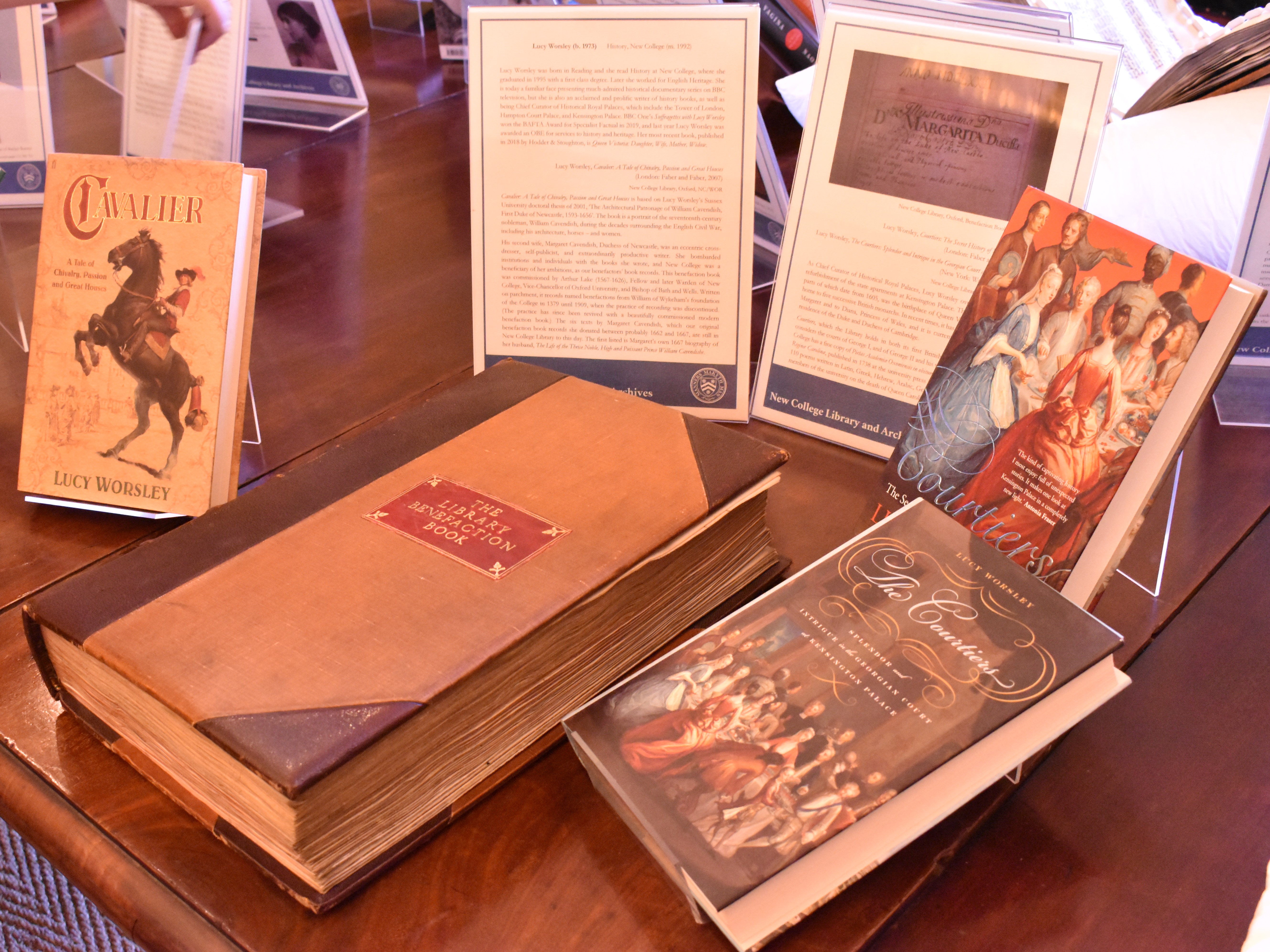 Lucy Worsley was born in Reading and she read History at New College, where she graduated in 1995 with a first class degree. Later she worked for English Heritage. She is today a familiar face presenting much-admired historical documentary series on BBC television, but she is also an acclaimed and prolific writer of history books, as well as being Chief Curator of Historical Royal Palaces, which include the Tower of London, Hampton Court Palace, and Kensington Palace. BBC One's Suffragettes with Lucy Worsley won the BAFTA Award for Specialist Factual in 2019, and last year Lucy Worsley was awarded an OBE for services to history and heritage. Her most recent book, published in 2018 by Hodder & Stoughton, is Queen Victoria: Daughter, Wife, Mother, Widow. 
Cavalier: A Tale of Chivalry, Passion and Great Houses is based on Lucy Worsley's Sussex University doctoral thesis of 2001, 'The Architectural Patronage of William Cavendish, First Duke of Newcastle, 1593-1656'. The book is a portrait of the seventeenth-century nobleman, William Cavendish, during the decades surrounding the English Civil War, including his architecture, horses – and women. 
His second wife, Margaret Cavendish, Duchess of Newcastle, was an eccentric cross-dresser, self-publicist, and extraordinarily productive writer. She bombarded institutions and individuals with the books she wrote, and New College was a beneficiary of her ambitions, as our benefactors' book records. This benefaction book was commissioned by Arthur Lake (1567-1626), Fellow and later Warden of New College, Vice-Chancellor of Oxford University, and Bishop of Bath and Wells. Written on parchment, it records named benefactions from William of Wykeham's foundation of the College in 1379 until 1909, when the practice of recording was discontinued. (The practice has since been revived with a beautifully commissioned modern benefaction book.) The six texts by Margaret Cavendish, which our original benefaction book records she donated between probably 1662 and 1667, are still in New College Library to this day. The first listed is Margaret's own 1667 biography of her husband, The Life of the Thrice Noble, High and Puissant Prince William Cavendishe. 
As Chief Curator of Historical Royal Palaces, Lucy Worsley oversaw a £12 million refurbishment of the state apartments at Kensington Palace. The Palace, the earliest parts of which date from 1605, was the birthplace of Queen Victoria, and was once home to five successive British monarchs. In recent times, it has been home to Princess Margaret and to Diana, Princess of Wales, and it is currently the official London residence of the Duke and Duchess of Cambridge. 
Courtiers, which the Library holds in both its first British and American editions, considers the courts of George I, and of George II and his wife, Queen Caroline. New College has a fine copy of Pietas Academiæ Oxoniensis in obitum augustissimæ et desideratissimæ Reginæ Carolinæ, published in 1738 at the university press in Oxford. It is a volume of 110 poems written in Latin, Greek, Hebrew, Arabic, German, Welsh, and English by members of the university on the death of Queen Caroline, who was widely mourned. 
Published to mark the 200th anniversary since Jane Austen's death, Worsley's biography, of the woman who is arguably the greatest female novelist in the English language, considers Austen's life specifically through the homes where Jane Austen lived and wrote, the places she went to, and the spaces that mattered to her. 
A children's novel by Lucy Worsley, The Austen Girls, which is about Jane Austen's nieces, Fanny Knight and Anna Lefroy, is due to be published next year by Bloomsbury Children's Books. 
New College Library's significant literary collections include first edition copies of four of Jane Austen's novels. The Library holds Mansfield Park (1814), as well as Northanger Abbey and Persuasion (1818, published together posthumously), and the first Austen novel to appear in print, Sense and Sensibility (1811). These last three are copies once owned by the New College scholar, John Sparrow (1906-1992), who would go on to become Warden of All Souls College. 
Sense and Sensibility was published in three volumes anonymously – written 'By a Lady' – around 30 October 1811, and it was priced fifteen shillings a set. Sense and Sensibility was her baby, the very first of her novels to appear in print, and it occupied a special place in Jane Austen's affections.