Brendan Holmes - maintaining New College for decades!
An introduction
Brendan Holmes has been a fixture in New College for decades. There will be few members of staff (If any!) that don't know who Brendan is, and few rooms in College on which he has not worked. 
Only this week, we heard a tapping outside the Academic Office and opened the door thinking that someone was knocking for entry. No - there was Brendan, hanging a picture for the College and apologising (needlessly) for the disturbance. Quite how many pictures he has hung in the College previously, we can only wonder. Hundreds? Thousands? He relates that the Bursar regularly asks how many miles of bookshelves he has created and installed that year - again, it's always a number too high to even begin to estimate! 
---
The beginning
In fact, Brendan has been working on New College since 1992. At 16, he left school and began a three-year apprenticeship through Oxpens (City of Oxford College), under the watchful eye of carpenter Pete Moffat, who handled the carpentry for the College at the time. In fact, his apprenticeship featured in the Oxford Mail's Training and Enterprise section in October that year, providing us with the wonderful image below: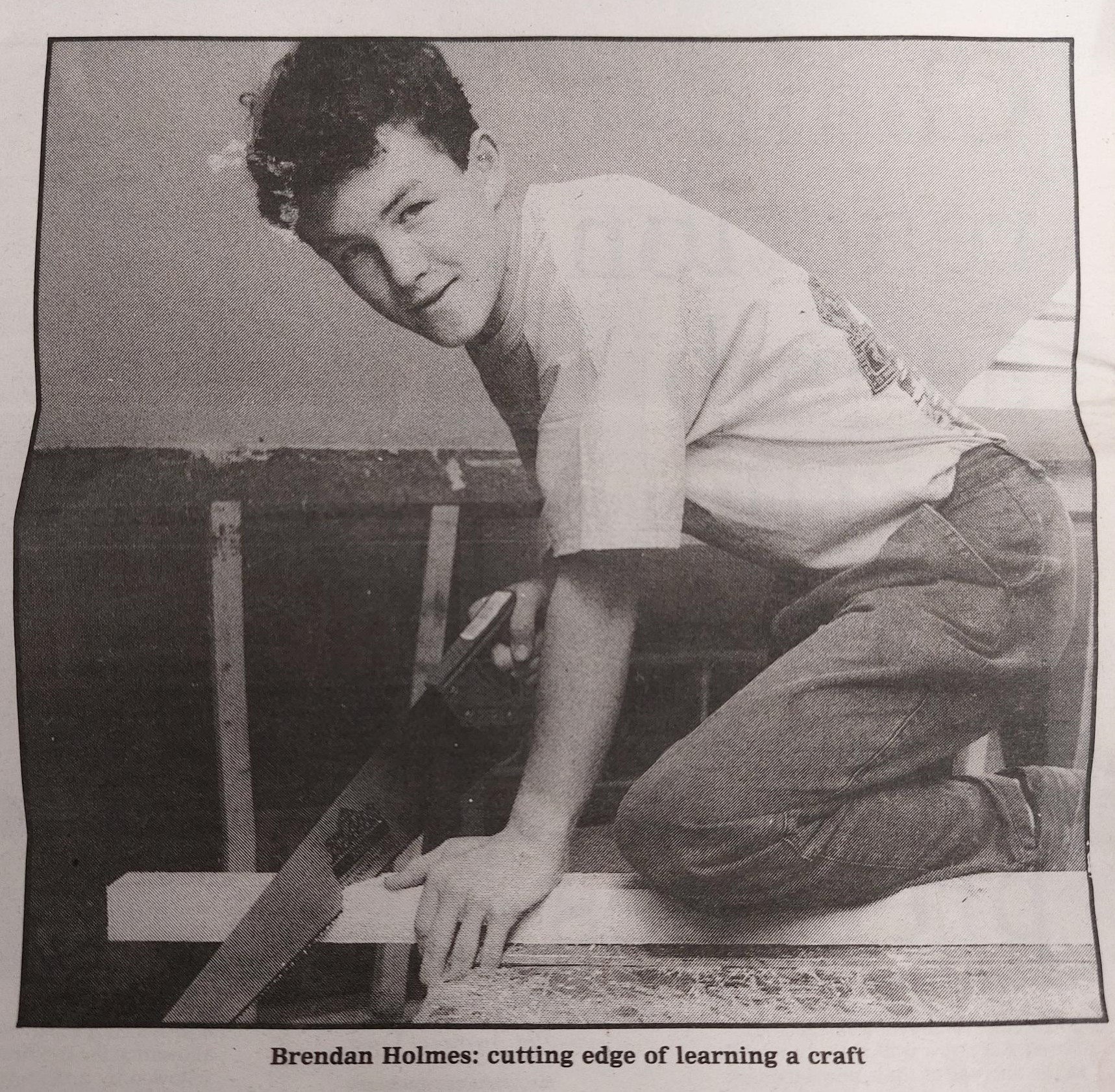 Portrait of Brendan Holmes in the Oxford Mail's Training and Enterprise section, Tuesday October 20th 1992.
New College made an immediate impression. 
'I can remember driving through in the van as a 17-year-old thinking 'Oh my gosh, what's this castle? It's like something in a movie' and it really is. And I still get that buzz today as I come in, look up and think about how this is no ordinary building site - it's brilliant!'
After five years of working with and teaching Brendan, Pete retired. Still just 21, Brendan was given the opportunity to have a six month trial to see whether he could handle the job alone. He bought his former boss's van and tools and is still with New College 25 years later. 
---
The work
One thing that Brendan has always enjoyed is the variety that his role offers. The nature of the work means that it's very project-based - and as soon as one thing is completed, he could be working on something completely different in a new part of College.
'That's why it's interesting - never two days the same, always doing something different.'
Some of his work comes from Professor Michael Burden in his role as Pictures and Chattels Fellow. Brendan tells me of Prof Burden's 'famous sketches' - Michael will design something from scratch or based on another design feature somewhere within College, draw it and then hand over to Brendan to execute it. And of course, it's important that everything is designed and created to fit in with the aesthetic of similar features within College, which may have been there since it was built (no pressure!) As well as being challenging, this does afford opportunities: 
'Because things have to be in keeping with everything that already exists in College, I get to use lots of oak and beautiful soft woods, which is amazing.'
And even once things have been created, the work is often not over. Some things must be fixed in place - not easy when the items in question can be incredibly heavy and can't have noticeable fixings, such as the Chapel's notice board (the result of one Burden sketch) pictured below. 
In fact, Brendan thinks that he has worked on every room in Old Quad and the majority of the rooms elsewhere in College. That certainly comes across as we walk through the College, constantly seeing something else that Brendan has worked on. 
---
Highlights
 After 30 years of working in College, there are some projects that particularly stand out. 
Stained glass
One of the first projects Brendan was tasked with was to provide protection for the Chapel from dust and rain as much of the stained glass was taken away for restoration work. 
'When the stonemasons came in to take the windows away, the glaziers were concerned that dust could potentially get into the organ. So we had to come up with a sort of cladding - timber frames with plastic on the front, and attached it to the scaffold to make it dustproof. So, everything we sealed in on the inside and then on the outside, a double scaffold was up to protect them from the weather. I had to pull over a little roof that I'd made and I can tell you that it's really high up there. I'm glad it's all done now because I'm not sure I could do it anymore!'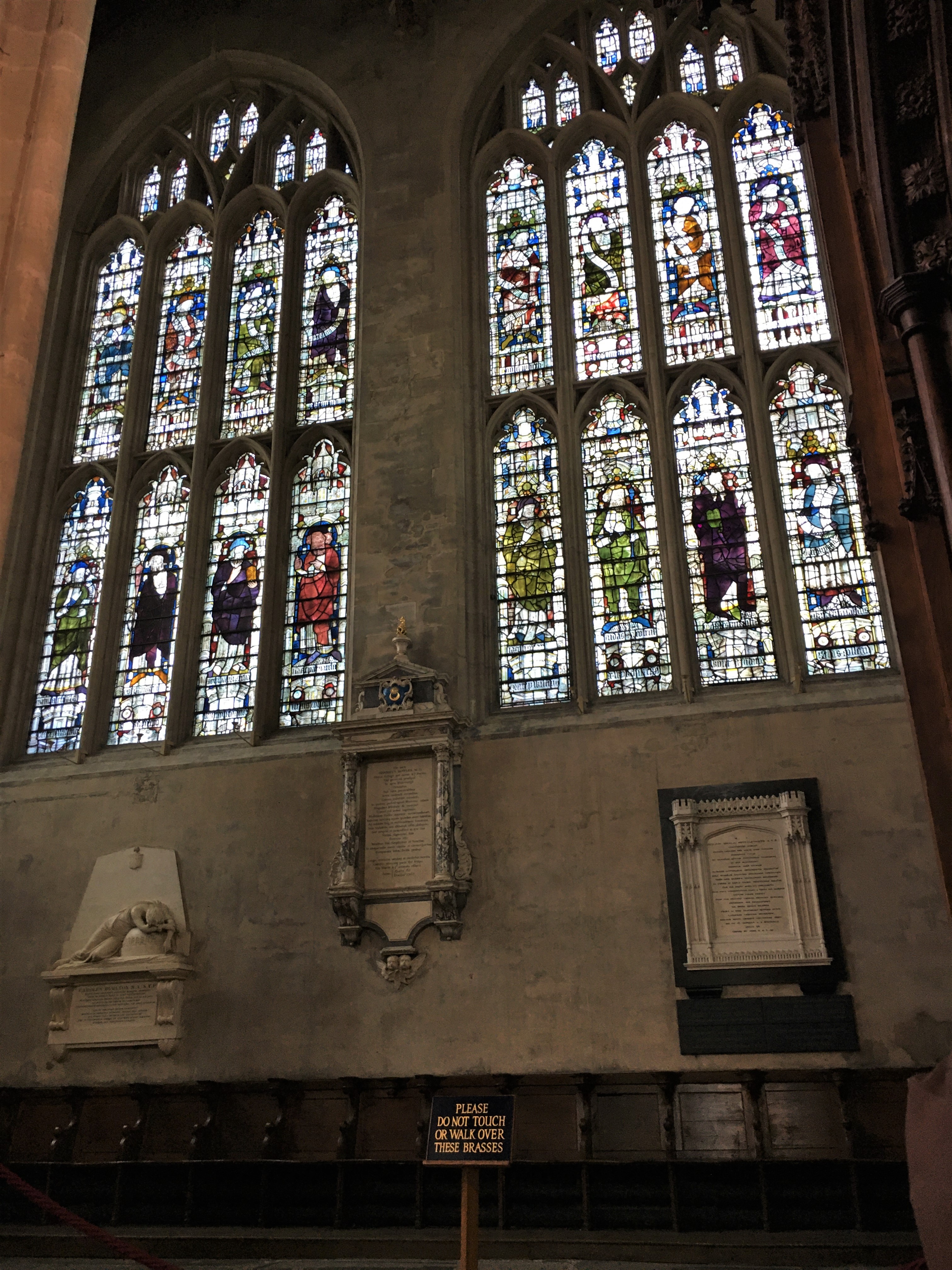 ---
Chapel fibre optics
Visitors to the Chapel, whether for a service or just to look around, will now see hundreds of electric 'candles' interspersed among the pews. Traditionally, of course, these were real candles with live flames, but thankfully is no longer the case. Instead, tiny lights are installed in each, all running from fibre optic cables that Brendan helped install and box in (once again, in oak to fit the magnificent Chapel pews and adorning decorations). 
Hatches were cut in the floor to house the light boxes. At one point during the work, coming back to the Chapel, Brendan found a tourist over the barriers with his entire head and shoulders down a hatch and somehow resisted the temptation to give him a nudge! 
---
Moving the pews
Walking into the Chapel, you get the impression of a place that has remained unchanged for centuries. This, of course, is not entirely the case as changes and restorations have been necessary over the years. 
One of the least noticed is that some of the pews - where the New College Choir sings -  have actually been moved. 
The fact is that boys are significantly larger than they were in the 14th century and the singers were getting quite uncomfortable in their uncompromising surroundings. Enter Brendan. 
The Choir's pews have literally been moved out into the aisle, with extensions to the floor added, and protrude approximately six inches more than the surrounding ones. Looking at the Chapel, it's very difficult to notice - those few that do probably presume that it is part of the original design, such is the sensitivity to the surroundings with which the work has been conducted. And therein lies the value of someone who appreciates the importance of matching new work up to the original College features (and is capable of doing it!) 
---
Statues in the Cloisters
The New College Cloisters contain a number of statues - the original 14th century statues that adorned the tower of the University Church of St Mary the Virgin, just a few minutes' walk from College in Radcliffe Square. These have been skilfully restored to resemble their original forms and are now a striking feature of the Cloisters. 
Brendan, again, played an important part in returning these statues to their original appearance - many hold wooden staffs, with different designs at the top. With no real joinery experience (being more of a carpenter) and working only from a picture, he free-handed four of these in oak, liaising with the restorer to ensure exact dimensions and fit were matched. 
Such was his success that one of these statues made it on to the cover of the 2009 New College Record!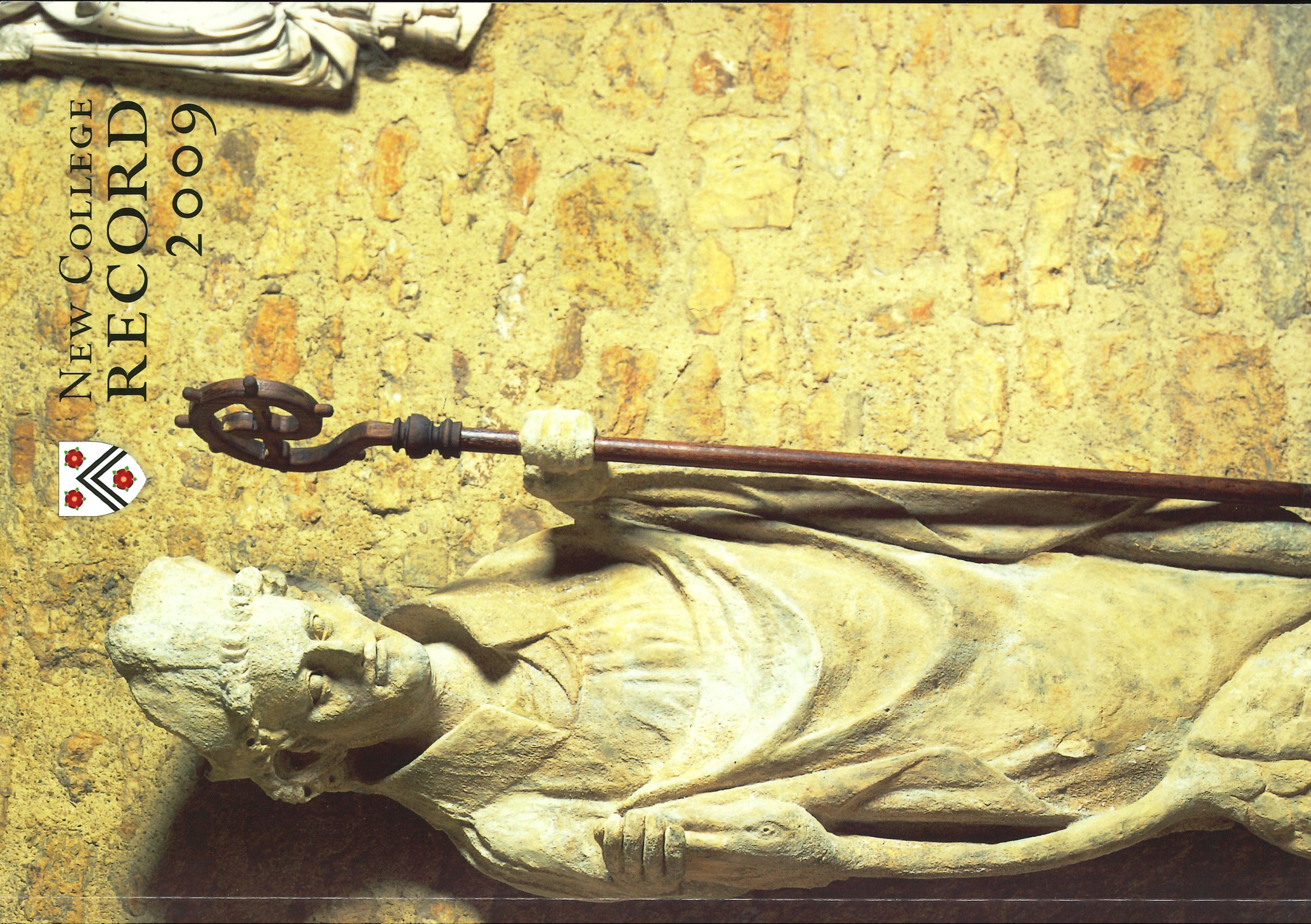 ---
A bookcase in Prof Burden's College flat
1 of 6
A new display case for the Tourist Gate
2 of 6
Set designs for Prof Burden's operas
3 of 6
Bookcase in a tutor's office
4 of 6
Replacing one of the finials (the wooden 'teeth') in the Dining Hall
5 of 6
Another of the statues, this one holding a wooden cross
6 of 6
The College and Covid
The onset of the Covid-19 pandemic was, of course, a very strange and difficult time for everyone. 
While many College employees were forced to work from home or were even on furlough, Brendan continued to do essential work - making the College safe for the return of other staff and students, whenever that day came. He cut and installed all of the plastic screens that were placed in offices and communal spaces all over the College, as well as all of the new hand sanitiser dispensers, and also helped the other maintenance staff ensure that everything was kept fully-functioning.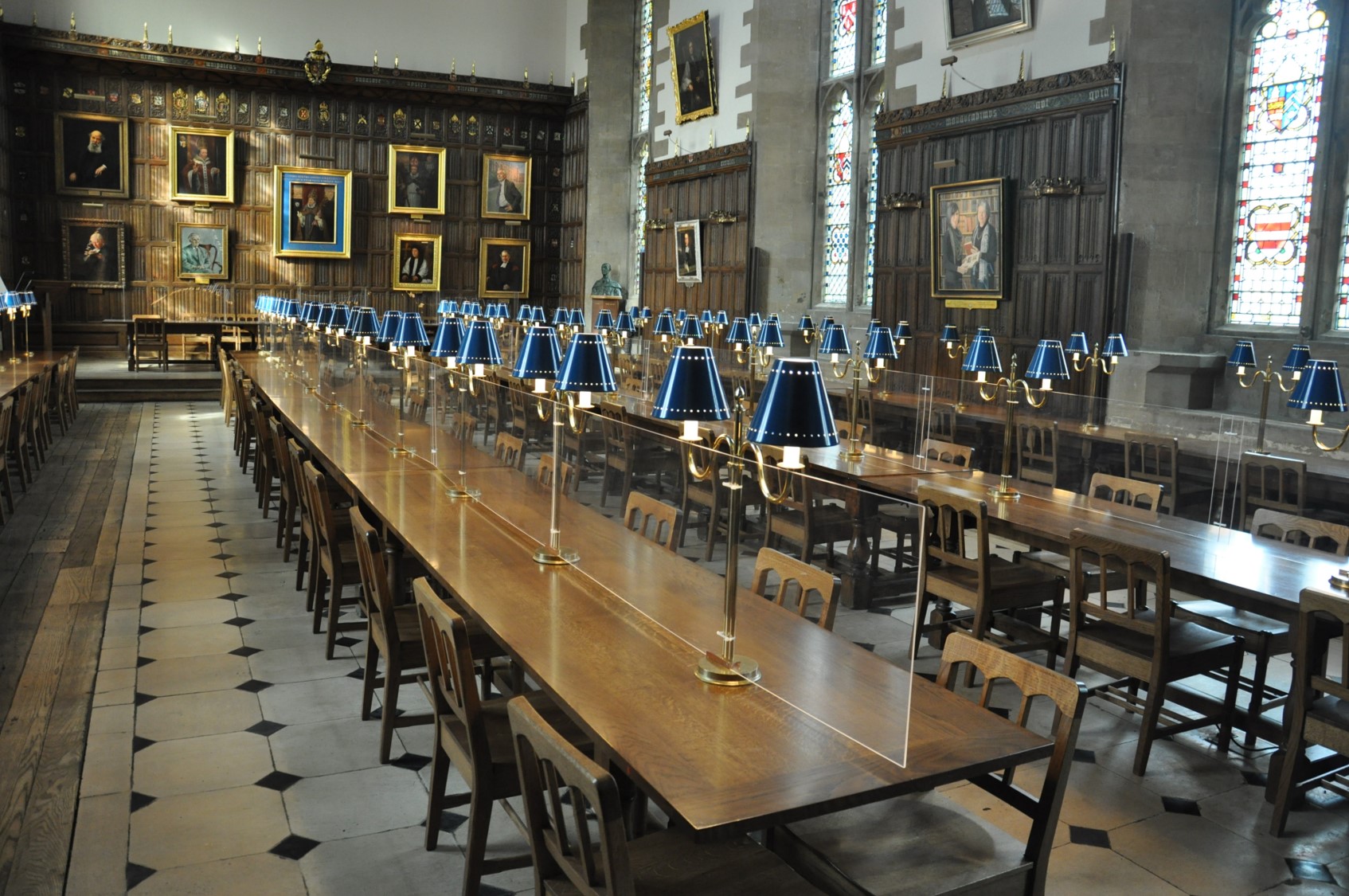 ---
A community
So, with 30 years of work at College, what has made Brendan stay here for so long? 
'I like that every day is different, the variety that it offers. But really it's that it's one big family - everyone knows everyone else and I have genuine, good friends here... I lost my mother in November last year, which was a difficult time, and the support has been great - people looked after me so, yeah, I really appreciate that. And even now, people are asking if I'm alright, seeing how I'm doing.
There is also a more light-hearted side to the community. One day, for example, when Brendan parked his van in College, he happened to leave his keys inside. When he came to go home at the end of the day, the van was nowhere to be seen. Not stolen (people would have a hard time getting through the porters!), but instead taken by colleagues and hidden behind the back of the Mound in the Gardens! 
In short, he loves it here, and College feels the same way! 
'I was 17 when I started here. Now I've got a 20-year-old and an 18-year-old. Time's gone so quick but...it's brilliant.'