Jonathan Black
Professorial Fellow; Tutor for Welfare; IT Fellow; Director of the University Careers Service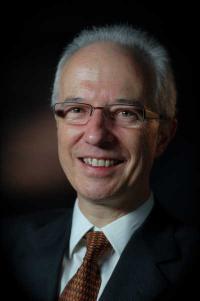 jonathan.black@careers.ox.ac.uk
Jonathan joined the University of Oxford Careers Service as Director in March 2008.
Over the last eight years at Oxford he has led the department to be one of the most innovative, transparent and engaged teams serving students, employers, alumni and academic colleagues. While significantly raising undergraduate and postgraduate satisfaction and engagement with the Service he has also reduced the University's operating contributions and increased external funding from 33% to over 45% of the budget. He publishes, presents and consults widely on how to innovate around the student/employer careers experience and is a member of the Guardian newspaper Expert Panel on careers. Prior to this he held a number of senior commercial roles including
Senior Associate at Booz & Co, the international management consulting firm
Senior Vice President, Finance & Operations at two international academic publishing companies
Co-founder and Director of an internet start-up successfully sold to Elsevier
Director of Strategy at Times Mirror, Los Angeles
Director of Corporate Affairs, Saïd Business School, University of Oxford
He has worked in California (for four years), London and Oxford; and across Europe when at Strategy&. He is Chair of Minervation (an Oxford University spin-out company), the Advisory Board of Oxford Hub, a Board member of the Oxford Alumni Society and has been a Director of Modern Art Oxford and the Hackney Empire Theatre. He is a Professorial Fellow of New College, where he is also the IT Fellow.  He holds an Engineering Degree from Cambridge University and now lives in Oxford with his wife (with a successful medical career) and two children (currently at university).
Research Interests
The strategy and direction of the Careers Service is driven by evidence: we regularly research what occupations students are interested in and why; why students might be uninterested in certain occupations; what employers look for from students; and what skills students need. From this we create innovative programmes for students and employers including:
The Student Consultancy
Springboard: holistic development for women students
Insight into Teaching, Medicine and Business
Internship programme and microinternships
We also regularly research employers to find out why they recruit at Oxford. We learn what strengths and weaknesses employers consider Oxford students have; we adjust our programs to fill in the skills gaps and highlight potential weak areas to students.
Selected Publications
University Life: Student project that does the business for real skills
What causes the graduate gender careers gap and how can we address it?