As part of an ongoing commitment to engage with schools, the University has developed a Regional Outreach programme to simplify and improve communication with all schools in the United Kingdom. Each Oxford college is linked to a Local Authority to ensure that each school has a first point of contact within the University.
This scheme will not only allow the University to get to know schools and colleges in specific regions better, but also give schools and colleges a more personal and direct way of staying in touch with the University. All Oxford Colleges have 
a common aim of providing guidance to help bright students make competitive applications, regardless of background.
New College is, together with St Catherine's College, linked with Northern Ireland. The Access Administrator is always happy to arrange visits to Northern Irish schools, or to welcome prospective candidates to Oxford. However, because it can be difficult for students from our target area to come to Oxford regularly, we also organise yearly trips and roadshows in Northern Ireland, as detailed below.
Northern Ireland Residential Summer School
In summer 2015, New College and St Catherine's College offered year 13 students from Northern Ireland the chance to come to Oxford and experience life at Oxford during a free residential summer school. The summer school ran from Monday 29th June to Wednesday 1st July, giving attendees the chance to attend the University-wide Open Days immediately afterwards. As part of the summer school students had the chance to take part in a range of events including lectures, tutorials in their chosen subject, and a variety of social events with current students. It was an ideal opportunity for prospective applicants to find out more about life at the University of Oxford. We are pleased to be running this event in 2016, from June 27th - 29th. Invitations have now been posted to all schools in Northern Ireland with sixth from provision. The deadline for applications is Friday 13th May 2016. For more information, or to obtain an application form, please email admissions@new.ox.ac.uk. 
Northern Ireland Schools Tours
Every year the Access Administrator travels to Northern Ireland to meet prospective applicants from as many schools as possible, delivering presentations and Q+A sessions to prospective applicants. At least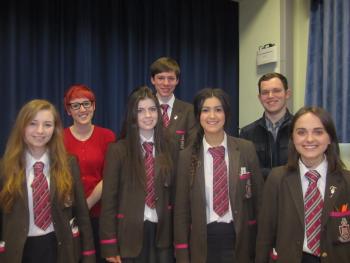 once a year, she is accompanied by current undergraduates who can offer an insight into what studying at Oxford is really like. If you are interested in arranging a visit to your school please email admissions@new.ox.ac.uk. 
UCAS High Education Convention and September HE fairs
In March, the Access Administrator attends the UCAS Higher Education Convention in Northern Ireland. UCAS conventions bring together representatives from a variety of post-18 options, allowing prospective applicants to have some face-to-face time with admissions staff and subject specialists. Prospective applicants can book to attend this event on the UCAS website. The Access Administrator also attends Careers and Higher Education fairs in Northern Ireland each September, to talk to students about what it's really like to study at the University of Oxford.
Oxford and Cambridge Student Conferences
The aim of the Student Conferences is to allow  students from across the UK access to information on the Oxford & Cambridge admissions process, the courses we both offer and details of student finance and careers, without having to travel to either institution for an Open Day. In effect, we bring an Oxford/Cambridge Open Day to students across the country, presenting our information in a familiar environment near to home, and reducing travel costs for the attendees. The Student Conferences are offered to students free of charge, adhering to the University's commitment to encourage applications from talented students regardless of their financial circumstances. The Access Administrator attends the Northern Ireland Conference, along with academics, staff and students from both universities.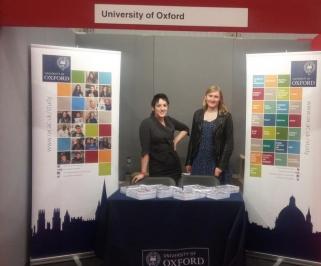 Pathways
New College is a keen supporter of the University's Pathways Programme. The programme aims to provide information, advice and guidance on higher education and Oxford to academically able students, and staff members, in non-selective state schools with little history of student progression to Oxford. All of the Pathways events are run in Oxford, and are free to attend. More information can be found on the Pathways website.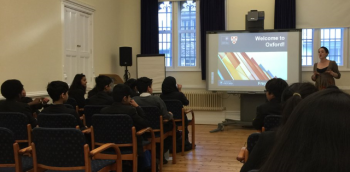 OUSU's Target Schools Roadshow
Oxford University Student Union's Target Schools Roadshow is a student-run access and outreach initiative. OUSU invited New College to accompany them when their Roadshow travelled to Northern Ireland in September 2014, and we spent four days giving talks to hundreds of pupils, providing practical advice and running workshops on the subject of applying to Oxford. More information about OUSU's Target School programme is available here.
If you are interested in taking part in our regional outreach programme, please contact the Access Administrator, Daniel Powell at admissions@new.ox.ac.uk or on 01865 279512.