Exhibition - The Hylle Jewel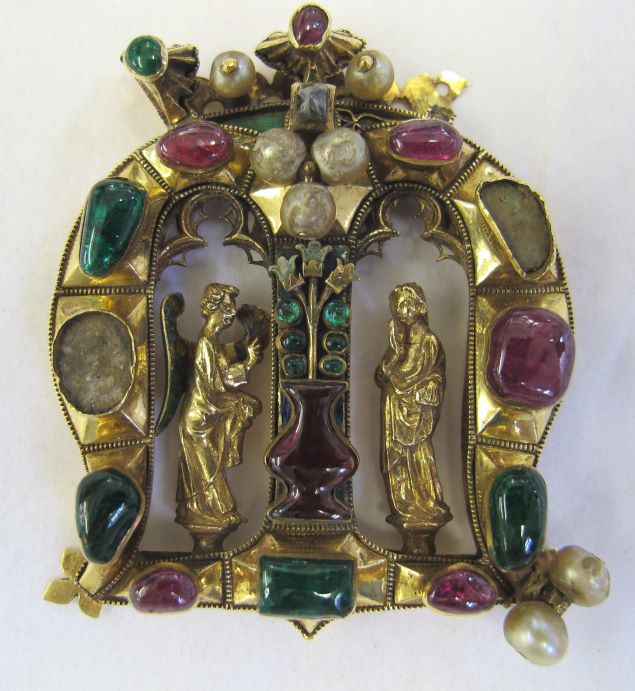 Wenceslaus IV, King of Bohemia and of the Romans: The Beautiful Style around 1400
The Hylle Jewel in the form of a crowned Lombardic initial M was gifted to College in 1455 by the Hylle family of Winchester. This silver gilt ornament - showing the annunciation - set with a diamond, rubies, emeralds and pearls, is thought to date back to 1350 and its craftsmanship is remarkable. 
The Jewel is currently on display at the Imperial stables of Prague Castle in an exhibition documenting the life of Wenceslaus IV and his court, through the gothic style art of the time. It also commemorates the 600th anniversary of his death (1361-1419).
The reign of Wencelaus IV was marked by political weakness, internal conflict, the complexities of the Papal Schism and it left a legacy of religious turmoil. Yet despite this, Wenceslaus was 'a very well educated and cultivated individual' and he was noted for his great patronage of the arts - in particular manuscript illumination which flourished at this time - and other smaller crafted artwork.
In addition to displaying the College's Hylle Jewel, the exhbition includes an eclectic mix of ostensoria, reliquaries, tiles, burial gowns, manuscripts, the Humboldt University's mace, a drinking horn from Dresden and a unique saddle from the Metropolitan Museum of Art in New York.
The exhibition opened on 16 August and will run until 3 November 2019.