Maddy was one of New College's Step Up Ambassadors, graduating from her Biology course in 2020. She was awarded the Southern Field Studies Book Prize - given to the candidate who has shown the greatest aptitude for zoological field studies in the Final Honour School of Biological Sciences.
Below, she tells us of her experiences of being a student at Oxford, as well as the details of her prize-winning work. 
Many congratulations on your Southern Field Studies Book Prize. Tell us a little about your winning project. 
Thank you so much! This prize was awarded for my field work, so particularly my project dissertation. For my dissertation, I was working on Skomer Island, Wales, with Manx shearwater fledglings; young, fluffy, adorable seabirds that live in burrows! I had to take part in designing an experiment to test a hypothesis. This involved collecting my own data and analysing this to see if it supported my hypothesis. I looked at how the fledglings orient themselves on land when placed in an unknown location. While we already knew that the fledglings are capable of migrating from Wales all the way to South America, when they were on the island, they didn't orient back towards where we'd picked them up from, or into the wind as we expected. They seemed to want to head towards the sound of the sea, probably because they were trying to fledge and make their way to South America! It was interesting to find out that they may be affected so much by the sound of the sea, as this means that any future experiments with Manx shearwater fledglings should be conducted away from the coastline so that these sounds don't affect the results.
While this is all quite complicated, I found that once I was in the field collecting the data, everything made so much sense. Working with the birds was an incredible experience and I have never felt closer to nature. As the fledglings are active at night, I was collecting data through the night – and it was completely worth it to get to handle and be around these truly amazing creatures.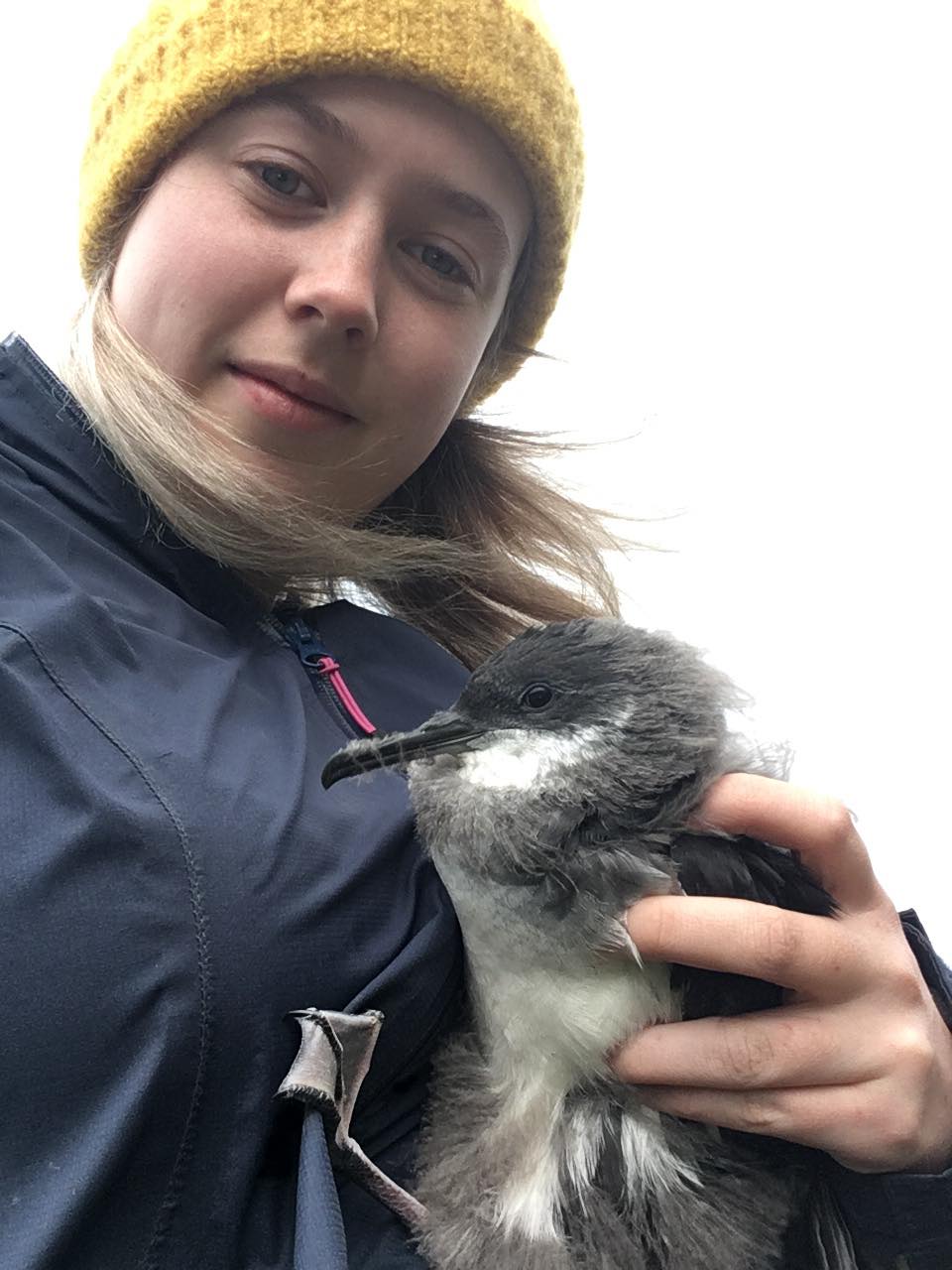 Why did you choose Biology?
I remember at GCSE not having a clue what I might like to do at university, but at A-level it was clear that I loved biology. The natural world fascinated me and I liked to further question the things that I was taught in A-level. Biology also gives you the opportunity to study everything from the building blocks of life all the way up to ecosystems. If I'm honest, it was mainly gut instinct!
Why did you decide to apply to Oxford? 
Oxford had a lot going for it. Firstly, it had the perfect course for me. There was a strong focus on evolutionary biology which I thought was important and quite a few modules on animal behaviour, a topic I really enjoy. I was also a huge fan of the tutorial system – working in small groups of around 2 to 4 appealed to me as it meant I could ask any questions I had and get the personalised support I needed, rather than being left to fend for myself with university work. The college system appealed to me too as I would feel closer to the people around me and I liked the idea of being part of my own little community. It was also in the perfect location, just one train ride away from my hometown, and is such a beautiful university!
And why did you choose New College? 
New College really is a beautiful college and I loved the idea of sitting on the grass in the summertime, chilling with friends or working out there (yes, the WiFi reaches the garden!). I also appreciated that you are able to eat in hall almost every evening. This means you get to chill with your friends over tea. I therefore knew I wouldn't be confined to my room, always eating alone. The tutors for Biological Sciences at New College also seemed really nice when I met them on the UNIQ summer school.
How did you feel about coming to Oxford before you arrived? 
I was actually really scared in the lead up to arriving at Oxford. I thought they'd made a mistake and accepted me by accident! I was also worried everyone would be a genius and I would be flagging behind all through my first year. Luckily, when I did arrive, none of this was the case and I had a really good first year!
What were your tutorials like?
Tutorials were so rewarding. I found I was able to truly get my teeth into a subject. If there's anything I didn't understand about a topic, I nearly always left a tutorial understanding it. In second and third year, I mostly booked my own tutorials, meaning I could choose to focus on topics I enjoyed more and wanted to explore in more detail, or topics I particularly wanted help with.
How have you found College life? 
College life has been so fun! If it's having a drink at the bar, going to formal hall every once in a while or just chilling in someone's room playing a card game, I've had a great time in college. It's very handy to only live a couple of minutes away from most of your friends.
What have you enjoyed most about studying at Oxford? 
There were so many great things about studying at Oxford, it's hard to pick one! I think it'd have to be all the amazing people I've met. The friends I've made here I'll have for life and the tutors I've met have been caring and considerate people.
You were a Step Up Ambassador - how did you find being a part of the programme? 
Step Up is a very rewarding programme. I myself had guidance from the university when deciding whether to apply or not: I spoke to university students and they gave me the confidence to apply. I feel like I am giving back to other young students and (hopefully!) providing them with that confidence.
You've now graduated (congratulations again!) What are your plans for the future? 
Thanks again! I'm very proud of myself but I'm also very sad that my university experience is over. Now that I've graduated, I will be starting a job with a local charity called Oxford Hub. This will involve managing their social media to recruit volunteers to their diverse range of programmes. They work with many demographics, from young people to the older members of the community. For example, volunteers can tutor children who are at risk of not achieving their potential in school, collect prescriptions for those unable to leave their home during the COVID-19 pandemic and provide free English language lessons for local people. I will also be supporting university students who are Crankstart and Lloyd Scholars. These are students from low-income backgrounds that are financially supported throughout their time at Oxford. For this support, they are required to completed volunteering work. I myself was a Crankstart Scholar and will be helping other scholars find suitable volunteering opportunities that they will enjoy, that fits with their term-time schedule and will build important skills that they may need to work on. I'm really excited to start this next chapter of my life!