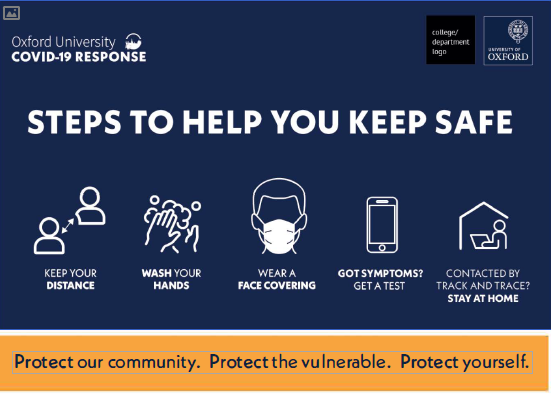 Introduction
Updated 25 August 2020
In view of the government's strict 'stay at home' policy, PHE has provided further advice for students. 
This information provides students reasonable and practical support to minimise risks whilst you are in residence. For those of you who are in College accommodation the following guidance will help in keeping our community safe and well. The College has had a difficult balance to strike in following the government guidance to ensure the wellbeing of staff, including scouts, porters, and kitchen staff alongside the wellbeing of students.
Provided you are asymptomatic, not a household contact of a case, and are not in a vulnerable group, then you should follow the general current advice from PHE on staying safe during the Coivd-19 pandemic.
Frequently Asked Questions
Please download our pdf document containing FAQ's from the recent Q&A session with the students.
Living and social arrangements
Wellbeing
In line with current guidelines, if you are self-isolating with Covid-19 symptoms or are a confirmed case of Covid-19 you should only leave your accommodation once per day for exercise, to get food, or to access medical care. Within buildings, you must remain two metres apart in communal areas and you must wear a face covering. 
Illness
If you develop symptoms then you must immediately self-isolate for 10 days as per PHE guidance. 
*Household equivalent contacts are those students who share a house or flat with the case whilst symptomatic. For students on staircases / corridors who share a kitchen, bathroom, or social space, will be grouped into households and informed of who they share their household with prior to their arrival. If a member of your household develops symptoms of Covid-19, they must isolate immediately for 10 days and book a test asap, the other students in the household must self-isolate for 14 days. 
You must tell the Lodge and the Home Bursary by email if you become symptomatic and are in self-isolation so we can monitor your wellbeing and consider if you need equipment or to be moved to ensure your safety and the safety of others
Students who are considered to be household equivalent contacts* of a possible case after symptoms started should self-isolate for 14 days from the onset of the case's symptoms. If the household equivalent contact/s develop symptoms they need to self-isolate for a minimum of 10 days from onset of their symptoms: Read the Government Guidelines. 
Where there are concerns about your health NHS 111 should be contacted (online or by telephone) or you can telephone your GP in Oxford.
You are advised to significantly limit face-to-face interaction in line with the guidance above
Vulnerable groups
Information and Guidance can be found on the Government publications pages.
Student finances
With applications for financial assistance, we are mindful that we have finite finances and we wish to target help to the most in need. As a result, annual income, savings, overdraft limits, and expected annual expenditure are assessed and grants are made to those students who do not have sufficient funds to cover their expected annual expenditure. Additionally, loans can be made to students whose annual funds are sufficient to cover expenditure but who are experiencing temporary lack of funds.
Student Financial Aid and Hardship
We recognise that the COVID19 crisis will have caused extra financial difficulty for some students. College will maintain its annual SFA Awards via the Development Office and will also continue to support students in applying to the University's Access to Learning Funds (UK citizens only), its University Hardship Committee (any student), and the Vice-Chancellor's Fund (for DPhil students beyond their fee-paying period and in the 'writing-up' stage). In addition, as ever, any student in an acute cash-flow crisis should immediately approach the Bursar for an emergency loan pending getting grant aid from the sources just listed - bursar@new.ox.ac.uk . 
New College Library
New College Library reopens to New College students and staff the week beginning 21 September 2020.  The Library will be open, for selected services, Mondays to Fridays, 10 am till 5.30 pm.
We have adapted our book borrowing services to enable New College members to select and to borrow the physical library resources they need from New College Library using our 'Browse & Borrow' and 'Click & Collect' services:
Browse & Borrow: 10 am till 12.30 pm
Click & Collect: 10 am till 12.30 pm  and  1 pm till 3 pm
 
We have adapted our book returns service to enable New College members to return their loans (books, CDs, DVDs, music scores) within an environment prepared in accordance with COVID-19 restrictions:
Returns: 10 am till 12.30 pm  and 1 pm till 3 pm
 
We have reconfigured our physical spaces and rearranged routes through the Library to provide New College members with bookable reader seats and study space that conform with social distancing.  Our 'Stay & Study' services will be provided in two sessions of two hours' duration:
Stay & Study: 1 pm till 3 pm  and  3.30 pm till 5.30 pm
You are welcome to contact the Library if you need any assistance or advice.