An Introduction - The Warden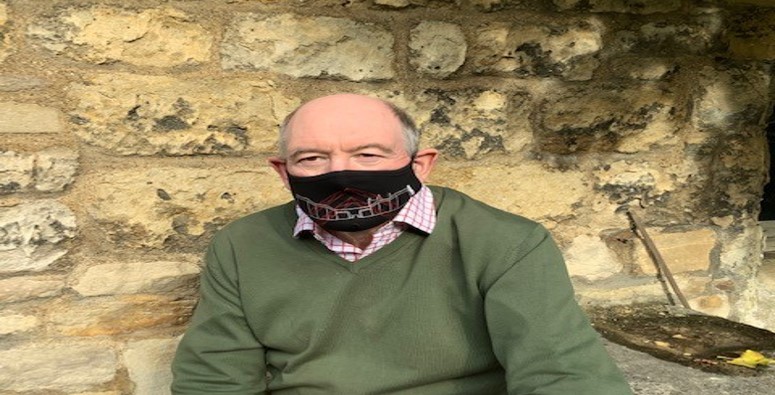 In the midst of this very unusual term, we wanted to share some images and impressions of the College with you over the next few weeks. 
We reassembled with a full house – 828 students, larger numbers than usual, both for under graduates and post graduates. Life now is a balance between what is possible, and what is necessary. We have been trying to preserve the essence of the College experience as much as we can, but we have also had to restrict some very basic behaviours. Of the latter, perhaps the most painful is forbidding any visitors to the College sites. The Holywell gates remain closed most of the day and night, a very obvious sign of the time of Covid. 
We have had an initial wave of Covid infections, which seems to be abating. The affected students are in self-isolation, and are doing well. But, clearly, this can be a troubling and anxious time, and we are generally upping our Welfare Support. 
The University's EAS (Early Alert System) for testing has worked extremely well. That, and the system of households by which students are grouped acts here, and throughout the University, as a firebreak which seems to have blunted the 'hump' experienced in other universities – so far at least. 
The JCR and MCR Committee have been very supportive, and our staff have been nothing short of magnificent in the way they respond day by day to circumstances. I thank both our students and our staff most sincerely.
Finally, for the first time since 1379, the Founder's Oath was administered remotely to two new Fellows, Dr Robert Hepach (Experimental Psychology) and Vittoria Fallanca (Modern Languages) at our SGM last week, by the Warden (gowned, via Microsoft Teams).  They are very welcome indeed to the Fellowship.
- Warden
 
Covid Discipline - Gez, Home Bursar
Around College 'Covid-19 secure' measures are in place. These range from one-way systems to use of hand sanitiser dispensers at all major entrances. The College is using signage to reinforce the message 'Protect our community, Protect the vulnerable, Protect yourself.' 
Face coverings are required to be worn in all outdoor and indoor College spaces and 2 metre social distancing is required wherever possible. 
The College meeting rooms, Library, and Dining Hall are all capacity restricted. A large marquee in the the Garden Quad is used for overflow.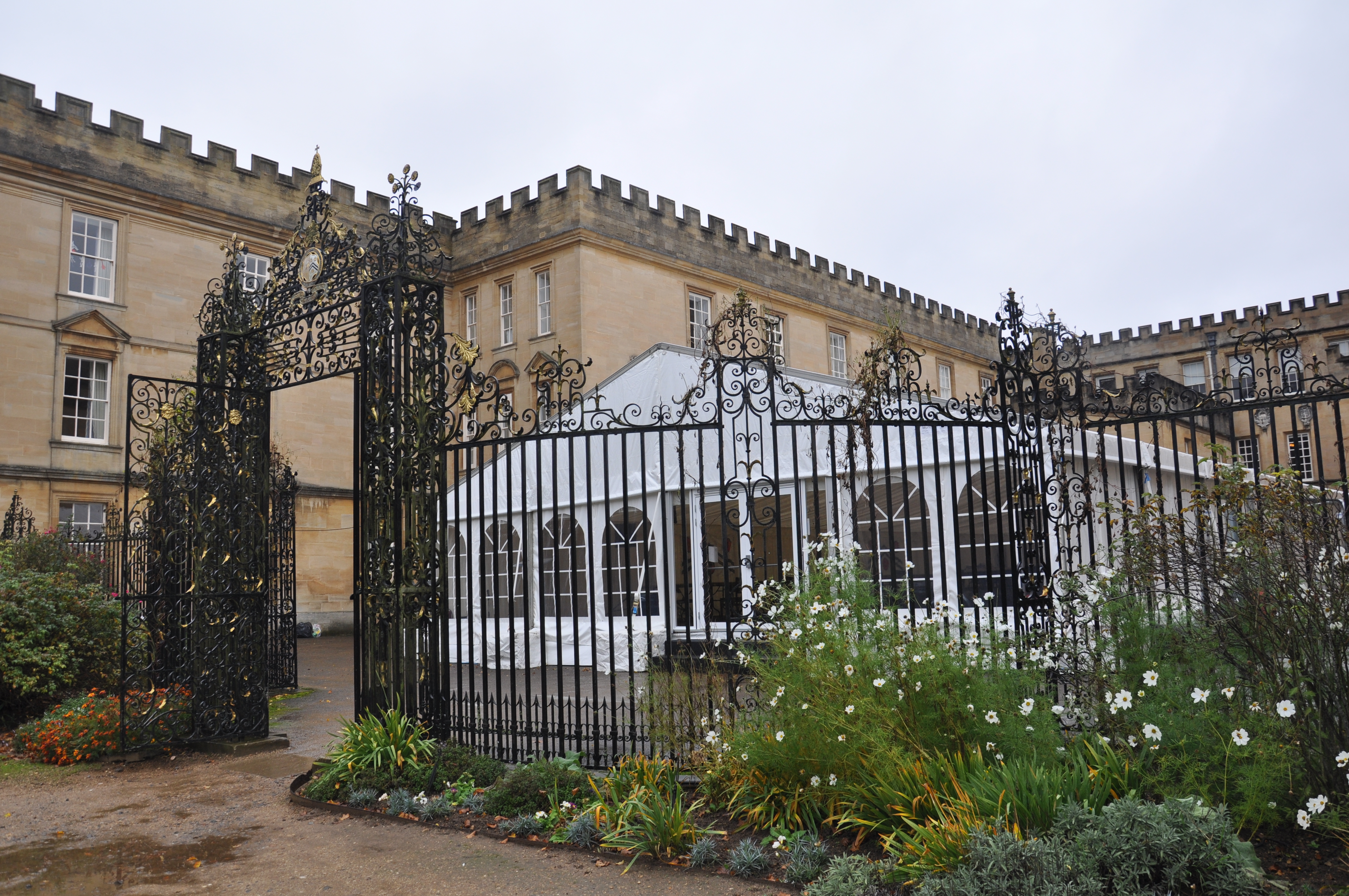 - Gez, Home Bursar
Catering - Brian, Catering Officer
The Hall, which normally sits over 200, has been reduced to a maximum capacity of 50, and we have split the cohorts into separate time slots for dinner.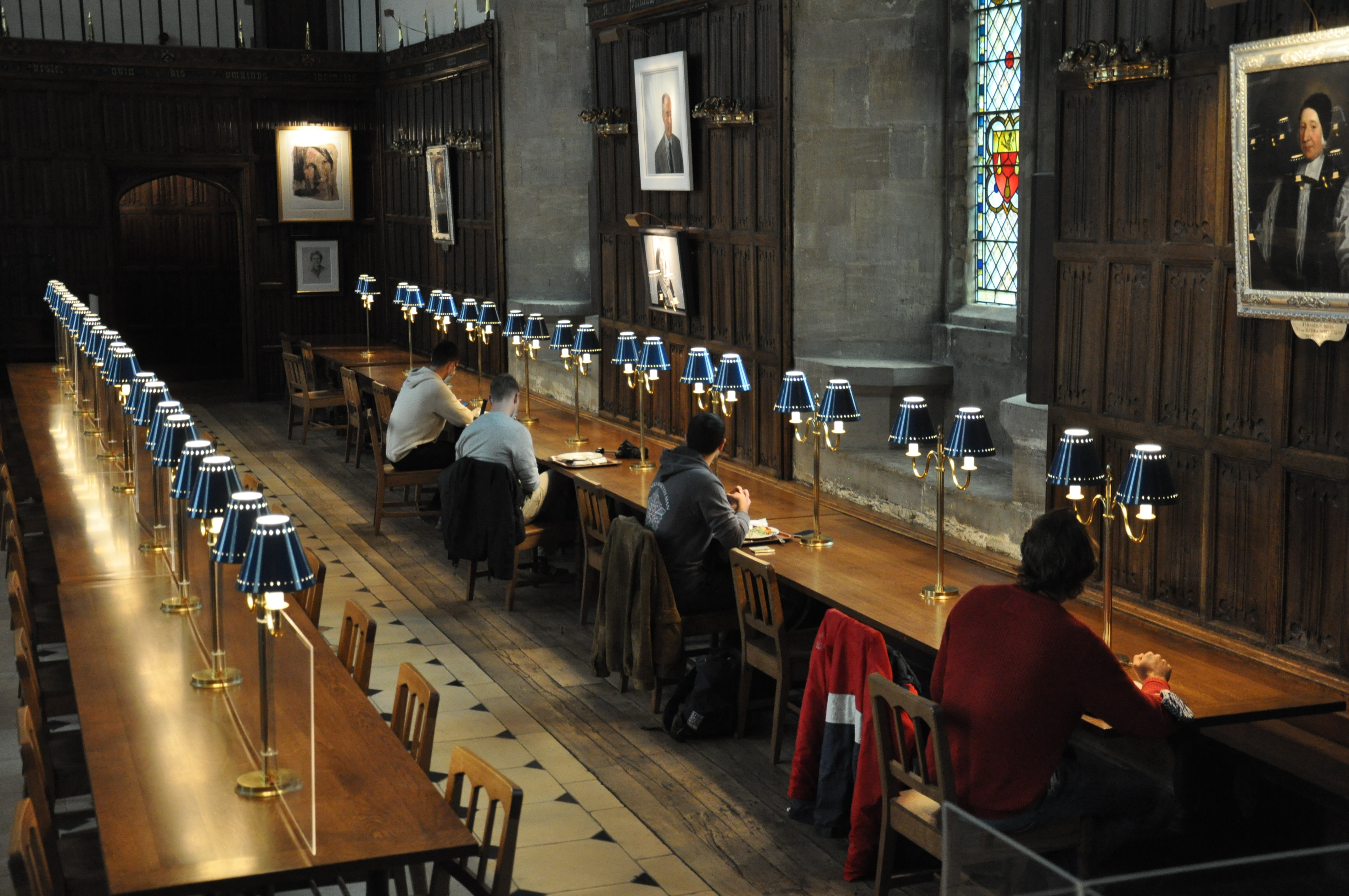 These measures help to ensure social distancing and give all students the opportunity to eat in the Dining Hall. They are, however, welcome to take their food away to their rooms if they would prefer - there is a takeaway service available.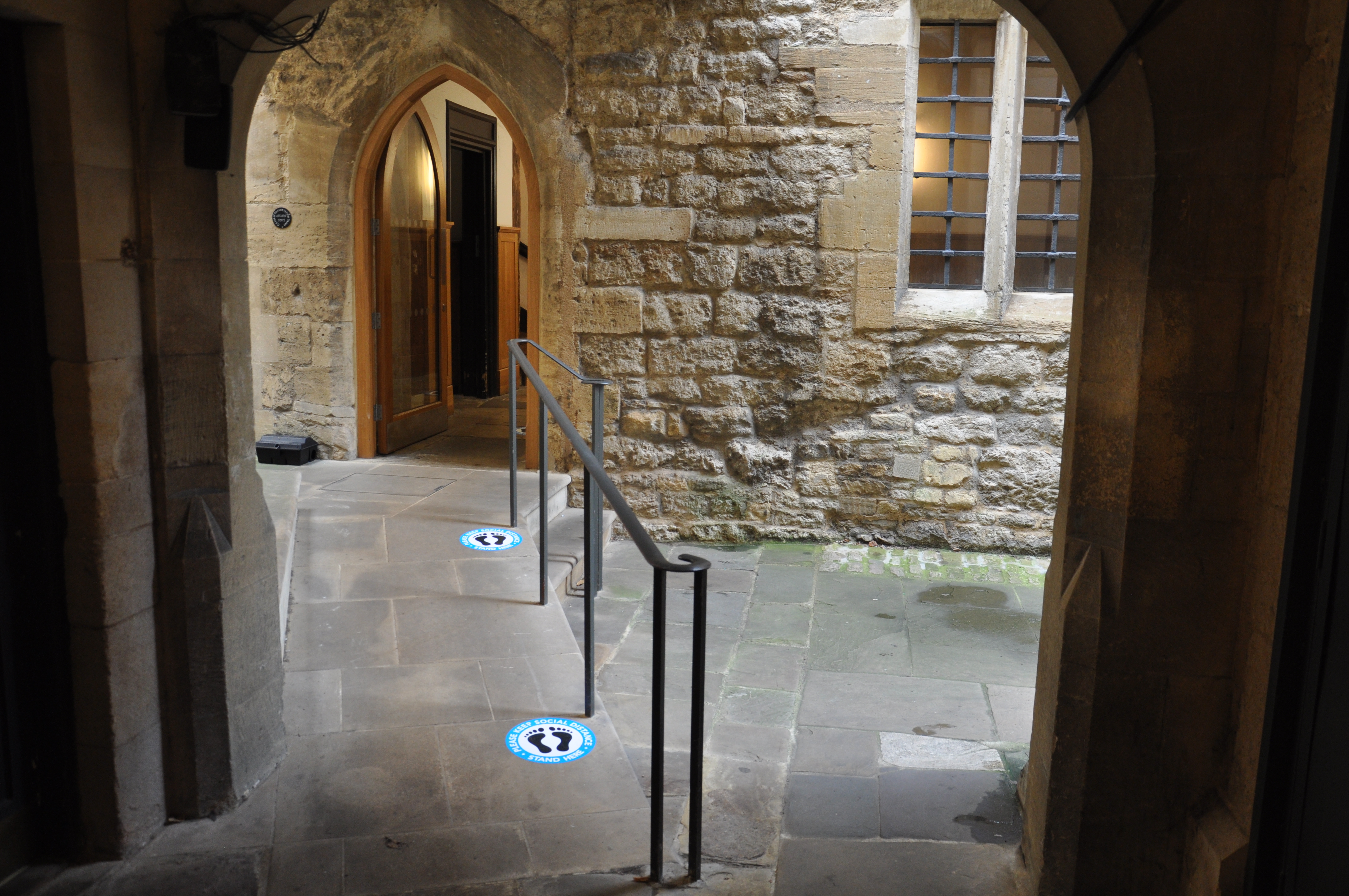 When coming to the Dining Hall, students come via the one-way system via the inner stairs, abiding by the social distancing signage on the floor.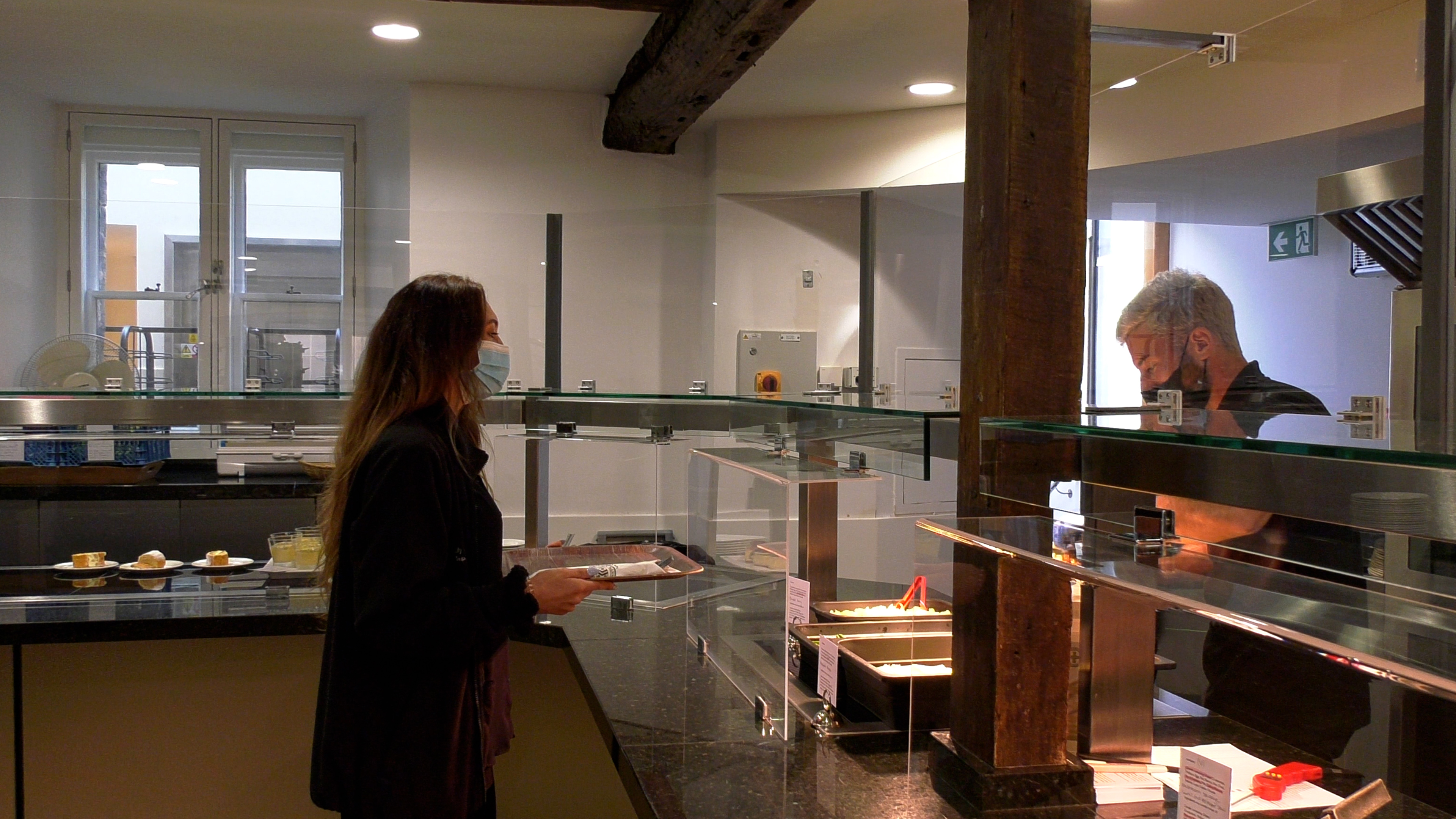 Once they have collected their food from the Buttery, students are asked to fill up the Dining Hall from the left-hand side, sitting at every other chair. Once they have finished, they leave via the right-hand door and down the concrete stairs into the Quad.
- Brian, Catering Officer
Meals for Self-Isolating Students - Sam, Head Chef; Students
Inevitably, some students have had to self-isolate after having Covid symptoms or being in contact with someone who did. Our Catering team have been working hard to make sure that meals are completely taken care of for them.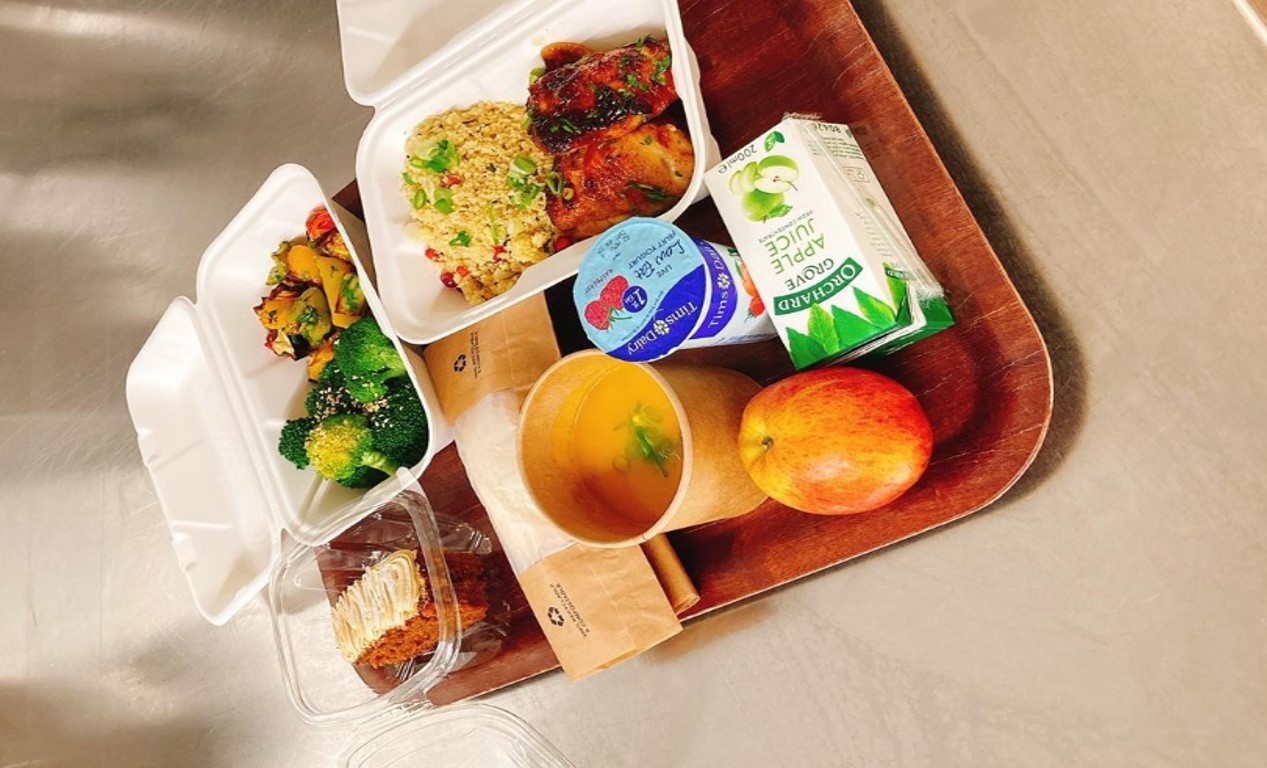 This is an example of what we are serving the students who are self-isolating: Sweet Potato & Ginger Soup & Bread Roll, Sticky Harissa Spiced Chicken, Herb & Pomegranate Cous Cous, Fresh Vegetables, Dessert (Carrot Cake). We also offer fruit and a drink. They are being given the same as the students who are dining in hall, so the menu changes each service. We are adapting the packaging we use depending on the dish. For example, a saucier dish won't suit the Vegware boxes used in these photos so we'd use an alternative.
- Sam, Head Chef
I want to say thank you so so much for everything you and your team have done. All my dinners were delicious, and receiving them was honestly the highlight of my day!
- Student following self-isolation
I wanted to say a massive thank you for how much effort you and your team have put in. 
- Student following self-isolation
 
The Library - Suzannah, Deputy Librarian
Face coverings have to be worn in the Library at all times unless students have an exemption. There is hand sanitiser available at the entrance, and a one-way system in place which students must adhere to at all times.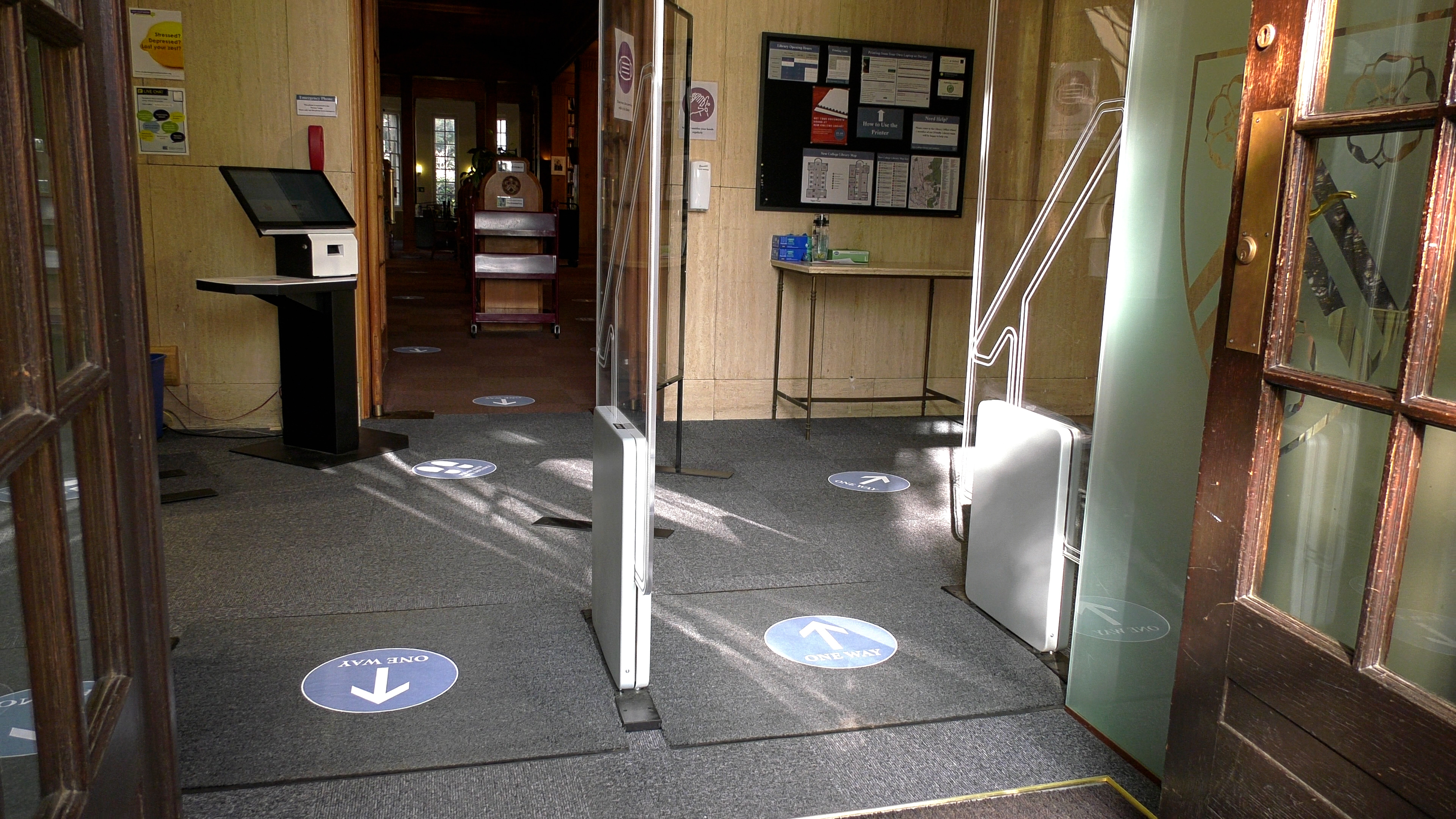 At the start and end of all study sessions, students are asked to wipe down the area with the anti-bacterial wipes provided. 
We have also launched a 'Click & Collect' service, providing students and staff with easy access to books they have requested in advance (which Library staff retrieve for them from our shelves). 
- Suzannah, Deputy Librarian
Tutorials - Freyja, Academic Registrar
We are making every effort to continue our tutorial teaching in person and have put several safety measures in place so that face-to-face teaching can continue wherever possible.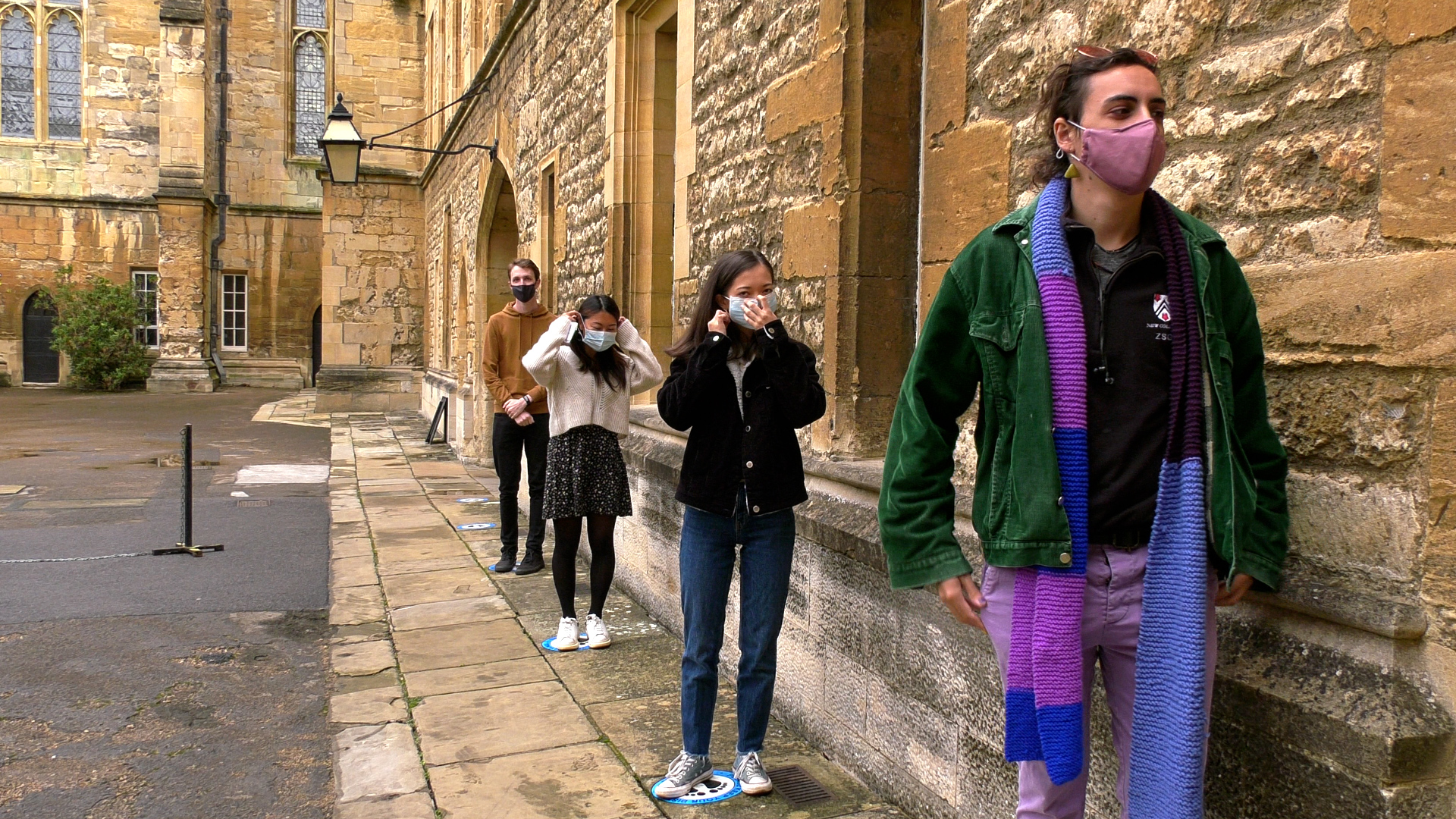 Before tutorials start, students assemble outside of the staircase, at least 1m apart from each other. There is hand sanitiser available at the entrance to every staircase, which everyone uses before entering. 
Students and tutors wear face coverings for the duration of the tutorials unless they have an exemption and once inside the room, sit at least 2m apart from each other.

 
Once the tutorial has finished, students and tutors all wipe down their chairs and table areas using cleaning materials provided. Everyone has to keep their face covering on until they leave the room.
Students and tutors have the option of having their tutorials virtually if they would prefer, and of course this virtual option is necessary for any students having to isolate. College teaching is therefore very much a blend of in-person and virtual at the moment.
- Freyja, Academic Registrar
 
The Student Experience - Izi, JCR President
As expected, life as a New College student this term has been pretty different to previous years. Instead of BOPs, late nights in the library, and early starts for lectures, we've had virtual seminars and socially distanced bar nights.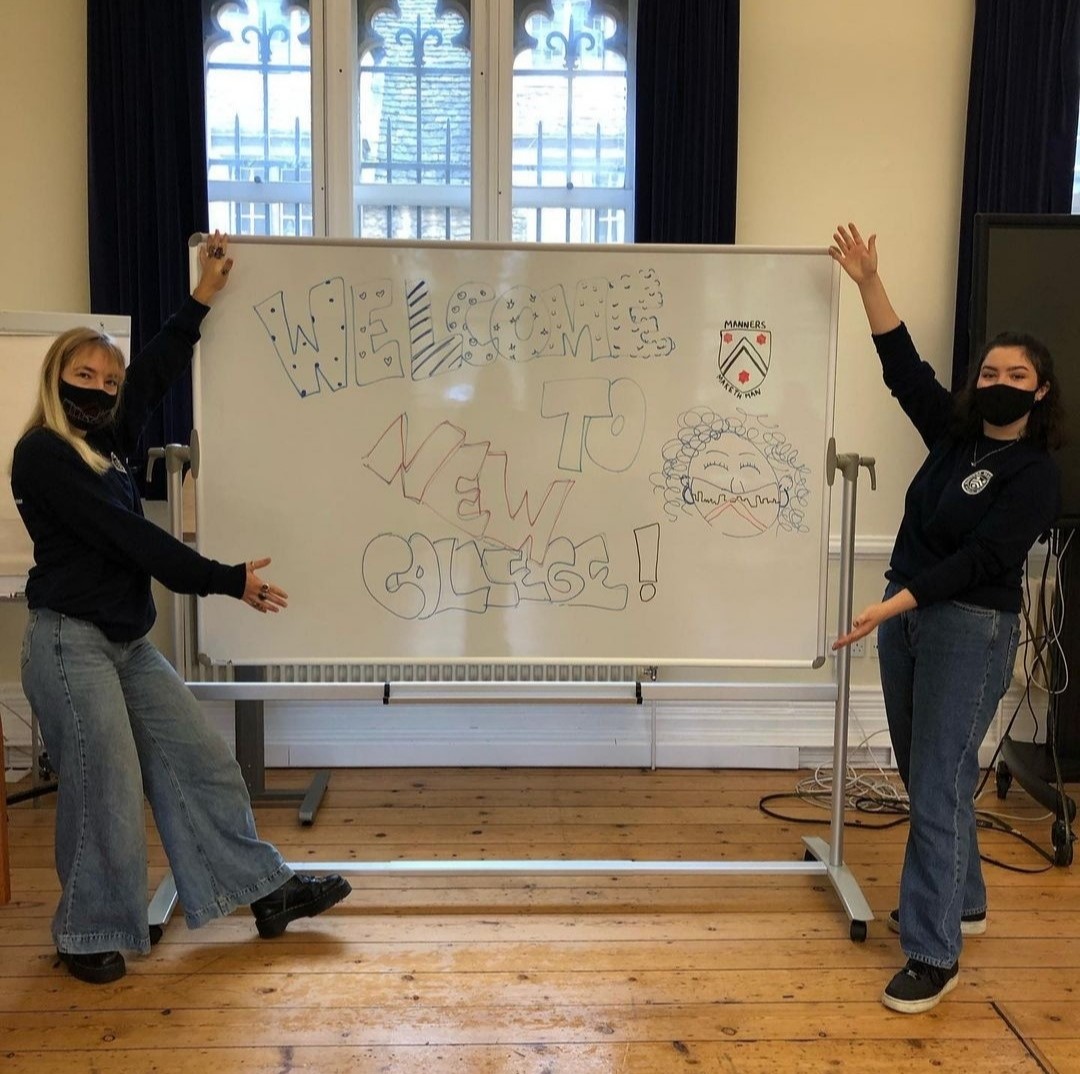 JCR Committee welcoming Freshers to New College 
Despite the pandemic having undoubtedly made this a tough term for all, it has also demonstrated the ability of the College community to work together and look out for each other. It was so uplifting to see how people supported each other in isolation; delivering care packages, checking in over dinner via Zoom, and taking time out of their day to go and buy things for friends. The College staff have also been fantastic, quickly arranging a meal delivery service and providing strong welfare support throughout. We have been lucky enough to keep spaces like the Chapel, JCR and Hall open, which everyone is appreciative of.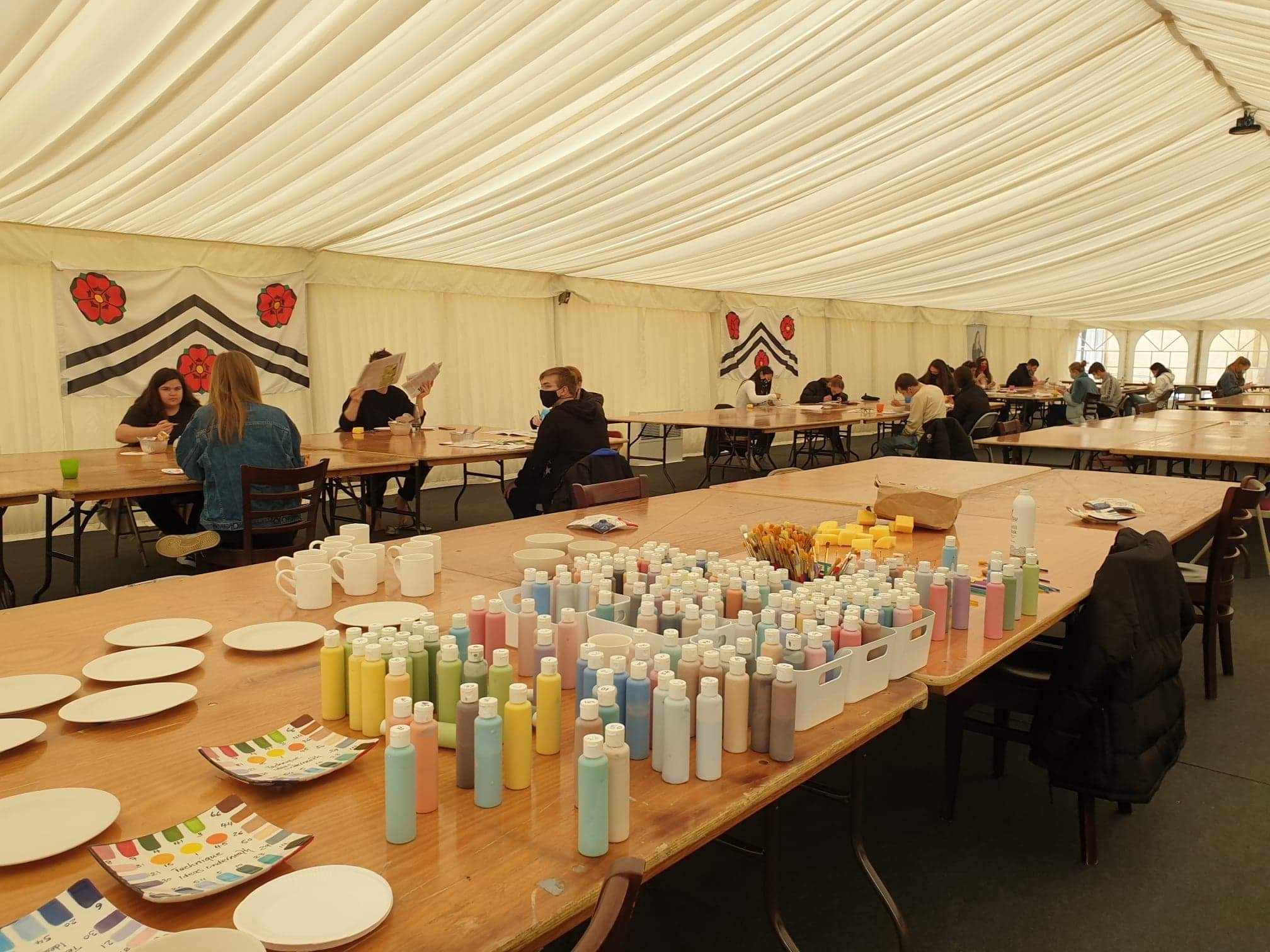 Socially distanced pottery brunch in the marquee
 
I feel very lucky to be a student here during this time, and to be living in such a beautiful place. Whatever it is that makes life as an Oxford student so special is still here.
- Izi, JCR President