Ryan Hanley
Salvesen Junior Fellow (History)
BA Bath Spa, MA York, PhD Hull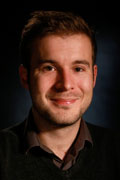 Ryan joined New College from the Wilberforce Institute for the study of Slavery and Emancipation (WISE) at the University of Hull in 2014.
Research interests
Ryan is interested in histories and literatures of slavery and abolition in Britain. He specialises in the roles taken by black people in British culture during the eighteenth and nineteenth centuries, within and beyond the antislavery movements of the period. He has published articles on several of these prominent historical figures.
He is currently writing up his PhD thesis into a monograph, provisionally entitled The Compelled Author: Networks of Black Writing in Britain, 1770-1830. The monograph examines the means by which black authors composed, published and marketed their texts, and how, when, where and why these were subsequently bought and read in Britain. It challenges the prevailing view of black authors as concerned solely with abolitionism or race, enabling a revaluation of their various contributions to a broad range of British social, religious and political concerns.
Ryan is also working on a project examining the relationships between working-class politics and antislavery sentiment in the 1820s. It charts the development of a new popular social consciousness based on respectability, compassion and fraternity by examining working people's engagement with this key site of political engagement.
In 2015 Ryan was awarded the Royal Historical Society's Alexander Prize for his article on James Albert Ukawsaw Gronniosaw, the first black author to be published in Britain.
Ryan offers teaching for New College students on British History V (1685-1830).
Recent and forthcoming publications
As Author
Ryan Hanley, 'Calvinism, Proslavery and James Albert Ukawsaw Gronniosaw', Slavery & Abolition, 36:2 (2015), 360-381.
Ryan Hanley, 'The Royal Slave: Nobility, Diplomacy and the "African Prince" in Britain, 1748-1752', Itinerario, 39:2 (2015), 329-347.
Ryan Hanley, '"There to sing the song of Moses": John Jea's Methodism and Working-class Attitudes to Slavery in Liverpool and Portsmouth, 1801-1817', in Katie Donington, Ryan Hanley and Jessica Moody (eds.), Britain's Memory of Slavery: Local Nuances of a 'National Sin' (Liverpool: Liverpool University Press, 2016) [Forthcoming]
Katie Donington, Ryan Hanley and Jessica Moody, 'Introduction', in Donington, Hanley and Moody (eds.), Britain's Memory of Slavery [Forthcoming]
Ryan Hanley, 'A Radical Change of Heart: Robert Wedderburn's Last Word on Slavery', Slavery & Abolition, (2016) [Forthcoming]
As Editor
Katie Donington, Ryan Hanley and Jessica Moody (eds.), Britain's Memory of Slavery: Local Nuances of a 'National Sin' (Liverpool: Liverpool University Press, 2016) [Forthcoming]