Richard McClelland
Stipendiary Lecturer in German
richard.mcclelland@st-hughs.ox.ac.uk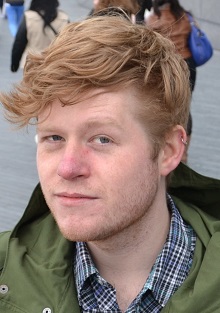 Originally from County Durham, I studied for a BA in German with Dutch at the University of Sheffield (2010). After graduation, I worked as an English language teacher in Basel, Switzerland, before returning to Sheffield to study for an MA in Germanic Studies (2012). I then began my doctoral research at King's College London, where I investigated the interrelationship between the archive and the stage in the contemporary theatre of Rimini Protokoll and Milo Rau's International Institute of Political Murder. I began teaching at Oxford as a Stipendiary Lecturer in German in 2015, originally at Lincoln College before moving to New College and St. Hugh's College. Since completing my doctoral studies I have begun to develop a project that will research the performance of urban space in Berlin since Reunification. My wider research interests relate to contemporary theatre and performance, the literature and culture of Switzerland, and literary theory.
At Oxford I teach the preliminary course in German, as well as the FHS courses covering the Modern Period (Paper VIII), selected modern prescribed authors (Paper X, including: Bertolt Brecht, Günter Grass, Christa Wolf and W. G. Sebald), and the special topic paper on German drama since the 1960s (Paper XII), as well as translation into English.
Selected Publications
'Kommt die alte Dame mal wieder? Rimini Protokolls Uraufführung: Der Besuch der alten Dame und die Rekonstruierung der Vergangenheit auf der Gegenwartsbühne', in Konstruktionen der Vergangenheit in der Deutschschweizer Literatur, ed. by Barbara Burns and Malcolm Pender, (Würzburg: Königshausen und Neumann, 2015), pp. 113-128.