Karen Leeder
Tutor in German, Sub-Warden; Professor of Modern German Literature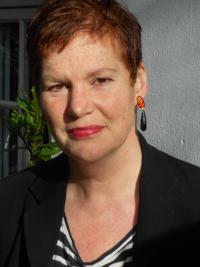 karen.leeder@new.ox.ac.uk
Karen Leeder studied German at Oxford and the University of Hamburg. After teaching for three years at Emmanuel College Cambridge, she took up her present post in 1993. During 2015-2017 she is the Associate Head of Humanities (Education).
She has published widely on modern German culture, especially of the post-1945 and contemporary periods; her interests range from poetry and the poetic tradition to modernity, GDR literature; contemporary German culture, translation, lateness, women's writing, angels, spectres, Rilke and Brecht. She has published a number of books on Brecht, including, most recently, Brecht & the GDR (2011), as well as two anthologies of poetry after Brecht, e.g. After Brecht: A Celebration (2006). She has also published extensively on Rilke, including The Cambridge Companion to Rilke (2010) and Nach Duino: Studien zu Rainer Maria Rilkes späten Gedichten (2010) both edited with Robert Vilain. A special interest is contemporary culture and her work includes volumes on modern poetry, 'Flaschenpost': German Poetry and the Long Twentieth Century (2007), 'Schaltstelle': Neue deutsche Lyrik im Dialog (2007) and [with Michael Eskin and Christopher Young], Durs Grünbein: A Companion (2013), lateness, e.g. Figuring Lateness in Modern German Culture, a special edition of New German Critique (2015) and haunting: two books on spectres will appear this year. She has a long-standing interest in the GDR and its legacy, including Breaking Boundaries: A New Generation of Poets in the GDR (1996), From Stasiland to Ostalgie: The GDR – Twenty Years After (2009) and Rereading East Germany: The Literature and Film of the GDR (2015). With Christopher Young and Michael Eskin she is commissioning editor for the de Gruyter series of Companions to Contemporary German Culture.
She is a prize-winning translator of contemporary literature: including Evelyn Schlag, Raoul Schrott, Ulrike Almut Sandig, Wilhelm Schmid, Michael Krüger. She was awarded the Schlegel-Tieck Prize for Translation (2005) and the Stephen Spender award in 2013 for her translation of Durs Grünbein. Volumes of Volker Braun, Rubble Flora: Selected Poems, translated with David Constantine, and Michael Krüger, Last Day of the Year appeared in 2014. She works regularly with emerging translators and schools on the translation of poetry.
Over the last few years, she has presented many papers in Europe, New Zealand, Canada and the USA, and has been awarded residences in UK and Berlin. She regularly publishes reviews in a variety of newspapers and journals as well as appearing on radio and television. During 2014-2015 she was a TORCH Knowledge Exchange Fellow working with the Southbank Centre and Poet in the City and continues to work to bring modern German poetry to the UK: 'Mediating Modern Poetry': http://mmp.mml.ox.ac.uk .
Professor Leeder teaches a range of options for the German degree, including contemporary literature; post-1945 poetry, Brecht, Rilke, Christa Wolf. She has supervised graduate students working in numerous areas of German literature and cultural history, including the GDR novel, poetry and German unification; representations of the body in contemporary women's writing, Günter Grass, and 'growing up in the Third Reich'.